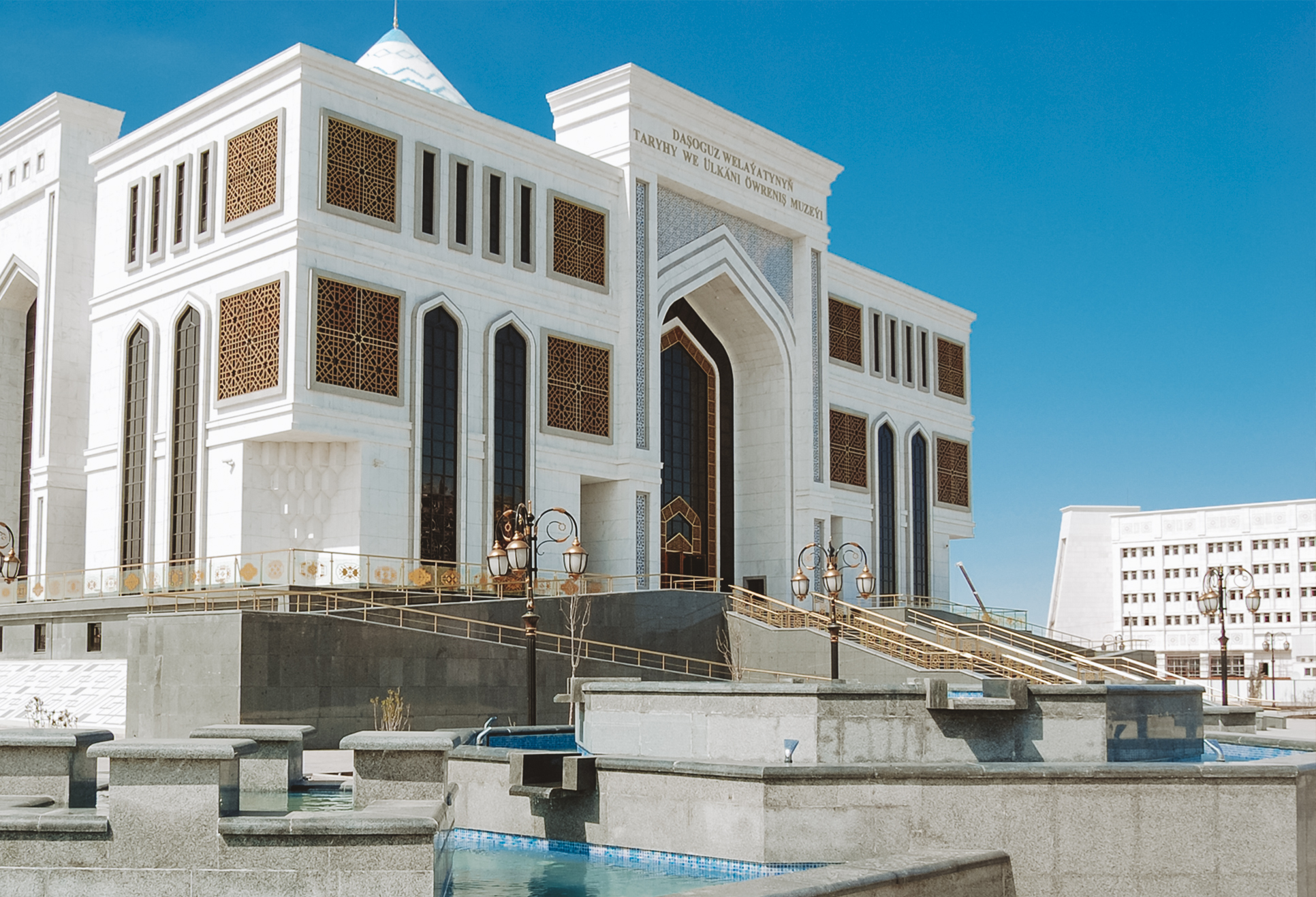 Dashoguz travel guide
Dashoguz is situated in the northern side of Turkmenistan.
Being the capital of Horezmshakh state and the second-biggest and vital after Bukhara, Gurgandzh – a jewelled crown of Samanid, this city has protected its magnificent architectural landmarks – Il Arslan and Khorezmshakh Tekesh catacombs dated the twelfth century.
Significantly fourteenth-century monuments of Keneurgench are Tyurabek-Khanym with a mosaic board on the inward side of the vault which is viewed as a masterpiece of Oriental workmanship which has no analogues in whole medieval design and the grandiose 60-meter Kutlug-Timur the most noteworthy in Central Asia. There are ancient fortress cities like Devkesen, Shasenem, Zmukshir, Kenevas and more.
Kunya-Urgench
Nearly 100 kilometres from the city of Dashoguz (480 km from Ashgabat) is situated the antiquated city of Kunya-Urgench (Old Urgench). Today this antiquated settlement is the state historical and cultural reserve with the region of around 640 hectares (made in 1985).
The name of the city of Urgench is expressed in the historical backdrop of Central Asia with gold letters. Toward the finish of the tenth century Urgench ( formerly Gurgandzh) was the capital of the gigantic and thriving Khorezmshakh state which involved the whole zone of the Amu Darya delta in northern Turkmenistan and western Uzbekistan.
Kunya
Urgench remained an extremely favourable geographical location-the intersection of two noteworthy caravan routes: toward the east, to China, and from the south – toward the northwest, to the Volga. Such position unavoidably impacts the city's development rate and it did develop, rapidly expanding and transforming into a genuine centre of civilization.
At the start of the eleventh century Gurgandzh turned out to be so outstanding that obscured the grandness of Bukhara. Researchers and writers, who celebrated the city as "the capital of thousand wise men", rushed there. The clever researcher, specialist and logician Abu Ali ibn Sina (Avicenna) and the colossal encyclopaedist Abu Reikhan Berunyi used to live and work there.
The whole 13th-century, Gurgandzh had been a heart of "the Islamic World" until its Governor defied Genghis Khan. Mongols demolished it to the ground. That is the reason contemporary Kunya – Urgench is extensively destroyed. Numerous historical structures of Kunya-Urgench serves as examples of Islamic engineering of Central Asia. Different sorts of construction plans, uncommon vault shapes, a huge virtue of hues – they all cause admiration.
Amidst the rule of Kutlug Timur and his significant other Tyurabek-Khanym blossomed. While Kutlug Timur ruled, many renowned architectural monuments of Urgench were constructed. The gem of old Khoresm – the tomb of Tyurabek-Khanym and the minaret of Kutlug-Timur. There are also, many antiquated fortified cities like Zmukshir, Devkesen, Shasenem, Kenevas and numerous others.
Kunya-Urgench is an interestingly unique place on the globe. The extent and estimation of its landmarks are unquestionable. The design masterpieces of the city have been gone into the rundown of the World's Legacy of UNESCO. Call us or visit our website to book your tour now.
Holiday type
Trips to Dashoguz