Bukhara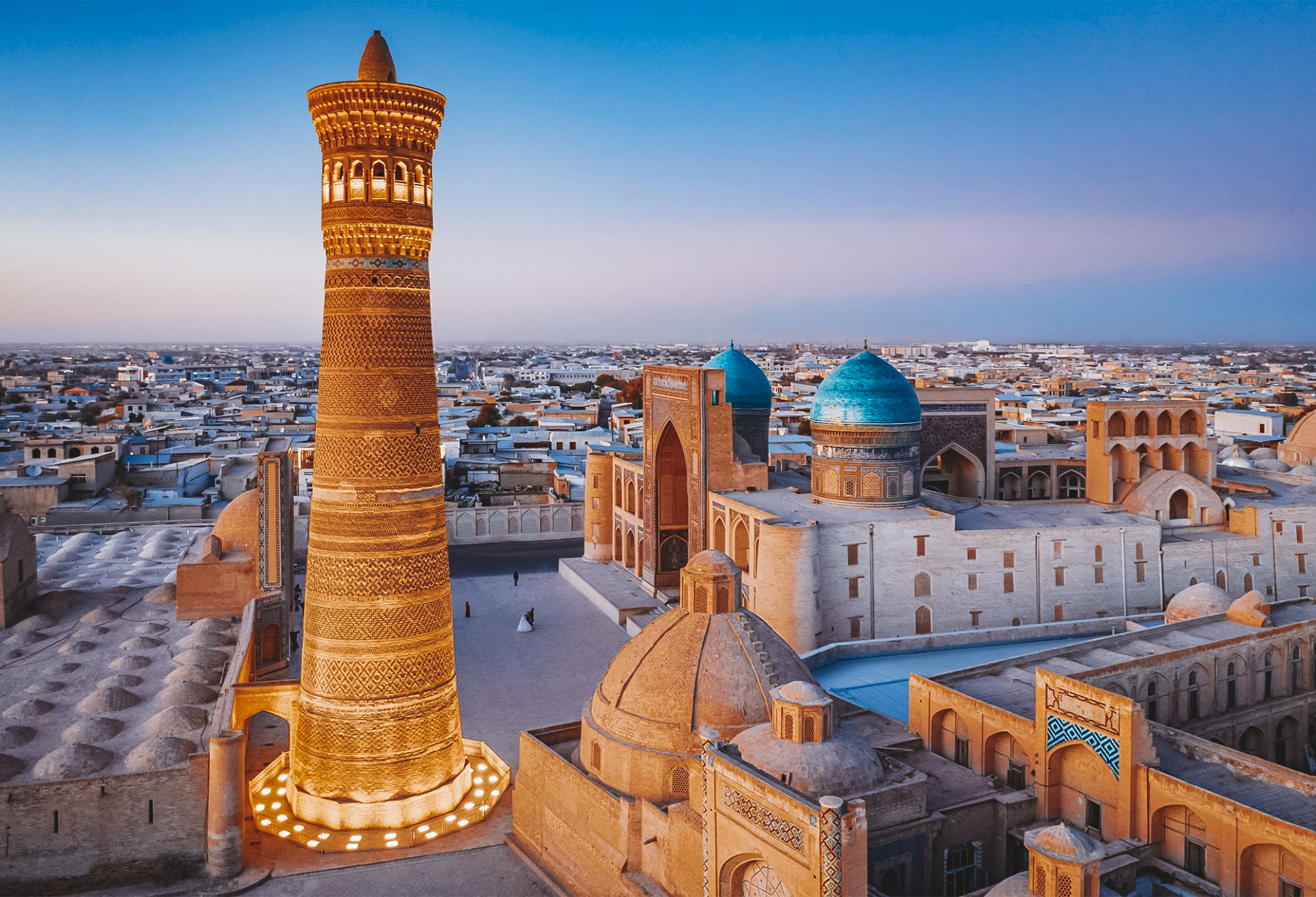 Bukhara travel guide
Bukhara is located strategically on the Silk Road route, Bukhara provides the most compelling picture of a medieval city in Central Asia. Dubbed as a city museum which contains over 140 architectural monuments, the city of Bukhara is now included in the World Heritage Site. Bukhara is the real city-museum.
History Of Bukhara
The history of Bukhara is at least one millennium old and the earliest inhabitants are known to be Aryans, The Indo-Iranian people. Located in the Great Silk Road route, the city of Bukhara was long a center of trade, commerce, culture, scholarship, and religion. Just like other cities in Uzbekistan, Bukhara was also ruled by many emperors that spanned various eras.
Persian Empire – Bukhara started as a vassal state and later got conquered by Alexander The Great. Then during the Greco-Bactrian and Kushan Empire, it became a center of commerce and trade accelerated with the functioning of The Silk Road. After fall of the Kushan Empire, Bukhara came under the rule of Hua tribe from Mongolia.
Islamic Empire – With the advent of Arab invaders, Qutaybaibn Muslim who was one among the many Arab invaders, converted most of the population to Islam which gave rise to the Islamic empire and construction of many mosques and mausoleums. Under the Samanid Empire, the Islamic culture proliferated and it continuously rivaled with Baghdad in its glory.
Karakhanid Empire – In around 1005, Bukhara was part of the Turkic state of Karakhanids which got later invaded by Muhammad II of Khwarezm which marked the brief Khorezmshakh Empire in Bukhara.
Mongol Empire in Bukhara – Genghis Khan conquered Bukhara in fifteen days in around 1220 and was the beginning of the Mongol Empire in the city.
Khanate Of Bukhara – A feudal state existed from 16th to 18th Century which was ruled by Khans and Emirs under which Bukhara was the capital.
Russian Empire in Bukhara – Lately it was the Russians who took hold of Bukhara until the fall of the Russian Empire. Bukhara was regarded as one of the main cities and integrated into the Uzbek SSR.
Sightseeing In Bukhara
Po-I-Kalyan Complex – This architectural complex comprises of three distinct constructions built in 12th-16th century all of which are considered masterpiece of medieval Islamic architecture. It used to be the main center of ancient Bukhara.
Khoja-Gaukushon Ensemble – It is one of the largest ensembles located in Bukhara which consists of madrasas, mosques, and minarets along with other secondary buildings. Previously a slaughterhouse used for killing bulls, it is now included in UNESCO World Heritage site list.
Lyab-I Hauz – It is an ensemble created during the 16th and 17th centuries that surrounds one of the few remaining ponds (Hauz) surviving in City of Bukhara. Kukeldash Madrasah, Nadir Divan-BeghiKhanaka and Madrasa, Magak-i Attari Mosque are the main buildings in this ensemble.
Kalyan Minaret – Part of the Po-i-Kalyan Complex, it is the most prominent structural landmark in Bukhara whose yellowish color seems to be sparking under the sunlight.
Abdulaziz-Khan Madrasah – This colorful and vivacious madrasa built in 1652 is now a museum that houses numerous wood carved artworks. It was built by Ulugh Bek, a renowned astronomer, in honor of Abdul Aziz Khan.
Mir-I-Arab Madrasah – Also part of the Po-i-Kalyan Complex, it is one of the noteworthy sacred destinations in Bukhara.
Magoki-Attori Mosque – It is located in the central part of Bukhara next to Lyab-i Hauz and one of the most ancient preserved mosques in Uzbekistan.
Samanids Mausoleum – Built between 892 and 943 CE during the rule of Samanid dynasty, it is deemed one of the finest examples of Central Asian architecture.
Chashma-Ayub Mausoleum – Added to the UNESCO World Heritage Site Tentative List, it is now a major pilgrimage site in Bukhara where the water is considered holy, pure, and healing.
Bukhara never disappoints tourists who come with a load of expectations to get a one-of-a-kind historical and cultural holiday tour experience, nor does it fails to provide a warm and hospitable staying experience as the people in Uzbekistan are among the friendliest groups of people. Minzifa Travel offers Bukhara Tours with variety of sightseeing programs to find rich programs of tours to Bukhara, and more things to do in Bukhara
Ready for Your Dream Trip?
Let Us Customize Your Perfect Tour - Fill Out Our Form Now!
Create my trip