Astana is a newly emerged modern city which invites its guests with the blend of east and west traditions like rationality, modernity, and history. During Astana City Tour you will take a closer look at the most insignificant futuristic architectural constructions and monuments of modern capital which is now a must visit tourist destination.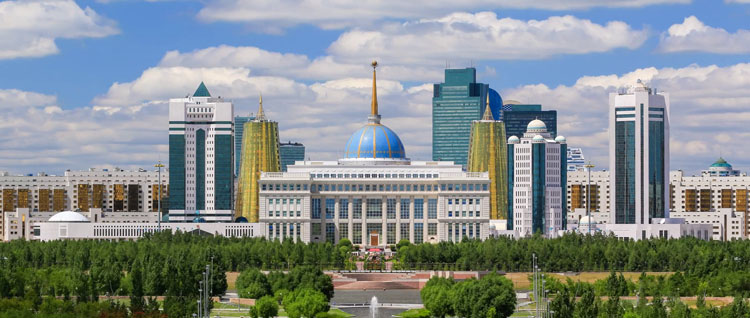 Start your Astana city tour admiring the magnificent modern architectures
The Pyramid Of Peace And Accord
The Palace of Peace was built in 2006 for Traditional Religions and takes into the reflection of many faiths such as Judaism, Hinduism, Islam, Buddhism, Christianity, and many more. The Palace of Peace and Reconciliation contains a center for Kazakhstan's plentiful terrestrial and ethnic cultures.
Hazrat Sultan Mosque
The Hazrat Sultan Mosque is said to be one of the most beautiful landmarks in Astana. This large structure reminds you of an ornate palace and took over three years to build by over 1,500 workers. The Hazrat Sultan Mosque is termed after Sufi Sheikh Khoja Ahmed Yassawi and is large enough to house over 10,000 people. This is a fully well-designed mosque, that visitors are welcome to stop by and check out the gorgeous architecture. You will be simply amazed by the beauty you will witness of its architect.
Khan Shatyr
The 150m-tall tent-like structure in Astana is now a major new civic, cultural and social venue for visitors. This standout piece of architecture is home to a shopping and entertainment centre, an internal park, boating river, mini golf, and an indoor pool and beach. There are also plenty of events held here, so keep an eye out for anything exciting happening on your visit. Inside the huge structure, there are numbers of entertainment options available such as Amine golf course, shopping centre, park, a small boating river, and even an indoor beach resort.
The Presidential Palace
Independent Kazakhstan's new emerging capital has a unique architectural collaborate in terms of artistic meaning. An important element of the city's central area is Akorda – the residence of the President of the Republic of Kazakhstan. The Residence is a modern administrative complex with high-end facilities inside, built in the new centre of the city to symbolize the evolving face of Kazakhstan.
Bayterek Tower
Yet another astounding building that cannot be missed in Astana is the Bayterek Tower. This building is 97 metres high, formed like a tree holding an egg, to represent the year that Astana became the capital of Kazakhstan. Travellers and locals can take advantage of this height by visiting the observation deck to view the entire city. What's a capital city without a great height to see it from?
Walk Along The Millennium Axis In Astana
In order to explore the city, you need to walk through it. This walking tour starts with a visit to the Khan Shatyr shopping and entertainment center to Bayterek tower. Walk along the straight roadcalled KishoKurokawa, which is acknowledged as the "Millennium Axis".
All through the tour, you will see new Astana Opera theatre and the Round Square with its cascade of fountains. While walking on Nurzhol and Green Water Avenue you will observe all high-rise building of Astana, which is astonishing with its high standard forms.
Book your Astana City Tour with us to enjoy the grand panorama of Kazakhstan capital.