The Kazakh mountain ranges are a favorite tourist spot for tourists from all over the world. Apart from the beautiful landscapes and rare flora and fauna, the mountains are famous for alpine spas and sanitoriums.
The steppes with the mountain peaks draw beautiful landscapes in the countryside.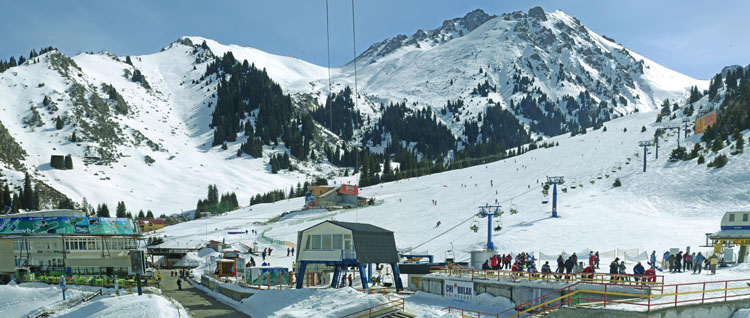 The adventures start off at Almaty with its high mountains and surroundings in the close to the city. Trans-Ili Alatau, the surrounding mountains, houses Modeo Gorge, the highest mountain skating rink in the world. Medeo Gorge is also home to a big dam that protects the city from damaging mudflows. Kok-Tobe hill gives you an unforgettable view of the city of Almaty with all its closeness. The world's tallest TV tower is on these mountains. Beneath the TV tower, you can walk along the twisting paths of the Kok-Tobe Park. Don't stop without taking the famous Almaty Cableway from the top of the mountain to the center of the city.
For the adrenaline junkies out there, the country of Kazakhstan has everything that you have on your list. Bungee jumping, mountain skating, skiing, adventure walks, serenity; you name it, you get it.
The Big Almaty Lake and the Medeo Lake together make up for the water-body scenery that mesmerizes every human that goes there. Known to have healing powers, the water of the Medeo Lake is clear and fresh as the waters coming from a glacier. Get yourself the most non-polluted air to breathe in a long time.
Don't forget to visit the Charynskiy Canyon, Ile-Alatau National Park, Red Rocks and the mountainous plateau of Assy.
Not to be left behind, Tian-Shan Mountain Trekking offers a whole different trekking experience. Enjoy yourself running through waters and sleeping in tents. Climbing atop tall mountains, you get to see the fascinating views that are hard to find elsewhere. Visit the Issyk-Kul Lake, which is the 2nd largest alpine lake. The water never freezes here.
If you are a fan of snow-covered camps, we got you covered too. Khan Tengri offers that experience. Traveling between Chapyev Peak and Khan Tengri, you get to form a squad and set up tents in the snow caves of the Tian Shan Mountains. JetiOgur captivates everyone with its beautiful waterfall situated at 2250m above sea level.
Khan Tengri is a spectacular ice pyramid resting at 7010m high and lying on the border between Kazakhstan and Kyrgyzstan. Reminder: go for Bezeklik Thousand Buddha Caves, The Golden Eagle Hunting, Heavenly Lake, Karkara Valley and Cholpon Ata Petroglyphs.
Call us/visit us/contact us to book a tour of these majestic mountains.