Khiva can be thought of as a tiny little secret that Uzbekistan holds back under its blanket of rich oriental Middle East offerings. It is not as touristifiedwhen compared to its siblings, Bukhara and Samarkand, but nevertheless it is quite familiar among foreign tourists who strive to come back for another visit. It is now a UNESCO World Heritage Site because of the clustered array of mosques, madrasas and tiled minarets.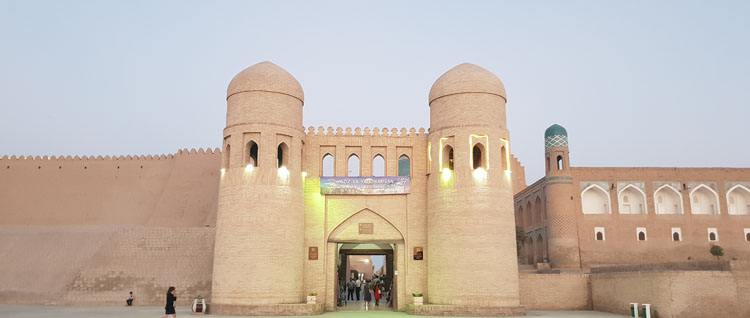 Just like other cities in Uzbekistan, it is a very ancient city founded at the beginning of Christian era. The early inhabitants are reported to have been of Iranian and Turkic ancestry which is also quite evident in the ruins and architectures found in this region. Located on the Silk Road route that facilitated transcontinental trade between China and Europe, it quickly became a major trading post and numerous structures were developed from time to time. This helped Khiva become a living museum town with monuments that'll unequivocally sweep you back in time.
Here Are The Best Sightseeing Options In Khiva:
Itchan-Kala
Itchan-Kala is an inner town protected by 10-meters high brick walls which served as a resting place for caravans coming from or going to Iran. The history of this place spans two millennia where you can find almost 51 ancient monuments and 250 dwellings all built according to the ancient traditions of Central Asia.
Kunya-Ark Fortress
This fortress is a multi-yard complex which served as the accommodation place for Khans, their family members, and their dignitaries. This royal place got ruined in the Iranian invasion only to be later rebuilt and preserve.
Muhammad Amin Khan Madrasah
Situated in the western part of Itchan-Kala, it is the largest madrasah in Khiva known for its impressive architecture, interiors, and ornamental carvings.
Kalta Minor Minaret
The size and unique design of this minaret help Kalta Minor to become one of the profound oriental architecture standing tall in Khiva. The turquoise-tiled design makes this standout from the rest of the brown-colored structures.
Pakhlavan Mahmoud Mausoleum
It is one of the most sacred locations in Khiva attracting pilgrims from around the country who come here to pray and get the holy water. Named after saint leader and influential philosopher, Pakhlavan Mahmoud, it safeguards some of this amazing achievements and contributions.
Djuma Mosque
This is a Friday Mosque constructed at the end of eighteenth century located in the center of Itchan-Kala. The flat ceiling is supported by 215 wooden pillars which were carved from tree trunks and ruined medieval buildings.
Islam-Khoja Complex
Located in the historical center of Itchan-Kala, it is deemed as a pearl of this place accommodating minarets and madrasahs. The tall minaret constructed in this place was constructed as a landmark for travelers to easily find the way to the city.
Stone Palace (TashKhauli)
Visit the opulent royal lifestyle of king's family during the medieval period with special exhibitions and artworks still preserved in many parts of this palace.
Tomb of SayidAllauddin
This is the burial place of Saint SayidAllauddin and is a sacred and holy destination for newlyweds who visit this place as part of traditional customs.
Khiva is the kind of city you'd want to end up be in if you really desire to get yourself immersed into the Middle East oriental architectures and that too in isolation as this city is far less visited. Our Khiva Tour packages are both affordable and tailor made covering the above well known places along with some lesser known ones. Kindly visit our Contact Us page to get in touch with us for any inquiries or bookings.