Uzbekistan has been a melting pot for cultures since its first settlement as an oasis up until its creation as Uzbekistan as a country. Various dynasties came and conquered various parts of Uzbekistan from time to time, and consequently the culture got influenced multiple times and made it both colorful and distinctive. A little bit of everything was incorporated into the overall tradition that Uzbekistan followed.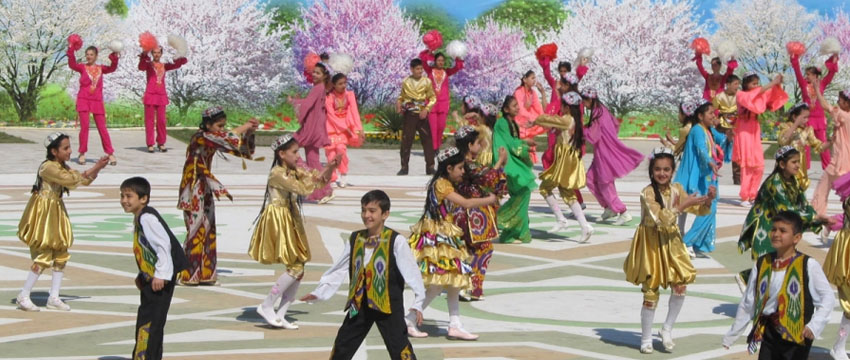 Influence Of The Great Silk Road
The diverse culture of Uzbekistan should be largely credited to the Silk Road route. This iconic transcontinental network of routes facilitated trade between the East and the West. This passed through the regions of Uzbekistan which created centres like Bukhara and Samarkand and Khiva. Later these cities, because of their immense economic values suffered multiple conquests from Arabs, Greeks, Chinese and all.
Today Uzbekistan enjoys a multi ethnic population, with majority being Uzbeks, and minority being Russians, Tajiks, Kazakhs, Koreans, and Chinese. Visit insurmountable number of mosques, madrasahs, religious monuments, and ancient palaces in our Uzbekistan Cultural Tour Packages.
Here Are Some Of The Cultural Tours To Uzbekistan We Provide :
Welcome To Uzbekistan
In this tour, we politely Welcome To Uzbekistan by taking you to major cities of Uzbekistan and giving you an extensive tour of all of the cities. The cities are Tashkent, Bukhara, Samarkand, Termez, Shakhrisabz.
Amazing Ancient Cities
In this tour, get to visit the most ancient cities along the Silk Road route which appraise a compelling story of the past millennium. These cities have numerous old forts and mosques built from the 10th century and later which are carefully preserved. The cities covered are Khiva, Bukhara, Nurata, and Samarkand.
Exotics Of The East
The Eastern part of Uzbekistan located in the core of Great Silk Road is characterized by centuries old breathtaking monuments was historically one of the important regions of Central Asia. Major cities in the eastern part of Uzbekistan are Tashkent, Nukus, Muynak, Khiva, Bukhara, and Samarkand.
Uzbekistan In Depth
Dive deeper into the history, culture, and lifestyle of Uzbekistan in our 17-day Uzbekistan in depth tour package. Take an extensive tour to the most important cities both culturally and with recreational significance. The cities covered are: Tashkent, Kokand, Fergana, Margilan, Rishtan, Nukus, Muynak, Khiva, Bukhara, Nurata, Termez, Samarkand, and Shakhrisabz.
Three Gems Of The East
The trio of Tashkent, Bukhara, and Samarkand make up for an excellent combined travel tour, the latter two of which were capitals of powerful kingdoms for several centuries. You'd get a chance to see all the magnificent monuments in all the three modernized cities of Uzbekistan.
Craft Hubs of Uzbekistan
Uzbekistan has always been a land of brilliant craftsmen and the items they weaved together has deeply got embedded into the country's culture. Our Craft Hub tour will take you some of the Uzbek cities and villages which are notable for thier arts and crafts. These are: Tashkent, Samarkand, Bukhara, Ferghana, Margilan, Rishtan, Kokand.