Did you know: Kazakhstan is the world's ninth biggest country? Kazakhstan is the biggest landlocked nation in the world, with Russia bordering it from the North, China from the West; down in the South there is Uzbekistan and the Caspian Sea in its Western Border.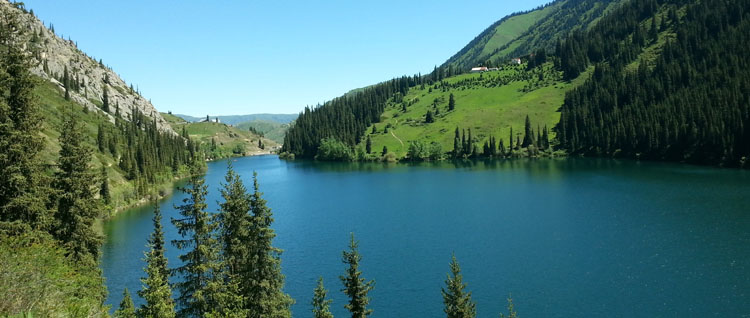 'Place full of apples'- Almaty is the main and the earlier capital city of Kazakhstan. Kazakhstan has excellent places where you can meet people, experience the exclusive nightlife and can shop until your pockets get empty. Except for this, the country is full of adventures, can board in the steppes of the Tian Shan a valley in Kazakhstan. The place has five climatic zones and two time zones.
People can easily accustom to this country's tradition and culture, wander this land with new occurrences and happenings which they may not have faced yet. Kazakh means "adventurer' or "wanderer" or "outlaw," and Stan is an ancient Persian meaning "land" or "nation." That's why Kazakhstan is known as the "Land of the Wanderers." Kazakhstan, the ninth biggest country by area in the world, even though it has the lowest population density around 18.4 million. Kazakhstan allows everything you could wish for in a tour destination, which involves glaciers, high rocky canyons, coniferous woods, pristine mountain lakes, mountain tops, and amazing rivers among many others. In this country, where visitors can get recreation events throughout the year.
Wandering Where To Go In Kazakhstan?
Then here is your answer and some of the places where you can go for pleasant drives with your families or friends.
Almaty is an attractive city situated between plains and mountains. The town has lots of museums, exhibition halls, theaters, art galleries and workstations and also have many entertainment complexes including movie nightclubs, theaters, restaurants, and cafes.
Astana is the second largest city in Kazakhstan. The old and new modern sites have become chief attractions for visitants. Key attractions include Bayterek tower and Duman aquarium.
Taraz located on the way from Tashkent and Shymkent to Bishkek and Almaty, Taraz is one of Kazakhstan's traditional cities, going back 2000 years to a fort built in the plain.
Aktau rests on Kazakhstan's Caspian border. With some powdery beaches, low-key summer tourism and a pleasant climate. Other than transport connections, there are many of the natural and human-made phenomena of the surrounding area, Mangistau.
Southern Kazakhstan is the most Kazakh portion of Kazakhstan: Kazakhs are generally the vast majority of the residents, having been located here in large figures during Soviet collectivization. It is also the only sector of Kazakhstan that was inside the orb of the Silk Road and the determined civilizations of Transoxiana in ancient times.
Semey, known for the Soviet nuclear testing field( the Polygon ) Semey has an unusually rich social heritage that gives the title as one of Kazakhstan's most impressive rural cities.
If you are planning to visit Kazakhstan, then get in touch with us!