Сity tour in Bishkek and lunch with local family – Tour to Kyrgyzstan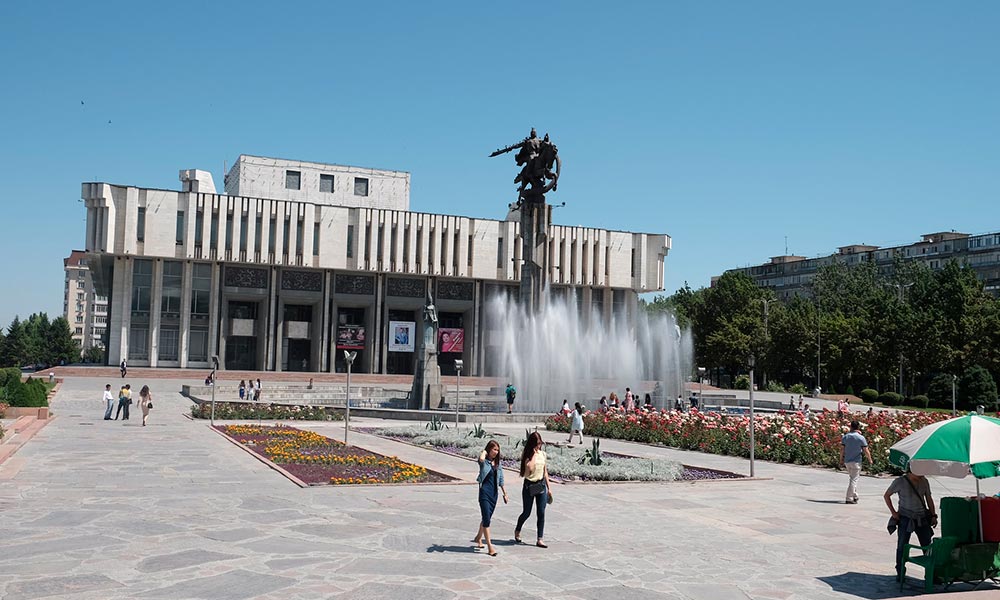 Trip Facts
Language

English, German, Russian

Group Size

Minimum 1 persons, Maximum 20 person

Best season

Year around

Fitness level

Medium, normal physical shape and good appetite

Tour type

Group Travel, Private Travel
Trip code: WTE-16267
Overview
Сity tour in Bishkek and lunch with local family – Tour to Kyrgyzstan. While visiting the most interesting sights of the capital of the Kyrgyz Republic get deeper insight into the life of an ordinary Kyrgyz family. The most interesting and very informative city tour around Bishkek to visit the main sights of the capital of the Kyrgyz Republic and lunch with a local family. You have a chance to taste national cuisine, speak with locals and learn more about the life in Kyrgyzstan. Meeting point and time: Main door of the State Historical Museum, Ala Too Square, 9 am. Useful things to take with you: 1. Flask for water. 2. Sunglasses 3. Photo camera 4. Daily backpack 5. Hat 6. Comfortable walking shoes for the city tour
Bishkek travel highlights

The Culture and Hospitality of the East
Unique architecture
History and sights from the times of Genghis Khan and Alexander the Great to the present day
National cuisine, pilaf, samsa, lagman
Seasonal Kyrgyzstan fruits, vegetables, berries
Itinerary: Bishkek
09:00 - 12:00 Bishkek city tour
12:00 - 13:30 Lunch with a local family
13:30 - 17:00 Bishkek city tour
The city tour is mainly walking and partially driving. Start at the main Ala Too Square with the Manas Monument, then walk around to the Old Square with the Parliament House and the Lenin Statue, walk through the Oak Park to the Statue of Kurmandzhan Datka at Erkindik Boulevard and Open Air Art Gallery, walk to the Opera and Ballet House, further to the Victory Square with the Eternal Flame.
Around 12 o'clock we take you to a local family house to get acquainted with the national cuisine and feel unique atmosphere. For 1, 5 hours to taste delicious dishes of the Kyrgyz cuisine, speak to people and learn more about life in Kyrgyzstan.
After lunch drive to the State Philharmonic with another statue of Manas and the Kyrgyz National University, further drive to the Osh market, the oldest market of Bishkek.
Souvenirs shopping opportunities: at the Osh market or ZUM department store at the very end of the city tour.
At the tour one of the two museums in the city center can be visited – the State Historical Museum (at the moment it is closed for repairs) or the House Museum of Frunze.
The city tour ends at 5-6 pm at the meeting point; you can also be delivered to your hotel, or any place agreed in advance.
Inclusions
The price includes:
- English, German, Russian speaking guide
- Transportation from object to object
- Mineral water 1 l p/p,
- Entrance and ecological fees where necessary.
Note
"Please note that we use a local supplier for your arrival airport transfer. As tourism is a growing industry in Central Asia, your driver may not speak English."
Timur Alimov
Dear friends!
My name is Timur Alimov, and I represent our group of travel experts in Uzbekistan and Central Asia. Our travel experts will guide you through Uzbekistan and Central Asia. For the past ten years we have been gathering and guiding groups of more then 10000 happy travelers. We can show the country through the eyes of the locals, as if you come not as a tourist, but as a guest visiting friends. We give to our travelers only the routes that we checked personally or it was checked by our guides. Some members of My team has traveled this route more than 10 times, and during these trips we have made a lot of friends in each cities who become our friends and help us.
Our travel company office is based in Bukhara, but our travel experts are set in each country we represent. Company is officially registered and has certificates and tourist licenses # T-0087 Unique Travel issued by state gov of Uzbektourism.
I look forward to seeing you as our clients!
How to reserve a seat
You can book your seat through the booking form , click on "Book now" and follow the process. You can also contact me or our team to get the consultation.
Reviews
Ready for Your Dream Trip?
Let Us Customize Your Perfect Tour - Fill Out Our Form Now!
Create my trip