Yazd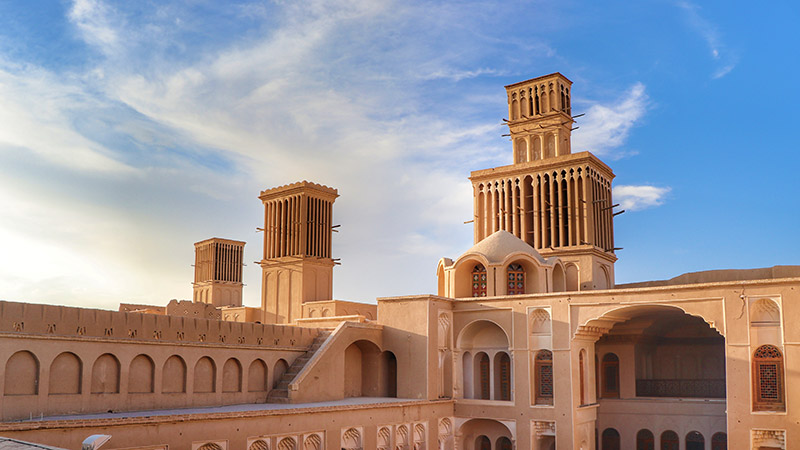 Yazd is a city located in central Iran and is the capital of Yazd Province. It is one of the oldest inhabited cities in the world, with a history that dates back over 5,000 years. The city is known for its unique architecture, historical sites, and its significance as a center of Zoroastrian culture.
Yazd is situated in a desert region and is characterized by its adobe (mud-brick) buildings, windcatchers (traditional ventilation systems), and narrow alleyways. The city's distinctive architecture helps to mitigate the hot desert climate by providing shade and natural cooling.
One of the notable landmarks in Yazd is the Jameh Mosque of Yazd, an ancient mosque with stunning tilework and a tall minaret. The Zoroastrian Fire Temple is another important attraction, housing a sacred fire that has been continuously burning for hundreds of years. The Towers of Silence, located on the outskirts of the city, are ancient Zoroastrian burial grounds where the deceased were laid out to be exposed to the elements.
Yazd is also famous for its qanat system, an underground water irrigation system that has been used for centuries to supply water to the city and surrounding areas. The qanats are an impressive engineering feat and have contributed to the sustainable development of Yazd in a desert environment.
The city is known for its vibrant bazaars, where visitors can explore and shop for traditional handicrafts, textiles, and souvenirs. Yazd is particularly renowned for its production of silk textiles, which are famous throughout Iran.
Yazd is home to a significant Zoroastrian community, and visitors can learn about the history and traditions of Zoroastrianism at the Yazd Atash Behram (Zoroastrian Fire Temple) and the Yazd Water Museum.
Yazd's climate is desert-like, with hot and dry summers and mild winters. The best time to visit is during the spring and autumn months when temperatures are more moderate.
Ready for Your Dream Trip?
Let Us Customize Your Perfect Tour - Fill Out Our Form Now!
Create my trip