Bukhara is considered one of the finest cities in Uzbekistan which perfectly exemplifies an ancient medieval city in Central Asia. Located in the main Silk Road Route, its history is more than 2,000 years old spanning numerous rulers from different dynasties. This has led to colossal amount of constructions and development devoted and dedicated to influential figures during the respective epochs. Our Bukhara City tour packages cover all the major sightseeing places in Bukhara along with some of the lesser-known ones.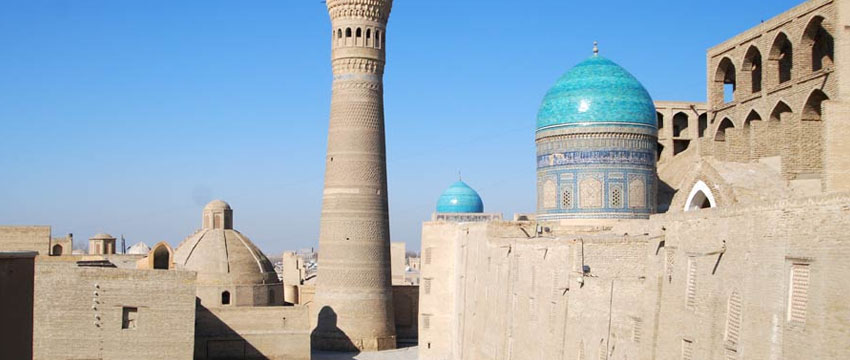 Below Are The Major Sightseeing Places In Bukhara:
Khoja-Gaukushon
The ensemble of Khoja-Gaukushon located in the center of the city is one of the largest of its kind in Uzbekistan. Comprising of many large madrasahs and mosques, you can spend your entire day exploring the puzzling monuments.
Lyab-i Hauz
It is one of the most popular tourist destinations in Bukhara with a collection of different monuments and buildings constructed somewhere between 16th and 17th century. You can also find one of the last ponds (Hauz in Urdu) remaining in here post soviet era. The environment of this park is both tranquil and relaxing.
Abdulaziz-khan Madrasah
This Madrasah which was built sometime back in 1652 is considered as the gem of Islamic architecture. It exhibits the finest wood carving art collection with artistic decorations evident both on interior and exteriors.
Kalyan Minaret
Also known as the "Tower of Death" due to the executions performed on captives, this 45-meter towering minaret is among the most prominent landmarks in Bukhara. It is part of the larger Po-i-Kalyan mosque complex.
Mir-i-Arab Madrasah
This madrasah was built in around 16th century and is situated within the Po-i-Kalyan mosque complex. The exquisite Arabian oriental artworks are evident in the décor and architecture of the building, and to this day is a functional religious institution.
Magoki-Attori Mosque
It is part of the Lyab-i Hauz religious complex and is located just 300 meters from Po-i-Kalyan mosque complex.
Nadir Divan-begi Madrasah
One of the madrasahs located in Lyab-i Hauz architectural complex, it is an important building devoting special attention to Islamic architectural heritages.
Samanids Mausoleum
Located outside of the historic urban center of Bukhara, it is a highly rated ancient tourist spot for its high esteemed Central Asian architecture. It hosts the cemetery of Ismail Samani.
Chashma-Ayub Mausoleum
Built in the 12th Century by Karakhanid rulers, this mausoleum is a sacred place for locals and is related to legend of Prophet Job. The water coming out of the wells are considered holy and said to have healing effects.
Ark Citadel
This enormous fortress was fortified in 5th Century AD primarily to provide defense against the enemies. Now there is a museum preserving all its history, a mosque, and a large building complex.
After you're done visit the tourist spots, you can pay a visit to one of the markets where you can find all daily necessity items, local produce, and souvenirs. Here are the main bazaars of markets:
Tim-Abdullakhan Bazaar
Named after the most successful Khan of Shaibanid dynasty, it is the largest dominating structure in the trading dome of Bukhara.
Taqi-Zargaron Market
Another market in trading dome, Taqi-Zargaron is the largest existing shopping complex which reportedly accommodated 36 different shops and ateliers.
Nughai Caravanserai
It is an excellent place where you can find handmade items and handicrafts among other items in souvenir shops located inside this place. Built around the late 15th century, it served as a resting place for merchants and travelers coming here for trading purposes.
Artisan Development Center
Here you can see the entire development process of handcrafts from raw materials to finished product. Artisans employed here work on miniature paintings, jewelry boxes, and tapestries.