The forested mountainous location and grassy steppes have lately been the point of attraction for many tourists in Kyrgyzstan and Tajikistan. Some of the most important cities in this country include Bishkek, Balykchy, Naryn, Osh.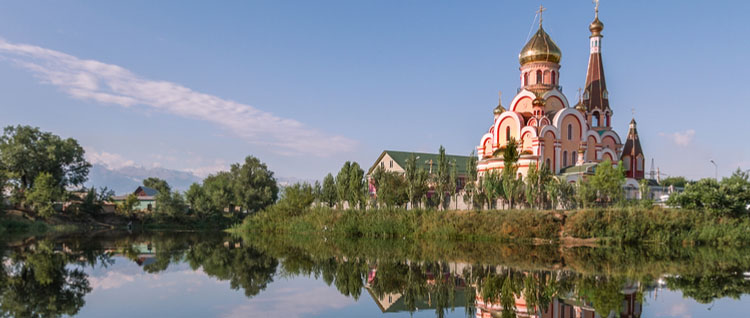 The region boasts of untouched nomadic cultures.
Osh City Tour
Suleiman Mountain – UNESCO World Heritage Site, is a must visit. Nicknamed as Kichi-Mecca (Little Mecca), Suleiman Too sacred mountain is considered to be a major place of Muslim and pre-Muslim pilgrimage. It is also said to be the burial place of Prophet Sulaiman. Prior to being a burial ground, it was a pilgrimage spot for local people.
On the summit of the mountain is a stone shelter which is known as Babur's House, which was named after the 15-16th-century Muslim leaders by whom Mughal dynasty in India was formed and also performed his 40 days fast for meditation here.
Penjikent – Seven Lakes – Dushanbe
Seven Lakes (80 km). Sarazm which is considered to be one of the ancient settlements in Central Asia with about 5500 years of civilization can be witnessed while in Tajikistan. In 2010, the Sarazm was added to the list of the Intangible Cultural Heritage by UNESCO.
Khujand- Tashkent
Tashkent is considered to be the largest city in Central Asia and one of the oldest in the place. Sadly, in an earthquake in 1966, most of its memorable buildings were destroyed.
Arrive In Bishkek And Ala Archa National Park
There in the mountains, just 30 km outside of Bishkek lies the Ala Archa National Park. While enjoying the amazing views and pleasant air, take a walk in the Park. Osh Bazaar, Panfilov Park and the Ala-Too Square should be a must on the sightseeing list. The National History Museum is a memorial to the political hero Manas, writer Chingiz Aitmatov and the Kyrgyz hero Kozhomkul.
Bishkek And Ala Archa National Park
To begin with, Burana Tower near the town of Tokmok which is 60km east of Bishkek should be visited. The only remaining structure from the antique town of Balasagun, the former capital of the mighty Karakhanid empire is situated in the minaret from the 11th century. Also, an amazing view of the Chuy valley can be enjoyed from the winding staircase. A small open-air gallery accompanied with "balbals", sculpted stone figures used as buildings can also be spotted.
Tossor – Kochkur- Song Kul Lake
A drive can be taken up to Lake Issyk Kul, which is the second-largest mountain lake in the world, after Titicaca. Being located at an altitude of 1600m, it is slightly saline with no outlets and is also completely surrounded by the Tien Shan mountains. Data suggest that remains of an old trade centre from 2nd century BC can also be found under the water.
In Kochkor, Do Visit Workshops Where The Local Women Produce Carpets From Felt.
Moving forward to another mountain lake – Song Kul. Lake Song Kul being a mountainous lake is situated at an altitude of 3016 meters above the sea level. The lake is not far away from Kochkor, but due to poor road conditions, it becomes a long and rough mounting to the lake.
The migrants are usually spotted passing their summer on the "jailoo" (summer pasture) with their animals. Also, herds of horses and sheep grazing on meadows full of Edelweiss can be seen. A short horse ride can be considered according to your interests. "Kymyz" (mare's milk) can be tasted and the shepherd's wife can be witnessed preparing bread and cheese.
Call us or visit our website now to book your Kyrgyzstan Tajikistan Combined Tour.