Located in the high mountains of Chimgan, Gulkam Canyon is one of the most amazing places in Taskhent Region of Uzbekistan. This canyon was formed by the mountain stream Gulkam which forced its way between the Big and Small Chimgan. It extends many kilometers along the way of which it is joined by many small streams. The width of the canyon is rather uneven as well where in some places it extends wide enough to form a valley while in other places it shrinks down to 5 to 6 meters. There is a waterfall where a narrowest section of the canyon ends abruptly, past which there an easy, but is challenging,mountain climbing area which will test your stamina. These climbing routes can get quite extreme during wet season, and the canyon can only be climbed from the left side with the help of climbing ropes.
Moreover, it doesn't require a lot of effort to get to this place as it is just situated roughly 100 Km from Tashkent, the capital of Uzbekistan, which is a 2-3 hours road drive.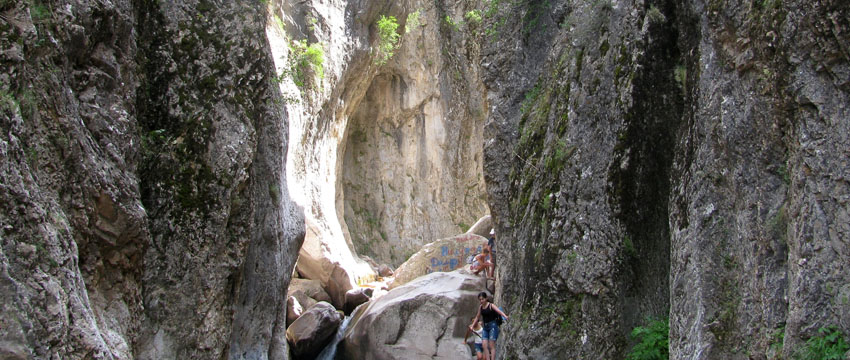 Things To Do In Gulkam Canyon :
Trekking and Hiking
Following the path which begins at Chimgan village and tourist camp through the Pesochniy Pass, you'll get the best overlooking view of the Chimgan Mountains. The steep slopes and perched rocks will intermittently challenge your climbing skill and endurance, but nonetheless promise fun and adventure. However, precautions must be taken before commencing the trekking journey and equipments such as hiking boots and climbing ropes are highly recommended.An experienced guide to safely guide through is advised as well. The whole of Gulkam Canyon can be wrapped up within 5 to 6 hours which makes it ideal destination for a half day excursion tour or a trekking tour.
Picnic tours
The shorelines of the canyon and the surrounded by trees provide an excellent spot for organizing campfires and picnics. Even locals at Tashkent visit this place on the weekends with their family to spend some quality time.