The perfect choice for adventurers and for those who want to feel the remoteness and the strikingly beautiful scenery of Kyrgyzstan countryside and local nomadic culture, Jeti Oguz is a paradise which very few foreigners have ever experienced.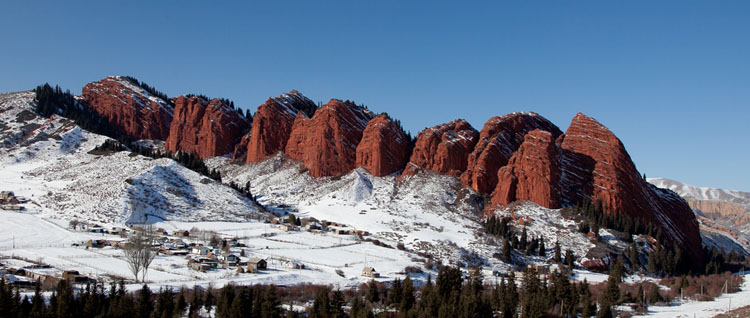 After the liberalization of its visa regime, a couple of years ago, Kyrgyzstan was discovered by fearless travellers who wanted to endure more factual and secluded mountain adventures. Henceforth, the mountain ranges of Kyrgyzstan little by little, and, the ones around Karakol especially, started overflowing with foreign trekkers to such an extent that, today, most of their trails have become famous around the globe. This clearly means that during the high season, you get to trek with a whole flock of other travellers like you.
The country was opened to tourism only recently, therefore most of the trekking trails still remain undiscovered, which means that you can come across endless opportunities to get off the beaten track and be one of the very few foreigners who has ever gone through that particular trek. If you ever come trekking in Karakol, the trail that goes from Kyzyl Suu to Jeti Oguz is an excellent alternative to the route popularly known as the Ala-Kul trek, where you'll be likely to meet with some other trekking groups.
Going Over Archa Tör, A 3,900 Meters Pass, The Kyzyl Suu –
Points to be taken care of during the Jeti Oguz Mountain trekking-
Travel insurance for trekking in Kyrgyzstan.
Cost of Jeti Oguz Mountain trekking expedition.
Do you need a guide?
Accommodation, food and water and other basic facilities.
What to bring and pack for the trek?
Where to stay in Karakol?
Information about the Jeti Oguz Mountain trek
Trekking duration: 3 to 4 days
When to go: From June to mid-September
Length: around 50km
Lowest-Highest point: 1,500-3,800m
Complete Trek Plan At The Jeti Oguz Mountains
Starting Point – Kyzyl Suu
Chong Kyzyl – Suu Road
Checkpoint
Water springs – End of the road
Nice camping spot
Cable car and yurt camp
Trek far from the river
Leave trail to the left and start ascending again (2,800m)
Continue ascending
Epic camping spot at 3,400m
Archa-Tör mountain pass (3,900m)
Descending through a very dense and steep forest (3,000m)
Cool camping spot
River crossing with horses
Touristic yurt camps
Ending Point – Jeti Oguz Kurort