Mangyshlak is a near beach place along the Caspian Sea surrounded by mosques, caves and rocky shelters all around. With patches of green lands among the barren landscape, you get a feel of the scenery evident in paintings of sea-side places. Among the places to visit, the most famous and in-demand place are the beaches with its fine sand and small bays. You can find them mostly in Aktau. With many cemeteries, mosques, and places of pilgrimage, Ustryurt Plateau is a holy and divine land ready to cleanse your soul. Among other notable places, you have Shakpat-Ata and Shopan-Ata.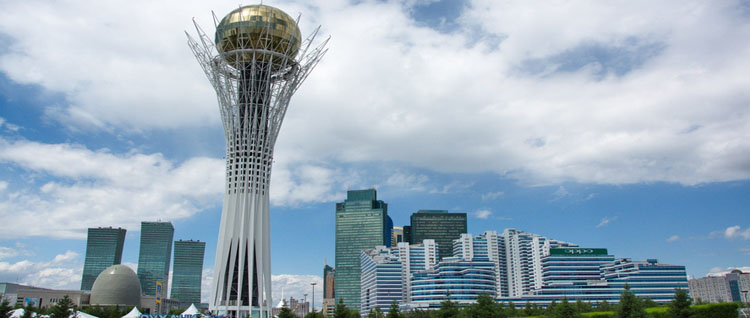 Otrar, the birthplace of scholar Al-Farab, was among the most renowned cities along the Silk Road. A relatively small town, this place is famous for its authenticity and loving ambiance. Places to visit include Otrartobe and Otrar Museum.
Turkestan houses the most prominent pilgrimage site and the greatest architectural monuments in Kazakhstan. Give your eyes the beauty it demands. Fix your gaze at the Yasaui Mausoleum, or savor your favourite delicacies at Edem Restaurant, or have a shot at history in the History Museum. Turkestan is another feather in the cap for Kazakhstan.
Shymkent – the most active town with buzzing marketplaces and high on life – is a thriving trade center that hones oils and is home to the best of Kazakhstan's beers. A quality place to spend your leisure time, Shymkent is known for its extravagant and savory dishes. If in Shymkent, try the best in business – Madlen, Bar Villa or El Dorado. You'll keep savoring till you empty your pockets. So keep a watch on that. Also, go to the Fantasy World Park where the evening brightens up the whole of the city. Watch professional skaters show off their skills.
Fan of chocolate? Who isn't? Then Shymkent has the perfect thing for you. The chocolate stores and the homemade chocolates are what fantasies are made of.
Aktau knows as the 'gem of the Caspian', is famous for its uranium deposit, being the highest in the world. Being a young city, the tradition and culture of the place are diversified and people like to party and dance.
The Caspian Sea is the main attraction of the town with a huge amount of flamingoes and swans showing up every April. Among the delicacies, enjoy the famous caviar and sturgeon fish along with local grown strawberries and veggies. Kazy- a traditional Kazakh sausage made from horse meat – is the most famous among all.
A remote depression in the south-west of Kazakhstan, Karagiye Depression, is a beautiful yellow and white hollow depression considered one of the lowest points in the world. With beautiful landscapes surrounding the depression, the area is decorated with potholes, lakes, and caves. The Vernal Lake is one of the most visited sites in the area. Fun fact: it is the only place in Kazakhstan where mushrooms grow. Rejoice and soak in the warminzifatravel.comh of the beautiful "depression".