Kyrgyzstan is a republic territory with over five thousand architectural and archaeological structures with a rich historical value. The ancient Kyrgyz sites possess extreme antiquity. The ancient Kyrgyz culture is varied and distinguished. It can be seen in various forms all across the country.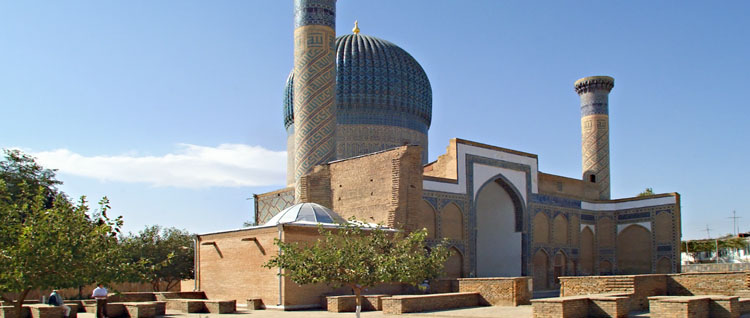 Snow-Storm Tower
Located 12 km to the west of Tokmok, the Snow-Storm Tower lies on a picturesque gorge-Kegety. The monument built in the period of the Karahnids around 900 years ago lines the Kirghiz ridge.
Combined from a Central Asian juniper bar and burnt bricks, the tower is an octahedral stone socle with a trunk narrowed up the belts of the ornamental laying.
The Ak-Beshims site of ancient settlement
6 km north-west Snow-storms is the Ak-Beshims site. Two Buddhism temples, a palace of construction, Christian churches, irrigational networks and files of inhabited quarters and other attributes of medieval architecture has been discovered from the remains of the Ak-Beshims site.
Krasnorechensky site of ancient settlement
An ancient settlement, Krasnorechensky has excavation fragments of Buddhist paintings from cast clay worked with drapery and color paintings.
Kyrgyzstan photoTash-Rabat – a caravan
The northern part of the Kirghiz Republic Caravan, built in the 15th century lies 80km away from modern-day At-Bashi. The large Central Asian construction is supported by massive stone walls with towers and entrance portals that protect the lodgers.
The site of ancient settlement Koshoj-Gorgon
20 km to the West from At-Bashi lies Koshoj-Gorgon represents the remains of an ancient fortress. The Muslim architecture located on the caravan is worth a mention.
Osh
When you visit Kyrgyzstan, the Central Asian architectural beauties in Osh are impossible to be overlooked. Osh serves as the briefing point en route Pamir Mountains, Dostyk crossing to Uzbekistan, Irkeshtam Pass to China and the newly discovered trek-roads through the Alay Mountains.
The city of Karakol
Karakol used to be a Russian colonial outpost located on the eastern side of Lake Isyyk Kul. A fairly compact centre, Karakol has traditional white-washed timber houses on the residential streets leading up the hill roads from the town.
Saimaluu Tash
The Embroidered Stone in Kyrgyzstan, Saimaluu Tash is a petroglyph site, south of Kazarman. As many as 11,000 carved pictures with black and white rock paintings have been discovered. This makes the site a globally significant accumulation of rock art or the sacred display of the lower valley offerings.
With an incredible natural beauty and proud nomadic lifestyle, Kyrgyzstan is ground to varied customary monuments and archaeological backdrops. Call us or visit our website to book your archaeological sightseeing tour to Kyrgyzstan.