Considered as one of the most ancient territories of Central Asia with earliest settlements dating as far back as 3rd millennium BC, Merv has always been a site of major strategic value with interchange of culture and politics that shaped the region, and is currently a major archaeological site in Turkmenistan. The city is currently known as Mary while the ancient part of the town where the ruins of the city and its monuments are located is still referred to as Merv. It is located next to the Murghab River. You should take a city tour to Merv if you're in Central Asia to witness what was supposedly the biggest city on earth in 12th century.
Due to its ideal location along the Great Silk Road Route which facilitated trade between the east and the west, several cities have exisited on the site of current Merv. In fact, the area where Merv is spread out consists of what was once five cities. It is an oasis town in the middle of the large Karakum Desert that occupies 70% of the land of Turkmenistan. On technological front, it was one of the most advanced regions on earth which was part of ancient Persia.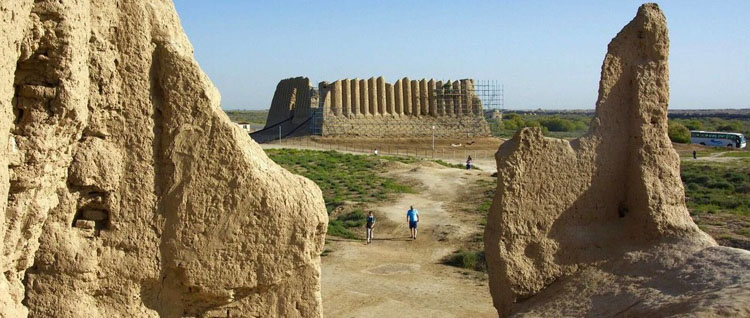 History Of Merv
It has prehistoric roots and have been associated culturally with the Bactria-Margiana Archaeological Complex, the Bronze Age civilization of Central Asia. It is also associated with the Achaemenid Empire, the first Persian Empire. Like other major ancient sites in Central Asia, Merv too had footprints of Greek conquerer, Alexander the Great, Arab invaders, Turks, and Mongols. Merv turned into a military base for Arabs when a troop of 50,000 Arabs colonized the ancient city. Using this as a base, from 705 to 715 led by Arab commander Qutaybaibn Muslim, several parts of Central Asia including Bokhara, Fergana, Balkh were brought under Arab rule and the population became majority Muslim. Later down the road, the city was conquered and destroyed by Mongols and Uzbeks. Lately, it was Russian who came into force and ruled the region for a significant amount of time.
Things To Do In Merv
During your Merv city tour, you'll see a lot of things in here. Merv is located in the middle of the desert, but is not difficult to reach. You can reach to the ancient site from Mary which is 30 to 32 km from Merv. You can take flights from Ashgabat to reach to Mary from where you can take tourist buses or cars. At Merv, you'll have an amazing historical sightseeing experience, what is Merv known for. Here are the historical attractions in Merv:
Mausoleum of Sultan Sanjar
Great and Little Kyz Kala
Mausoleum of Mohammed ibnZeid
Mausoleums of Two Askhab
Buddhist Stupa
Ice House
Mosque of Yusuf Hamadani
Margush Archaeological Museum
Besides that, the entire region is filled with ruined monuments and artefacts which apprise a compelling story of the prosperity ancient Merv. Even if most of the sites are ruined that make it impossible to imagine what the city looked like, the atmosphere is what makes it unique. Little to no inhabitants in the ancient city means you can stroll around and keep exploring the area for hours in seclusion.