Uzbekistan located in the heart of Central Asia is distinctive in many ways. Remarkable diversity in climatic zones is one of them which make Uzbekistan special and unique in entire Central Asia. Nurata Mountains and Aydarkul Lake are two such places which take you away from the accustomed desert land teeming with historical monuments where you'll get full recreational and adventure opportunities.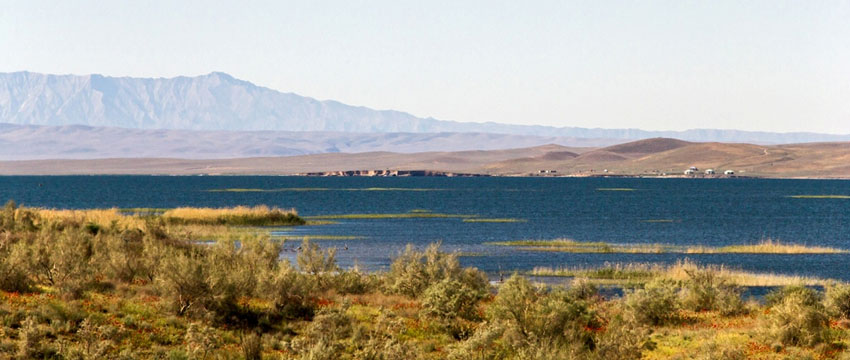 Nurata Mountains
Nurata Mountains are located in the central part of Uzbekistan stretching from east to west from Jizzakh to Nurata (a town in Uzbekistan after which it is named). With the highest point of the mountain range touching just about 2169 m, it is nowhere close to some of the tallest mountains in the world, but it is full of rocky areas with stones of varying shapes and sizes.
Things To Do In Nurata Mountains:
Cultural Tours
The villages tucked in the valleys are well organized ecotourism sites which regularly organize homestays and cultural and adventure activities. These off-the-beaten-track destinations will take you through the traditional lifestyle of ethnic Uzbek people where you'll mirror their day to day activities by living in yurts and eating the local cuisine.
Trekking, hiking, winter sports.
Snow can also be enjoyed in some parts of the mountains but only in the winter season which disappears by mid-Spring. This short span of time attracts many winter sport enthusiasts who get to enjoy their favorite winter sport such as ice skating, skiing, snowboarding et cetera. Besides these, the mountains are excellent for trekking and hiking anytime during the year.
The Nuratau Natural Reserve
Situated strategically in the central part of the mountain range, it was founded in 1975 to preserve some of the highly endangered animal species like the Severtzov wild sheep, and rare forms of walnuts. With more than 630 species of plants found in here (most of which are endemic), it is also an accommodation place for over 160 bird species.
Biota Orientalis, a tree which is over thousands years old has, according to locals, splendid healing properties and even has the capacity to fulfill cherished wishes. As per legends and folklore, this was planted by Alexander the Great himself in the burial place of one of his commanders. These things attract local tourists and are a point of interest for people coming out of Uzbekistan. A trip to this place will have an indelible impression on Uzbekistan tour experience.
Aydarkul Lake
An unintentional byproduct of Soviet irrigation plans, it is part of the Aydar-Arnasay lake system which is man-made and covers an area of 4,000 square kilometers.After the Syr Darya River, which fed the Aral Sea, was dammed up, and simultaneously the Chardarya Dam got constructed, the floodgates of the dam found it exceedingly difficult to cope up with the flow. During heavy rainfall and floods, around 60% of water from Syr Darya ended up in low lying Arnasay lowland where the lake is current located. Thus as it received more and more water over time, the lakes — as we today know it — got created unintentionally. Today the azure water of Aydarkul Lake is a tourist hub besides being a source of industrial fishing.
Things To Do In Aydarkul Lake:
Traditional cultural trip
It is one of the favorite destinations where you'll be accommodated in the traditional yurt dwelling which are tent-like structures decorated with traditional textiles. Moreover, enjoy local cuisine and drinks like fresh kumis, sweet drink made from horse milk.
Fishing and bird watching
Aydar lake contains 44.3 cubic kilometers of water, and in those water numerous fish species can be found which include Pike Perch, Bream, Cat fish, Hzereh, Chehon, Ophidian fish et cetera. It is also an excellent bird watching spot with many native bird species.