Shymkent, the third largest Kazakh city, and Silk Road hub had to go on in modern times. Shymkent is a major railroad junction on the Turkestan-Siberia Railway, the city is also a notable cultural Centre, with an international airport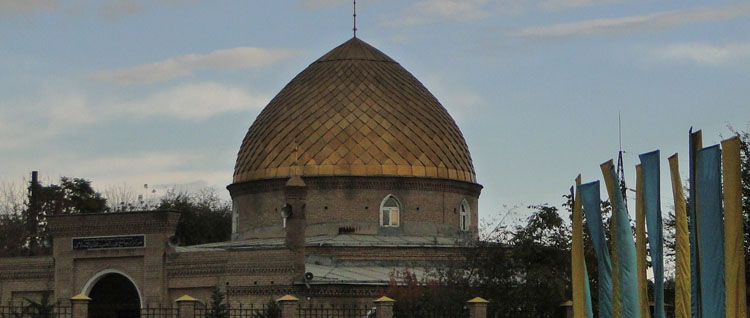 Shymkent had a vital role in Silk Road history as it was an inn to protect that Silk Road Town of Sayram which was located about ten kilometers east. Shymkent, located 690 km west of Almaty and 120 km to the north of Tashkent, Uzbekistan.
Indulge In The Local Food Scene
Shymkent's food is pleasant and satisfying. Some of the most famous restaurants in Shymkent are Madlen, Bar Villa, and Eldorado. The meals are very sensibly priced, and the mojitos are amazing. If you go there, you must try.
Interact With The Locals
Look for local pickup soccer games at around 1800-1900 when the children get out of school. They love to practice their English and are very welcoming to foreigners. Usually, any field near an elementary school will have a game going, don't be shy to jump in.
Peruse The City At Night
Walk the streets along the Mega Center and Plaza at night. You never know what you will come across. Anything from late night karaoke to small stands where locals sell their handmade crafts (perfect gifts for souvenirs). For those interested in photography, the water fountains light up in various colors making for some great long exposure shots.
Bazar Samal
The Bazar Samal is an incredibly vibrant market area. It is a great place to get fresh fruit and vegetables as well as see what everyday life is like for most Shymkent natives. Tourists are very welcomed, and the atmosphere is incredibly unique.
The Bazar Samal, located on the edge of Shymkent close to the Samal Bus Station. Bazar Samal on Ryskulov is the largest bazaar in the city and sells millions of items.
Fantasy World Park
The Fantasy World park, filled with so much fun. The best time to go in the late evening when everything is lit up. Roller rink, definitely a hot spot and it's fun to watch the experienced skaters.
There are several rides, games, and astonishing food stands to enjoy delicious dishes.
Satisfy Your Sweet Tooth
Kazakhstan's chocolates and desserts are a must. If you have, a sweet tooth there are several places you can find to satisfy your cravings. Don't be afraid to ask natives (most likely using a translator) where the best place is to buy sweets.
BiikKazygurk
Take a look at Biik Kazygurk, the Shymkent women's professional team. They are the top women's team in Kazakhstan and compete in the UEFA Champions League.
If you want to visit this place,Call us/visit us/contact us.