One of the famous silk roads that Marco Polo, the famous western traveler once traveled on went through Shymkent and Turkestan. With a history, eight centuries old, Shymkent and Turkestan over the ages have become a large cultural, trading and industrial center in the southern part of Kazakhstan.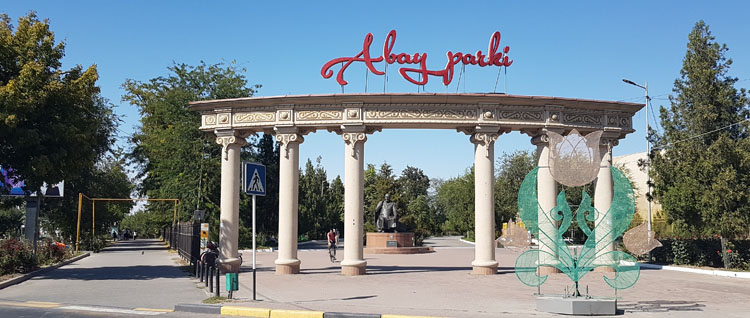 Ancient Tastes Of Southern Kazakhstan:
While Turkestan is the oldest man-made architectural paragon being the most historic and religious town of Kazakhstan, Shymkent has a very authentic culture and landscape. The central part of Shymkent has uniform tree-lined streets and all pastel-colored four-storied structures that mostly belong to the communist-era dating back to the early and mid-twentieth century. Turkestan or Yasy as it was known in the ancient days has older monuments that include necropolises, mausoleums from 15th- 17th century, the Dzhuma mosque from the 19th century, the bathhouse from 17-19th century and the original castle wall built in the 19th century.
'Bazaars' Of ShymkentAnd Turkestan:
The Kazakhs created the word 'bazaar' meaning market, to refer to what the foreigners call 'a shopping place'. Shymkent has some large and extremely cheap markets- the Central Bazaar, Aaina Bazaar and Eurasia worth visiting if you are a shopaholic. Turkestan has a bazaar smaller than those of Shymkent, and more of a Chinese display of products from the ancient silk-road days.
The Foodie Tour To Shymkent And Turkestan:
Blinchiki
One of the best restaurants of Shymkent that serves cheap and good Russian food such as borscht and beef stroganoff.
Caravan Cafe
It is located in the ethical Ken Baba park that serves Oriental meals and Russian cuisines midst the warm, comfortable atmosphere.
Kafe Aspan
It is a neat, placid outlet on the main streets of Turkestan serving people Russian salads, soups and meat dishes.
Parks And Museums:
Ken Baba park
The ethnic park located in the nub of the Shymkent city, has wonderful swan ponds to mollify you on a sunny, summer morning. And if you visit during a hot mid-day, the park has dolphins to amuse you to the fullest.
Abay park
The park lies in the heart of Shymkent, and at the corner of Zheltoqsan and Momyshuly avenues. The park was built with a purpose to recognize the different wars in Kazakhstan since the beginning of the twentieth century.
Thousands of tourist flock to Shymkent and Turkestan located among vast steppes and mountain masses every year during spring to relive the medieval era and natural atmosphere. You can hear the lively markets calling out to you if you plan on a vacation to Kazakhstan.
To book your amazing tour to Shymkent and Turkestan, visit us/call us/contact us.