Food is an integral part of every human being's curriculum for the entire life. Without food, no one can really sustain for long and it is true. When people go for the tour, they have to take the food at regular intervals. But how about the tasting of local cuisines & recipes during the period of Uzbekistan Tours? Yes, food in Uzbekistan is quite comparable to the food found in countries like Turkey, the Middle-East, China & the Muslim countries. The reason is that Uzbekistan is also a Muslim country, a food item like pork is hard to find here but you can be able to purchase a lot of mutton as well as other sheep products.
Now before we move any further, here is the list of food items that are found here, and are as follows:
Round bread & rice are staples here. Furthermore, restaurants of this country are known for providing items like Kebabs also known as Shashlyk & Rice Pilaf known as Plov. People who have a knack for eating fruits in this country can go with a good selection of melons, fruits, dry fruits, nuts & snacks in the markets.
Most of them are seasonably produced & stored, which means fruit production is accessible throughout the year.
Now the spices, you are going to get here are mostly black pepper, black cumin, turmeric, parsley, celery, and coriander & sesame seeds.
Moreover, the people of Uzbekistan have traditionally lived on meat & dairy products such as lamb, beef & horse meat.
Now people who travel to different Uzbekistan Destinations will get a chance to taste all varieties of food for a change that they have never tasted before.
Cuisine of Uzbekistan
Now, during an Uzbekistan Travel, travellers will note one particularly characteristic & well-developed aspect of the Uzbek culture & it is none other than its cuisine that has a wide variety of shades.
Actually, Uzbeks are quite different from their nomadic counterparts & have well-settled civilization for centuries with water resources & fertile valleys that enabled them to gain the knowledge about cultivated lands for grains & domesticated animals for the livestock.
Hence, as the result abundance of food products has allowed the Uzbeks to turn them into various types of recipes & food items in order to express their strong tradition of hospitality, which in turn has augmented their cuisine.
Moreover, the citizens of Uzbekistan do not drink alcohol & eat pork. They are most like to intake mutton, beef & all other dairy products. It is quite interesting to know that crusty pancake & tea with milk are standard fares for all the three meals of the day for these Uzbek people.
Moreover, they also enjoy stewed meat with potatoes, honey & syrup. Outsiders on Tour Uzbekistan don't know that seasons particularly summer & winter greatly influence the composition of the basic menu.
Central Asian Spices About Uzbekistan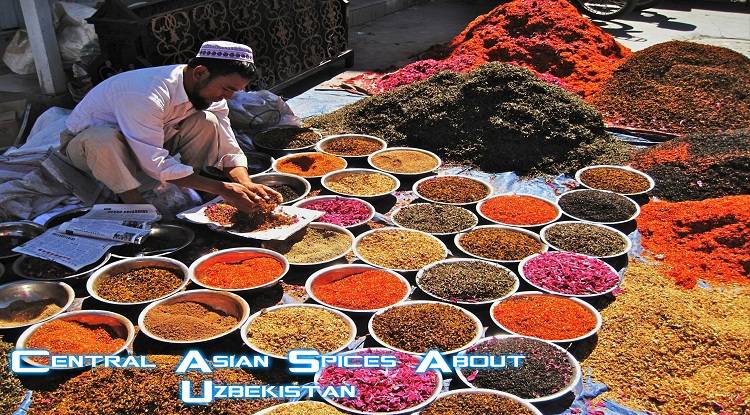 While on Uzbekistan destination, some of the principal spices are black cumin, red & black peppers, barberries, and coriander & sesame seeds. Furthermore, there are more common herbs such as cilantro, celeriac & basil.
Apart from them, there are other seasonings such as wine, vinegar which is liberally applied to salads & marinades as well as numerous fermented milk products.
There are some outstanding, natural and rare spices as well that helps a lot in defining a country like Uzbekistan such as Bay leaf that refines & aromatizes numerous unpleasant dishes such as cabbage soups & red beat soups.
Now, there is another type of spice in the arsenal of Uzbek people that is known as Red pepper that is traditionally used in the production of sausage & it is also used for cooking galantines and cutlets.
When you talk about cloves, it poses a strong peculiar aroma with a spicy taste. It is a type of spice that is used for cooking stomachic liquors, hot drinks with wine, fruit punches, fruit juices & stewed fruits. Additionally, Barberry is used for making dishes like plov, several varieties of meat dishes, sauces & seasoning etc.
Eating Habits of People of Uzbekistan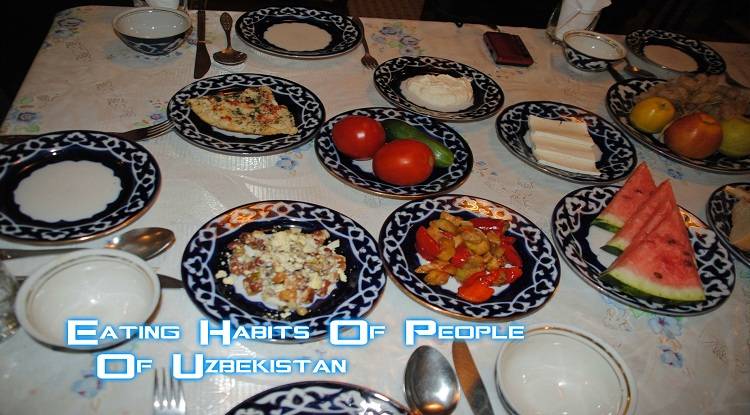 When it comes to central Asian people such as Uzbeks, they have a different style of eating food. They love to eat bread with almost all the three-course meals such as breakfast, lunch & dinner.
They love to start their breakfast early in the morning between 7:30 to 8:30 am which normally consists of cheese & curd as well as yogurt with Russian tea which sometimes also includes eggs, bread, honey, cucumbers, and pickled cabbage.
Lunch is served between 1 pm to 2 pm & normally consists of items such as bread, pilaf, soup & mutton & dinner which is normally & regularly served with boiled mutton or chicken & stew served with pilaf.
During your Uzbekistan Tours, one thing is for sure, you are never going to travel with an empty stomach because it doesn't matter if you are at home or not, warm & friendly people will welcome foreigners to their home to offer them with a nice plate filled with nutritious food. Please visit us @ minzifatravel.com to know more about Uzbekistan and the delicious food they offer to the entire world.