How to explain? Where to start? Uzbekistan was under Soviet dominion. So Russians have great influence over Uzbek's culture, history and life style. But when it comes to choose one from Moscow or Uzbek for a vacation naturally one must be in a dilemma. It is because both the spots are socio-culturally related since long. Since years ago Moscow was one of the best choices but in the recent time the recently immersing Uzbekistan is a great alternate.
Uzbekistan is a country with potential for an expanded tourism industry. Many of its Central Asian cities were main points of trade on the Silk Road, linking Eastern and Western civilizations. Uzbekistan Travel attracts tourists with its historical, archaeological, architectural and natural treasures. Tourist Activities In Uzbekistan range from outdoor activities, such as rock-climbing, to exploration of its rich archaeological and religious history. The cities like Khiva, Bukhara and Samarkand have made this land a must visiting land on earth.
Let us compare both the destinations to make it easier which one to choose. It is a good way to decide the best destination for your vacation that can return you every of your penny you would spend there on your trip.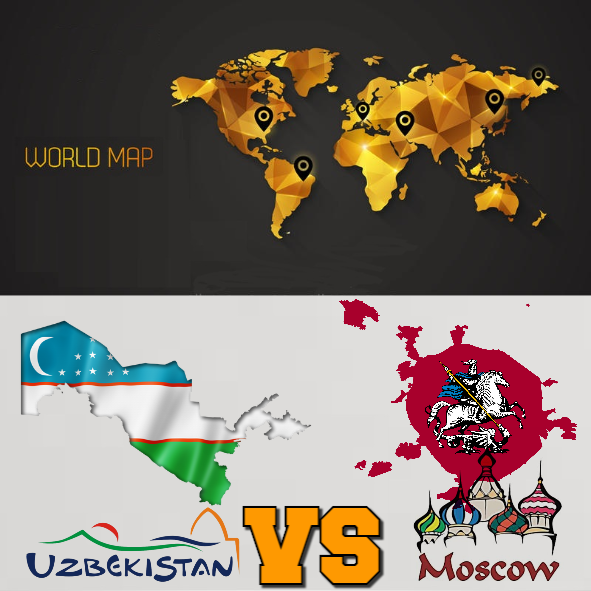 | | |
| --- | --- |
| UZBEKISTAN | MOSCOW |
| Location: A landlocked country in Central Asia. | Location: Moscow is the capital of Russia. Russia located in the centre of the Russian or East European plain. |
| Getting Into: The main international gateways to Tashkent are Moscow and Istanbul, through there are direct flights from most European and Asian cities. In 2017 air links were reintroduced between Tashkent and Dushanbe for the first time in over 20 years. | Getting Into: From Eastern Europe it is easy to come to Moscow by train or by bus. From Central or Western Europe and Asia, it is better to get to Moscow by plain. From any Scandinavian country it is easy to have a journey to Moscow through St. Petersburg. You can reach St. Petersburg by ferry. You can reach Mosco by flying for 10 hours from USA. |
| Air Charges From USA: $620RT including taxes | Air Charges From USA: Cheap flight charge – $440RT including taxes. |
| Sites To Visit: Registan / Ichan Kala / Nature parks / Museums / Ancient ruins / Khiva, Bukhara and Samarkand (Silk road specials) / the Minaret of Islam Hodja / the mountains / Lakes / and the list is endless. | Sites To Visit: The sprawling city of Moscow is a mixture of historical and contemporary sights. |
| People: People in Uzbekistan are known for their hospitality, friendly and peaceful nature. The rich and varied history of Uzbekistan has made the customs and traditions of the Uzbek people more colourful. The Uzbekistan People love to live their life simple without any violence or corruption and welcome their guests from all over the world to a safe land for spending their vacations. You would have more English speaking people and traffic jam occurs in the rarest of the rare occasions. | People: Russians can be brutally honest and the crisis in Ukraine can make conversation awkward. The traffic jams are epic, few people seem to speak English. Yet many Russians are genuinely glad to see westerners who are still interested in visiting their country. |
| Language & Culture: Uzbek is a Turkic language and is the official language of Uzbekistan. Culture of Uzbekistan is one of the brightest and original cultures of East.It have a wide mix of ethnic groups and cultures, with the Uzbeks being the majority group. Uzbekistan culture is very colorful and distinctive. It has been formed over millenniums and has taken in traditions and customs of various nations settled on the territory of today Uzbekistan. | Language & Culture: Russia has a rich cultural heritage and history that you can visualise by visiting to its myriad of historic cities, buildings, museums. The official language in the Russian Federation is Russian, but there are over 100 minority languages and dialects which are spoken within its borders. |
| Transfer: Taxis are available in all cities and towns of Uzbekistan. Tourists are recommended to bargain and negotiate the fare in advance. Taxi fares are much lower than any other Central Asian countries. | Transfer: Moscow's rapid transit system, the Metro, is ideal for exploring the iconic sites of the capital. If you want you can hire a car. But it is too expensive. |
If we would take the above comparison statement into account: on our point of view Packing For Uzbekistan would be a better choice. It is because:
⇒ Moscow is the capital of Russia and is a vibrant city with buzzing life. But everyone visiting a foreign land want peace of mind that he/she can derive from nature such as mountains : forests and lakes what you are getting to find in Uzbekistan. It is a mountainous country having a rich history and culture. You can stroll amidst nature to be away from your hectic life and have real peace of mind.
⇒ People are more friendly and welcoming in Uzbekistan than Russia. As a immerging destination its nationals always extend an helping hand to the visitors. They feel proud to share their treasures to the people outside and love to invite outsiders to their families for a coffee or tea.
⇒ The language barrier is the most unpleasant thing on a tour to a foreign land. It is always wise to visit those countries where an average number of people understand English. So that you can interact with them and learn about their history: culture and tradition. Visiting to a country is not all about viewing the nature: rather to study it's monuments and life style of the people. Without a common language that can be understood by both (English) it is not at all possible.
⇒ The inland transfer is quite safer and inexpensive. Travelling in a car along the mountainous roads is an awe-exciting experience. Driving on Silk Road routes would be a long lasting memory for you.
Just travel a country that has been a cross road of civilizations with many a stop offs of Silk Road treading centres of the ancient time. Explore it's unique, incredible and diverse nature of which a special significance are nature reserves, the places unaffected by man's activity. Today there are 9 nature reserves in the country. They embrace unique diverse landscapes from sand-dunes of the deserts to blossoming oases, from riverside tugai woods to alpine meadows. Go for trekking on its sand, clay and stony deserts: rigorous but full of life. In spring their vast expanses are covered with multicolour carpets. Nothing on planet can be more a beautiful place than this. Come and soak with its majestic beauty.
Make your Trip To Uzbekistan superb with Minzifa Travel. Just click on minzifatravel.com and you would be responded immediately. In case of any further query dial to +998(93) 659-11-07, +998(93) 659-11-08.