Uzbekistan trip "Ancient Termez" (Religious tourism)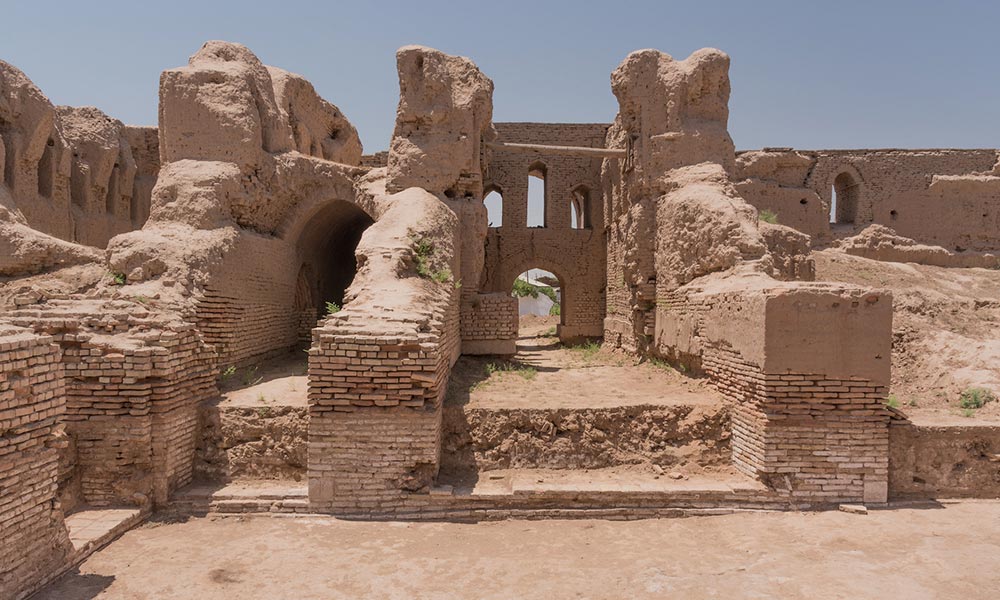 Trip Facts
Vehicle

Car

Group Size

8-12

Fitness level

7

Arrival on

Tashkent

Departure from

Tashkent

Best season

Spring, summer, autumn

Tour type

Cultural, traditional, historical, excursion tour

Meals

Half board

Language

English, German, Spanish, Russian, Turkish
Trip code: WTE-593
Overview
Uzbekistan trip "Ancient Termez" (Religious tourism) leads you to a typical Soviet feel, with huge Islamic infrastructures, parks of flower bed, the ancient Buddhist culture and many more attractions. With a fascinating history, Termez is a unique melting pot of vibrant cultures and ancient historical sites.
Located in the southern side of Uzbekistan, Termez is on the right side of Amudariya River, which boarders Afghanistan. Through this package, we offer you to explore a variety of Islamic and especially pre-Islamic sights like ermez Archaeological Museum, Jarkurgan Minaret, Zurmala Tower, Hakim Al Termizi Mausoleum, Fayaz Tepa, Kara Tepa, Sultan Sanjar Complex, Russian Orthodox Church, Boysun, Khodja Mokhi Khona, and Sairob.
We offer you accommodation at hotels accompanied by local English tour guide.
Get the detailed trip itinerary created just for you !
Termez travel highlights

Famous Madrassas and Mosques
The Culture and Hospitality of the East
Unique architecture
History and sights from the times of Genghis Khan and Alexander the Great to the present day
Seasonal Uzbek fruits, vegetables, berries
Itinerary
Breakfast In Hotel
09:30 Transfer to Tashkent Airport.
10:35 Departure from Tashkent
11:50 Arrival to Termez. Transfer to the hotel.
Lunch Time.
Visit the excellent Termez Archaeological Museum, then to the early 12th century Jarkurgan Minaret, 38 kms from Termez.
Overnight Termez.
After breakfast visit the Buddhist site of Zurmala Tower and then the Hakim Al Termizi mausoleum. This beautiful garden and complex contains the tomb of this 9th century Sufi mystic. From here you can see across the Oxus to Afghanistan. Later, visit Fayaz Tepa, the 1st century AD Buddhist temple complex.
View of Fayaz Tepa Buddhist complex, Termez
Visit Kara Tepa, located just at the border line with Afghanistan. Kara Tepa is one of the world's oldest surviving Buddhist cave monasteries. Because Kara Tepa lies in international no-man's -land, special permission must be obtained to visit. At last one month's notice is required, and permission is not guaranteed.
Later drive to the Sultan Sanjar complex, a collection of seventeen mausoleums, restored in 2002. Then the nearby Kokil Dara Khanagha and the Kyrk Kyz fortress.
Overnight Termez.
Breakfast In Hotel
Drive to the unique, mountain village of Boysun, 150kms north of Termez. Boysun is now on UNESCO's tentative World Heritage list.?? Craft and applied arts remain strong in the Boysun district: ceramics, skullcaps, embroidery, metal work, leather goods (for horse equipment), clay toys and wooden items. Visit local masters' workshops in the Boysun Craft Centre/Museum. Lunch in either a local teahouse or private family.
Drive to Khodja Mokhi Khona where there is a picturesque gorge and canyon. Then head to Sairob where you can view two 950-year old plane-trees (sycamores) and water ponds with fish.? Late afternoon drive back to Termez, enjoying the spectacular mountain scenery.
Overnight Termez.
Breakfast In Hotel
Visit the local market and the Russian Orthodox church, built in 1901.
11:30 Transfer to the Termez airport
12:30 Departure from Termez
13:45 Arrival to Tashkent. Transfer to hotel.
Free time in Tashkent!
Overnight In Tashkent
Breakfast In Hotel
05:15 am Transfer to the Tashkent airport
08:15 am Departure from Tashkent. Flight
End Of Tour!
Inclusions
Include
Entrance tickets to museums and sightseeing
Transport throughout the Itinerary
Transfers; Meeting, seeing off.
Guides - Guided Tours in the support (1 or category 2). ESG - English speaking guide.
Accommodation at the hotel, according to the order Standard Single bed room.
Air tickets round trip economy class
Breakfast at the hotel
Ready for Your Dream Trip?
Let Us Customize Your Perfect Tour - Fill Out Our Form Now!
Create my trip
Timur Alimov
Dear friends!
My name is Timur Alimov, and I represent our group of travel experts in Uzbekistan and Central Asia. Our travel experts will guide you through Uzbekistan and Central Asia. For the past ten years we have been gathering and guiding groups of more then 10000 happy travelers. We can show the country through the eyes of the locals, as if you come not as a tourist, but as a guest visiting friends. We give to our travelers only the routes that we checked personally or it was checked by our guides. Some members of My team has traveled this route more than 10 times, and during these trips we have made a lot of friends in each cities who become our friends and help us.
Our travel company office is based in Bukhara, but our travel experts are set in each country we represent. Company is officially registered and has certificates and tourist licenses # T-0087 Unique Travel issued by state gov of Uzbektourism.
I look forward to seeing you as our clients!
How to reserve a seat
You can book your seat through the booking form , click on "Book now" and follow the process. You can also contact me or our team to get the consultation.