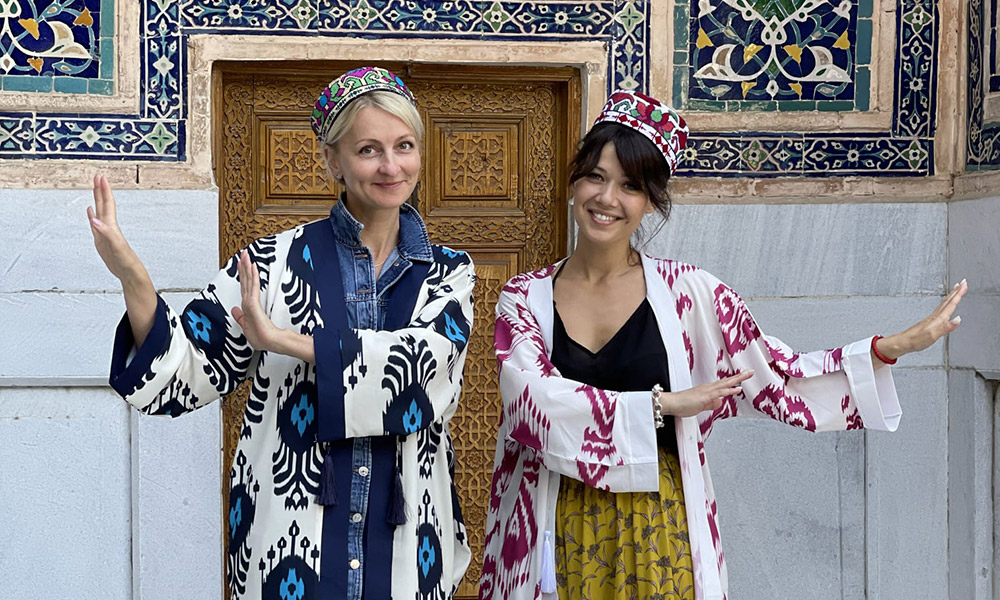 Trip Facts
Language

English, Russian, Chinese, German, Korean, French, Japanese

Group Size

Minimum 2 persons, Maximum 20 person

Best season

Year around

Fitness level

Medium, normal physical shape and good appetite

Tour type

Group Travel, Private Travel
Trip code: WTE-16237
Overview
Uzbekistan Travel Package – Cultural and Historical trip covering ancient cities Samarkand , Bukhara and Khiva.
From VI century to XXI century by the Great Silk Road in the footsteps of the legendary Chingiz – khan.
Ancient cities shrouded with legends collected by the elders and carefully passed to our generation, marvelous architectural monuments of thousand years, old city streets saturated with spices and noise of hospitable families, delicious Uzbek dishes, pilaf, manty and of course fruit and oriental sweets straight from the bazaars, where you have to bargain) – all these are in one trip. Join a great company and you will have a dream trip, the impression of which will remain in memory for a lifetime! (Also, on this trip, you will surprise your friends.)
We will visit a sunny and fabulous country where you will be heartily welcomed in every home, where you will be smiled at and you will be offered a rich dinner, we will dive into the ancient history of Khorezm and Soghdiana, we will visit the palace of Bukhara Emir and we will rub the statue of Khoja Nasreddin for good luck, We will try on the garments of merchants and brides of the Khanate, take selfies on Registan Square in Samarkand (day and night) and in front of Kalyan Minaret in Bukhara, taste the fruits of juicy and fragrant melons, watermelons and take home the recipe of the real Uzbek pilaf.
Uzbekistan travel highlights

Trips to legendary cities: Tashkent, Samarkand, Bukhara, Khiva
Unique architecture of Famous Madrassas and Mosques
The Culture and Hospitality of the East
History and sights from the times of Genghis Khan and Alexander the Great to the present day
National cuisine, pilaf, samsa, lagman
Seasonal Uzbek fruits, vegetables, berries
Itinerary: Tashkent - Samarkand - Bukhara - Khiva
__:__. Departure from your country airport to Tashkent The flight lasts _ hours _ minutes.
_:_ Arrival in Tashkent (local time)
It will take you a maximum of 1 hour to go through customs.
Presumable exit from the Airport. At the exit you will be met by our driver holding a Minzifa Travel sign. (it will be arranged according your flight arrivings)
Transfer to the hotel, check-in, rest
Free day in Tashkent
Overnight at the hotel in Tashkent
Breakfast in the hotel
11:00 Excursion program in Tashkent;
Excursion program in Tashkent:
Museum of Applied Arts of Uzbekistan
The Khast-Imam complex, where the most famous Koran is kept - the Koran of Osman.
Visit to the Old City of Tashkent,
Chor-su bazaar,
Lunch at a local teahouse (on your own)
Continuation of the sightseeing tour of Tashkent:
Monument of Courage,
Visit to Independence Square,
Amir Timur Square, Timurid Museum,
Tashkent metro stations (optional)
17:45 Transfer to the railway station in Tashkent
18:45 Departure of the train from Tashkent
20:58 Arrival in Samarkand
At the exit you will be met by our driver with a sign "Minzifa Travel"
Transfer to the hotel, accommodation, rest
Overnight at the hotel in Samarkand
Breakfast
Duration: 6 hour
Breakfast in the hotel
10:00 Excursion program to Samarkand
Visit to the famous Mausoleum of Amir Timur - "Gur Emir" and his family tomb - a masterpiece of architecture of the 14th century.
Visiting the legendary Registan Square, Ulugbek Madrasah - 15th century, Sher Dor Madrasah - 17th century (1619-1636), Tilya Kori 17th century (1646-1660) - Madrasah and Mosque.
Lunch at a local teahouse
Bibi-Khanum Mosque (1399-1404), erected in honor of Amir Timur's wife.
Famous Samarkand Sieb Bazar. Where can you buy dried fruits and national sweets ..
Night Samarkand: (on request)
Gur Emir, Registan Square, Mausoleum of the Prophet Daniel
Winemaking Museum at the Khovrenko winery and tasting of Uzbek wines
Night Samarkand
Overnight at the hotel in Samarkand
Breakfast
Duration: 6 hour
09:00 Breakfast at the hotel
Check out from the hotel
11:00 Excursion in Samarkand (The start time of the excursion can be adjusted if additional services are added.)
Continuing the excursion, you will visit;
Shahi Zinda necropolis of the Timurid times
Ulugbek Observatory is a unique construction of the 15th century, at the moment there is a fragment of the measuring instrument "Sulse Fakhri"
Dinner
The Mausoleum of the Prophet Daniel - is a holy place of worship for three religions - Muslim, Christian and Jewish
Kuniya Meros Paper Mill (recreated manual production of ancient mulberry paper, here you can see the whole paper making process
20:00 Transfer to the railway station of Samarkand
21:03 Departure from Samarkand by train to Bukhara
22:34 Arrival in Bukhara
Transfer to the hotel, accommodation, rest
At the exit you will be met by our driver with a sign "Minzifa Travel"
Transfer to the hotel, accommodation, rest
4th day. Pilaf master class in Samarkand. (Booked for extra)
Overnight at the hotel in Bukhara
Breakfast
Duration: 6 hour
Breakfast in the hotel
10:00 Transfer at the beginning of the excursion in Bukhara:
Visit to the Mausoleum of Ismail Samani
Mausoleum of Chashma Ayub (Job's well), located near the Mausoleum of the Samanids.
Visit to the Bolo Hauz Mosque of the 18-20th century.
Fortress Ark - citadel of the Emir of Bukhara.
Lunch at a local teahouse
Continuation of the sightseeing tour:
The Poi Kalyan complex includes - Kalon Mosque and Kalyan Minaret, Mir-Arab Madrasah,
Madrasah of Ulugbek and Abdulazizkhan,
ancient trading domes,
Magoki-Attori Mosque 12th century
The Lyabi Hauz complex, consisting of three architectural monuments: Kukeldash
Madrasah, Nodyr Divan-Begi Madrasah and Khanaka Madrasah of the 17th century.
Overnight at the hotel in Bukhara
Breakfast
Duration: 6-7 hour
Breakfast in the hotel
09:00 Excursion program outside the city
Trip to the summer palace of the Emir of Bukhara "Sitorai Mokhi Khosa".
Mausoleum of Bahouddin Naqshbandi - the founder of the Sufi Naqshbandi order,
Unique monument "Chor Minor" 1807 -1809.
13:00 Lunch at a local cafe, where the most delicious barbecue in Uzbekistan is prepared!
14:00 Transfer to Khiva by car, or by train (if scheduled)
The road to Khiva through the Kyzyl Kum (Red Sands) desert - the 11th largest desert in the world.
21:00 Arrival in Khiva, check in to the hotel, rest
Overnight at the hotel in Khiva
Breakfast
Duration: 9 hour
Breakfast in the hotel
10:00 Khiva - Excursions to the sights of Khiva
Ichan-Kala (12-19 centuries), the inner city of Khiva, which has preserved more than 50 memorial monuments and ancient houses.
Kunya Ark fortress,
Pakhlavan Mahmud Ensemble,
Stone estate - Tash-Khovli palace,
Minaret Kalta-Minor - the symbol of the city,
Islam Khoja complex.
Further along the route;
Juma Mosque,
Khoja-Islam Mosque,
Mosque Tim Ala-Kulikhan,
Madrasah Abdullah-Khan,
Mausoleum of Sayyid Allauddin,
Madrasah Muhammad Amin-Khan,
Madrasah Muhammad Rahim Khan,
Free time after the excursion
Overnight at the hotel in Khiva
Option 2; for those who have International  departure from Tashkent, it will be an organized transfer to Tashkent by airplane You have to purchase air tickets Urgench - Tashkent separately in extra service.
Urgench Tashkent (by plane)
__:__ Transfer to Urgench airport
__:__ Departure from K
__:__ Arrival to Tashkent
Night in Tashkent hotel
Breakfast
Duration: 5 hour
Breakfast in the hotel
_:_ Meeting with the driver at the hotel and Transfer to the international airport of Urgench
Departure from Urgench to you Homeland
Arrival in homeland
End of the Tour!
Price Includes:
Entrance fees to museums and attractions
Transport throughout the entire route.
Transfers; meetings, farewell.
Guide - a tour guide accompanied in each city (1 or 2 categories), an English speaking guide ( we can provide a guide in other languages.
Accommodation at the hotel, according to the order.
Breakfast in the hotel
Ticket for (Afrosiyob) fast train Tashkent-Samarkand, Samarkand-Bukhara, (Economy Class)
Transfer to Khiva by car. The car size will be provided according to the size of the group
Price Does Not Include
International tickets to Uzbekistan and back (our company can provide you with this service on a separate request)
Meals: lunch, dinner (local teahouses and restaurants offering national Uzbek cuisine)
Additional services in the hotel
Fee for photo and video filming, paid separately in museums
Tips for guides and drivers are welcome!
Additional services.
Surcharge for Urgench - Bukhara air ticket - $ 52 per person (the amount may change on the day the ticket is purchased)
Features
If you have dietary, religious or belief food restrictions, please let us know in advance so that we can prepare for them.
Timur Alimov
Dear friends!
My name is Timur Alimov, and I represent our group of travel experts in Uzbekistan and Central Asia. Our travel experts will guide you through Uzbekistan and Central Asia. For the past ten years we have been gathering and guiding groups of more then 10000 happy travelers. We can show the country through the eyes of the locals, as if you come not as a tourist, but as a guest visiting friends. We give to our travelers only the routes that we checked personally or it was checked by our guides. Some members of My team has traveled this route more than 10 times, and during these trips we have made a lot of friends in each cities who become our friends and help us.
Our travel company office is based in Bukhara, but our travel experts are set in each country we represent. Company is officially registered and has certificates and tourist licenses # T-0087 Unique Travel issued by state gov of Uzbektourism.
I look forward to seeing you as our clients!
How to reserve a seat
You can book your seat through the booking form , click on "Book now" and follow the process. You can also contact me or our team to get the consultation.
Is the itinerary not quite right for you?
Click the button below and leave a request. We will create a customized tour for you!
Create my trip