Tour to Uzbekistan and Tajikistan "Treasures of the East"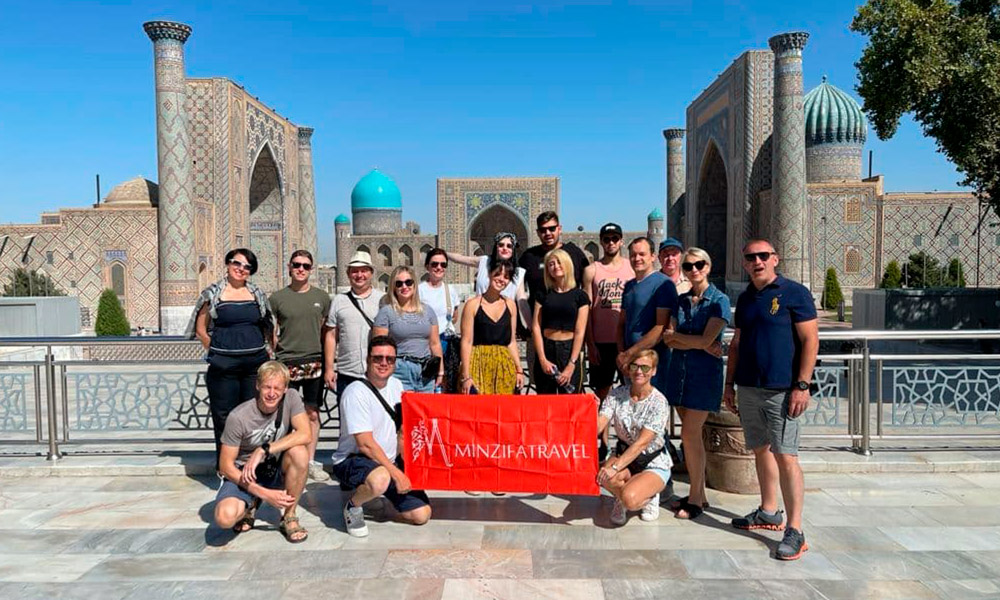 Trip Facts
Vehicle

Airplane, train, car

Accomodation

Hotel 2*, 3* Guest house

Fitness level

6

Arrival on

Tashkent

Departure from

Tashkent

Best season

Spring, summer, autumn

Tour type

Cultural, traditional, excursion, ecological tour

Language

English, German, Spanish, Russian, Turkish

Meals

Half board
Trip code: #1309
Uzbekistan and Tajikistan Tour
Tour of the ancient cities of Uzbekistan and Tajikistan with visits to places like Tashkent, Khiva, Bukhara, Samarkand, Shakhrisabz, Penjakent, Iskanderkul, Dushanbe, Norak, Kalai Kum, Khorog, Ishkashim, Yamg, Langar, Yashil Kul Lake, Bulunkul Lake, Murghab, Osh, Ferghana, Kokand, Charvak. With professional guides and comfortable hotels. Discover the mysteries of the history of Uzbekistan and Tajikistan
Uzbekistan and Tajikistan highlights

Famous Madrassas and Mosques
The Culture and Hospitality of the East
Unique architecture
History and sights from the times of Genghis Khan and Alexander the Great to the present day
National cuisine, pilaf, samsa, lagman
Seasonal Uzbek fruits, vegetables, berries
Itinerary
Tashkent ✈
…...AM Arrival time at Tashkent
Flight ….
Our driver will meet you at the exit of the airport with sign Minzifa Travel
Transfer to Tashkent hotel, accommodation.
Free day in Tashkent
Night in Tashkent hotel
Breakfast at hotel
10:00 Sightseeing program around the center of Tashkent.
Hasti Imam complex - historical sight where we will see the oldest Othman Koran in the world.
Chor-Su market (the one of the biggest bazaars in Tashkent).
Independence Square, 
Amir Timur Square, 
After lunch in Choy-khona (local teahouse) we will visit:
Old city
the Museum of Applied Arts
Opera and Ballet Theatre naFamous metro stops
Night in Tashkent hotel
Early breakfast at hotel
Transfer; Tashkent - Urgench -Khiva (by plane) ✈
06:00 Transfer to Tashkent airport
07:25 Departure from Tashkent
08:55 Arrival in Urgench
Transfer to Khiva to have breakfast
10:30-11:00 Trip  (by car/2 hours) to Qyzyl- Kala, Topraq -Qala, Ayaz- Qala Fortress.
Lunch time in Ayaz Kala
Return to Khiva, Overnight in Khiva
Breakfast at hotel
09:00 Khiva city tour.
Khiva's old city, known as Ichan Kala, is a UNESCO World Heritage site. Visit carpet workshop. Guided sightseeing program in Khiva:
You will see palaces with the rich mosaic, unique beautiful minarets, madrassas and mosques such as: 
Kunya-Ark Fortress, 
Pahlavan Mahmud complex ,
Tash-Khowli Palace (Harem), 
Kalta-Minor Minaret,
Islam Khoja Complex.
Lunch in chaikhana.
Visit woodcarving and carpet workshop.
Continuation of sightseeing program:
Juma Mosque and Minaret,
Karavan-Saray, 
Minaret and Mosque of Khodja-Islam,
Tim of Ala-Kulikhan, 
Madrassah of Abdulla-Khan, 
Seyyid Allauddin Mausoleum,
Madrassah of Muhamad Amin-Khan ,
Madrassah of Muhamad Rakhim-Khan, 
Walls and gates.
Time for lunch
Overnight in Khiva
Breakfast at hotel
09:00 Trip to Bukhara by car
16:00 Arrival time in Bukhara
Transfer to hotel, accommodation, rest
Additionally in Bukhara: evening leisure (upon request)
Bozori Kord Telpak furushon-Eastern men's bath.
Hamam Kunzhak - Eastern women's bath near the Kalyan Minaret.
Folklore show in Madrasah Nodir Divan Begi (by availability)
Puppet theater and a workshop for making dolls.
Workshop for the production of scrawl
Bukhara carpet shop
Workshop on embroidery Suzane
Overnight in Bukhara
Bukhara city tour
10:00 Transfer to the starting point of the excursion
Sightseeing program in Bukhara;
Visit the Mausoleum of Ismail Samani - the burial place of Samanid dynasty dated 9 century, one of the most esteemed sights of central Asian architectures,
Chashma Ayub (Job's well).
Arc Fortress - the center of political events and residence of Bukharian rulers until 1920. Nowadays there is a museum inside.
Break for lunch  
Poi Kalon Ensemble which includes Kalon mosque, best-known minaret and Madrassah Miri-Arab, 
Bazar and trading domes, 
Lyabi Hauz Complex. 
Additionally in Bukhara: evening leisure (upon request)
Bozori Kord Telpak furushon-Eastern men's bath.
Hamam Kunzhak - Eastern women's bath near the Kalyan Minaret.
Folklore show in Madrasah Nodir Divan Begi (by availability)
Puppet theater and a workshop for making dolls.
Workshop for the production of scrawl
Bukhara carpet shop
Workshop on embroidery Suzane
Overnight in Bukhara
After breakfast guided sightseeing program in suburb of Bukhara city.
Pilgrimage sight - Bahovadin Nakshbandi theologist of sufizm 14 century.
Sitorai Mohi Khosa - Summer palace of Emir of Bukhara.
Madrassa Chor-Minor.
Lunch in local teahouse
14:50 Transfer to Bukhara train station
15:50 Departure from Bukhara to Samarkand by train 
17:20 Arrival time in  Samarkand
Transfer to hotel, accommodation, rest
Additionally in Samarkand: evening leisure (upon request m- not included in price):
Wine Faktory "Filatov" You will taste about 12 Uzbek wines and their products such as cognac and famous Samarkand youth elixir and learn the history of wine in Uzbekistan.
Theater of of historical national clothes (performance)
Night Samarkand (by car Registan Square, Gur Emir with the terrific lightnings)
Overnight in Samarkand hotel
Departure from Samarkand  to Shahrisabz , the transfer will be arranged by land. 85 km. 1,5 hours of driving 
Breakfast in the hotel
09:00  Departure from Samarkand. Drive to Shakhrisabz
In Shakhrisabz, an excursion around the city:
Ak Saroy - ruins of the palace of Amir Timur of the 14th century. A colossal building, imposing dimensions and amazing beauty are the architecture of the portal entrance to the palace
Dorut Saodat - the family necropolis of Timurids, burial of two sons of Timur and the sarcophagus of Timur (14th century). KhojaImam Mosque and the tree of the plane trees (750 years old to this tree)
Dorut Tilyavar - the complex consists of two mausoleums, the Mausoleum of Emir Taragay (Timur's father) and his spiritual mentor Mir Kulol. Also in the complex there is a 15th-century Kuk Gumbaz mosque and a madrasah with a small minoret.
Drive back to Samarkand
Transfer to hotel, accommodation, rest
Night in Samarkand hotel
After breakfast:
10:00 A full day guided sightseeing tour around Samarkand.
We shall start our tour from visiting the most famous site of Uzbekistan - Registan square, which was the center of Samarkand during centuries.
There is another symbol of Samarkand- Gur-Emir Mausoleum 
Bibi Khanym mosque (the 15th century) it was the biggest mosque in CA
Syob bazaar
Additionally in Samarkand: evening leisure (upon request - not included in price):
Wine Faktory "Filatov" You will taste about 12 Uzbek wines and their products such as cognac and famous Samarkand youth elixir and learn the history of wine in Uzbekistan.
El Merosi Theater of historical national traditions (performance)  
Night Samarkand (by car Registan Square, Gur Emir with the terrific lightnings)
Overnight in Samarkand
Breakfast at hotel
10:00 Suburb city tour in Samarkand:
Shahi Zinda necropolis
Visit Ulugbek Observatory - incredible construction of 15 century for studying astronomy and Afrosiab Museum.The museum is located on the site of ancient settlement called Afrosiab. In 1220 the city was almost completely destroyed by the Mongol ruler Genghis Khan.
Tomb of  St. Daniel
Break for lunch
The revelations of Afrosiab narrate about the history and culture of Sogdiana, an ancient Persian province, 6-8 centuries. The wall-paintings from the palace of local governors come first among those revelations.
Visit Koni Gil paper mill (10 kms from Samarkand, 2 hrs). A good chance to watch the old technology of silk paper production.
Night in Samarkand hotel 
Transfer from Samarkand - BP Jartepa border
Early breakfast at hotel
08:00 Transfer to uzbek-tajik border. Border formalities
Your Tajik guide and driver will meet you at Tajik-Uzbek border Jartepa and move to Penjakent.
The city of Penjakent ("five villages") is located in a picturesque Zeravshan river valley. Quite possibly the five villages started the history of this remarkable city which originated in the 5th-8th centuries AD. Penjikent of that time was one of the most important cultural and crafts centers of Sogd. It was even named "Central Asian Pompeii". The ruins of this ancient city were found only in the last century. Today the tourists can see the remains of dwelling houses and office buildings, the citadel with the palace, the house of craftsmen, and fire worshiper's church. We will drive today to the Fannsky Gory (Fan Mountains). They are one of Central Asia's most popular hiking areas. You will do a day trip from Panjakent to the Seven Lakes (Marquzor Lakes), about 60 km south of Panjakent. At this place you will have time to go for short hiking. There road goes along a gorge where 7 lakes are located. They are situated on different altitudes and have different colors. Also you will meet local people that live at that area. It will be very interesting to see their way of life. Then you will drive back to Panjakent. 
Overnight in Panjakent
Our trip today is to high Mountain lake – Iskanderkul (2 255 m. a. s. l.). It is situated in the famous Fann Mountains. This fabulous area is one of the best places of Central Asia. After arrival to the lake you will go for a walk along it beaches. Also we will a hike to see a waterfall. 
You will drive to Dushanbe via Anzob pass. The road will go over a mountain passes and you will have many photo stops. Upon arrival to Dushanbe you will drive 35 km to visit Hisor fortress (VII- XVII centuries). This historical site has fortified areas and citadel. The fortress used to be the residence of the delegate of the Emir of Bukhara; it was located on a high hill and was well defended with 1 m thick walls and loopholes for guns and cannons. In the evening you will have night walk in the city center. We will visit Rudake Park, National library, White House, National state seal, House of parliament and etc. After it we will walk in National park to make photos of Ministry of Inner Affairs and the second biggest National Flag in the world – 165 m high pole, 30 m wide, 60 m long. We will see today the main highlights of Dushanbe and you will find out many interesting facts about Tajik people.
Overnight in Dushanbe
Today we will drive to Kalai Khum village. You will see Norak water reservoir that is called Tajik Sea. The highest point of the day is Shuraba pass (2 267 m) and after drive along Afghanistan border starts. This part will amaze you by its unique mountains – it is already Territory of Pamir Mountains. Over the centuries, the Pamirs have inspired the world's greatest explorers – Marco Polo, Hsuan Tsang, Mirza Muhammad Haidar. And now you also have a chance to travel here. You will drive along natural border – Pyanj River. Having visited the Pamirs, many travellers called this giant mountain system the ocean of white and blue mountains. This night you will spend in a home stay to see the way of local people's life.
Night in guest house
In the morning we will drive to Khrorog. It is perhaps one of the tiniest cities on the map of the world. It is surrounded by rocky mountains from all four sides. The town was built on the confluence of the 3 rivers where Shokhdara river and Ghund river flow into Pyanj river. On the way to Khorog you will meet Pamir people. A number of anthropological features set the Pamir people apart from the Tajik people. Among the Pamiris, there is a high percentage of people with blonde hair, fair skin and blue eyes. Pamirs Mountains are the highest mountains in the world with human population after the Himalayas in Tibet. Life in the mountains made traditions of local people different from Tajik people. Dinner is in a restaurant.
Night is in a guesthouse.
Today we will drive along Tajik-Afgan border to Ishkashim. Drive towards the Wakhan corridor. On the road we will visit Kah-Kaa and Yamchun fortresses, further up the hillside are the hot spring at Bibi Fatima: dense and very salty minerals, the water at Bibi Fatima is crystal clear.  There are several places of interest to stop.  Above the village of Vrang , on a cliff-side pitted with caves, stands a Buddhist complex dating from 4th- 7th centuries. At Yamg , we visit the reconstructed home of Sufi mystic Muabara Kadam , who died in 1910. Near this house there is stone pillar with a hole in it which he used to calculate a solar calendar. 
Overnight in homestay.
The most beautiful lakes of the Pamirs are Yashil Kul and Bulunkul (Blue lakes), stretched on the altitude of 3 700 meters above sea level, are situated in the Murghab district. Today we will spend a night near them. The color of water in Bulunkul is a subtle inter-play of violet and dark-blue in the sunlight. Species of fish like are found in abundance in the lake. There is the opportunity to see yaks, a unique species of domestic animals, sharing features of cow and sheep, traditionally used as a beast of burden apart from giving milk and meat products. On the way to the lake you will drive over Khargush pass (4 344 m). Dinner and night is in a home stay.
Right on the highway of the Pamir Tract is situated the light-blue lake of Karakul (3, 815 m), the name of which can be translated as "The Black Lake". On the way to the lake you will drive over the highest Ak Baital pass (4 655 m). Karakul is the highest large mountain lake of the world, excluding those in Tibet and Titicaca. The lake is situated in a meteorite crater and surrounded by swampy and wet meadows and bogs with a rich flora and fauna and several endemic species. The largest of a string of 42 small lakes, Tulpar Kol stretches for nearly a kilometre in between the final small foothills and the first major ridge of the Trans-Alay range. Strolling the quiet lake shore or searching out the other 41 lakes nearby offers ever-changing angles on the peaks and glaciers leading towards Lenin far above. At 3 500 m, though, you may well run out of breath before you run out of lakes.
Night in Yurt camp
Option:
After it you will cross the border and drive towards the view of Peak Lenin (7 134 m) which is the third highest peak in the former Soviet Union and is considered to be one of the easiest mountains over 7 000 m. Because of this fact it has become one of the most popular peaks in the world and annually receives hundreds of climbers from all over the world. Famous for its Soviet era summit artifacts and infamous for its bad and unpredictable weather. Then transfer to Sary Tash village. Night is in a homestay.
Night in Yurt camp
Today we will drive from Tulpar Lake to Osh city. The road will go along amazing mountains and high passes. On the way you will drive over a high mountain pass – Taldik. It is 3 615 meters high! You will never forget the amazing views of the road and mountains around it. With 93% of mountains in Kyrgyzstan, nomadic life in remote places – our country is a real paradise for people that are in love with mountains and unusual cultures. The route takes you along roads that wind along incredible gorges. During the day be prepared for amazing views of the impressive mountains and gorges.
In Osh city you will have a walk and will get to visit a famous and special place – Suleiman Mountain. Suleiman Too (Solomon's Mountain) is situated in the city center and it is considered a place of pilgrimage for local Muslims, because according to the legend, biblical prophet Solomon (Suleiman, in the Koran) was buried at the foot of it. Overnight in Osh
Overnight in Osh
Breakfast in the hotel
08:00 Transfer Osh Fergana Valley (118 km)
Osh   Dostuk BP  (15 km, 20 min)
The crossing of the Kyrgyz-Uzbek border and the road to Fergana
12:00 Approximate time of arrival in Fergana
Arrival in the city of Ferghana and a walk in the central park named after. Ahmad Al-Ferghani
Afternoon drive to the city of Margilan
The city of Margilan is located 20 km from Fergana and is one of the oldest cities in the Fergana Valley. Since ancient times, Margilan was famous for its fine and fine silk and ikat patterns. The most famous landmark of the city of Margilan is "Yodgorlik" silk weaving factory. Visit Fazlidinna master for the production of hand-woven fabric.
Also in Margilan you will visit the Madrassah of Said Ahmad Khuzha where the center of crafts of the people of the Fergana Valley is located, and if the excursion falls on Thursday or Sunday - a trip to the Kumtepa Bazaar, the largest market of the Fergana Valley, stroll through the Central Bazaar - The Famous Bazaar "Kumtepa", with its abundance of satin and adrase fabric, where you can buy at a very low price.
Next stop is village Rishtan, which since ancient times was famous for its ceramics. Rishtan pottery is distinguished by its richness of decor, in which the blue color dominates. This unique blue glaze "ishkor" is made by hand from natural mineral pigments and mountain plants. Today every third family in Rishtan produces ceramics. After visiting several masters we are going to Fergana.
Return to Fergana. Overnight in Fergana
Breakfast in the hotel
09:00 Moving of Fergana Kokand Tashkent
In the morning we go to Kokand, which is the main transport hub in the Ferghana Valley, leading to the northwest through the mountains to Tashkent, and to the west to Khujand. In Kokand we will visit the palace of the 19th century Khudayar Khan. After losing his power over his possessions, Khudayar Khan spent all his money and energy on decorating his city with a host of elegant mosques, madrassas and his huge palace with its 113 ornate rooms - 19 of which are currently open as a museum. Another beautiful monument to the mausoleum of Modari Khan is a burial vault for all women, khan's relatives.
15:30 Transfer to train Station
16:29 Departure time to Tashkent
21:07 Arrival time in Tashkent
Transfer to hotel
Overnight in Tashkent
Breakfast in the hotel
Trip to Chimgan Mountains and Charvak Lake 
Overnight in Tashkent
Breakfast in hotel 
……..Transfer to airport
…….Departure time from tashkent
Tashkent-Frankfurt ✈ Your city
The end of Tour!
Inclusions
Transport
Airplane, train, car
Include
All transfer and Land transportation during the whole tour (according itinerary) . Some places minivan 5 seats, some places a sedan car.
Accommodation based on bedroom at boutique hotels and 2*- 3* stars hotels (according to itinerary).
Breakfast at hotels
Local English Speaking tour guide in the cities
Entrance tickets to sightseeings and museums
Local flight tickets - Tashkent - Khiva (Economy class)
Train tickets Bukhara - Samarkand (Economy class), Fergana - Tashkent (Economy class)
Including tourist fee.
Ready for Your Dream Trip?
Let Us Customize Your Perfect Tour - Fill Out Our Form Now!
Create my trip
Timur Alimov
Dear friends!
My name is Timur Alimov, and I represent our group of travel experts in Uzbekistan and Central Asia. Our travel experts will guide you through Uzbekistan and Central Asia. For the past ten years we have been gathering and guiding groups of more then 10000 happy travelers. We can show the country through the eyes of the locals, as if you come not as a tourist, but as a guest visiting friends. We give to our travelers only the routes that we checked personally or it was checked by our guides. Some members of My team has traveled this route more than 10 times, and during these trips we have made a lot of friends in each cities who become our friends and help us.
Our travel company office is based in Bukhara, but our travel experts are set in each country we represent. Company is officially registered and has certificates and tourist licenses # T-0087 Unique Travel issued by state gov of Uzbektourism.
I look forward to seeing you as our clients!
How to reserve a seat
You can book your seat through the booking form , click on "Book now" and follow the process. You can also contact me or our team to get the consultation.