The Turgen Gorge opens up to into a range of biomes and spectacular landscapes, unlike usual gorges that narrow down to small ravines. The gorge ends up into alpine meadows, dilapidated forests, glaciers and high peaks. A week of hiking, mountain-biking, climbing and rafting can help you explore all of the wide-stretched areas of the gorge.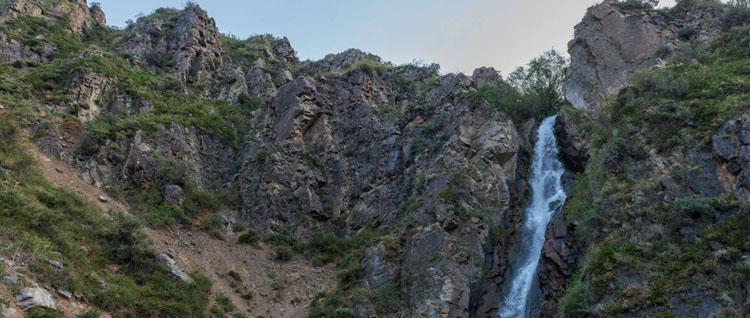 Turgen Waterfalls
Turgen gorge has seven waterfalls of which three of them are spectacularly beautiful.
The Bear Waterfalls
Water drops from a height of 40 metres and is one of the most accessible waterfalls across the globe.
The Kayraksky Waterfalls
With a drop height of more than 55 metres, the waters fall on a good, dirt road in a scenic forest background. There are pedestrian stops along the 9-kilometre long stretch sidelined by dazzling views of the waterfall.
The Kayraksy falls have a rapidly flowing stream through rock tunnels.
The Rocky Waterfalls
It is one of the most daring waterfalls of the Turgen gorge for all of the physically tough people out there.
Saki Mounds
The gorges are grounds to Famous Saki mounds dating from 1000 BC.
Kiel-Spring Of Bulak
Legends have it that there are rejuvenating properties in the crystal, clear, cold and delicious waters of the "fountain of youth". However, you grow younger only from your soul and not as a person.
Trout Farming
At the beginning of the Turgen Gorge is the famed trout farm- Rainbow Trout. You can catch the Royal fish or the rainbow-coloured salmon, Osman and eat fried fish for your lunch.
Issyk Lake
One magnificent and beautiful stop on your way to the Turgen gorge is the deep-green Issyklake nestled among the rocky slopes of the wild.
Assy Plateau
As you move down from the Turgen gorge through the Asy Pass, you find a way to the Assy plateau, which is also considered to be a shortcut to the China Pass.
The plateau-oriented sloping to the east is located at an altitude of 2100-2800 metres above sea level.
In the last few years, the plateau region has become a popular spot for motorists, jeepers, bikers and mountain bikers.
Turgen Forests
Midst thunderous waterfalls and the sloshy stream rush lay the unusually still and calm forests of the Turgen gorge. However, you need not be that expert as a tracker to gaze upon colourful displays of the rich mountain flora of the Turgen forests, peeking through the fir trees, spread over the thick blankets of ancient moss.
You might also spot bears, wolves, deer and wild hogs scampering here and there in the dense forests.
Planning your own adventurous weekend, let us help you with that. Get in touch with us.