This dual destination tour comprising of Chimgan and Charvak is an excellent tour option for tourists looking to explore best of both worlds which are, from a landscape and activities perspective, not too different from each other, but offer supplementary options which one may not experience in one particular standalone destination. Nevertheless, both are dazzling mountain destinations perched in the Tien Shan mountain range.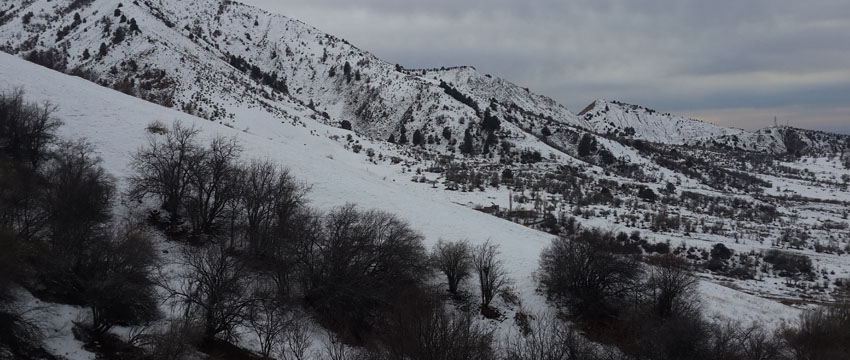 Chimgan
Chimgan is a ski resort town located high in the Chatkal Range which is part of the Western Tien Shan mountain range. It is situated at an altitude of 1,600 meters above sea level and is one of the most popular skiing destinations in Uzbekistan. As it is just situated just 85 Km from Tashkent, one of the major tourist cities and capital city of Uzbekistan, it receives fair number of tourists, especially coming here for trekking the Chimgan mountains.
Mountain Tours In Chimgan
Mountains tours are a specialty of this place which carter to mountaineers with varying skill level. The Greater Chimgan Peak with a height of 3,309 meters which can even be seen from streets of Tashkent is the main trekking destination in Chimgan. There are multiple trekking routes to climb to the top. Next to the Big Chimgan, with a height of 2,097, Little Chimgan is the next preferred trekking point which can be wrapped up in one to two days as compared to a week for trekking Big Chimgan. Skiing, paragliding, snowboarding, mountaineering are other major winter sport activities popular in these mountains besides trekking and hiking.
Charvak
Located in the mountainous regions of Tashkent, it is one of the best recreational places in Uzbekistan. Charvak or Charvaq (or Chorvoq) is literally a village situated a mere 92 KM from Tashkent. The main attractions of this place are the Charvak Hydro power plant and Charvak reservoir both of which are located on the banks of River Chirchik downstream.
Charvak Reservoir
This reservoir was created to stock up water from the Chirchik River and supply the same to the power plant which in turn generates electricity. Charvak Hydro power plant is the most powerful hydropower station in Chirchiq-Bozsuregion providing electricity to the in the Charvak region and its vicinities. With a height of 168 meters, it has the capacity of holding 2 Cubic Km of water at once. This vast reservoir seems like a lake with a surface area of 37 square kilometers and a coastline of about 100 Km. It is fed primarily by the rivers of Pskem, Kok-Su and Chatkal. The landforms surrounding this reservoir are equally beautiful which mainly consists of green slopes and snow-topped mountains. These have led to the founding of numerous resorts, recreational centers, and children sports camps in this area.
Mountain Tours In Charvak
Located in Tian Shan Mountains, Charvak offers colossal amount of mountain sports opportunities. The great panoramic view of Big and Small Chimgan peaks in addition to the blue water of the lake, adorn the trekking routes which will keep you motivated throughout the journey.
Other Things To Do In Charvak:
Fishing
Fishing is one of the favorite and preferred recreational activity in here as there are variety of fish species inhabiting this reservoir which includes carp, trout, whitefish, peled etc.
Recreational Centers
Around the lake on the mountain slopes, there exist small villages where various recreational centers have been set up for tourists which are equipped with bars and restaurants.