The place has five climatic zones and two time zones. The world's ninth-largest nation, the most economically advanced country, form of the stans, all credit goes to its plentiful of oil reservoir and most other worthy minerals. Kazakhstan has excellent places where you can meet people, experience the exclusive nightlife and can shop until your pockets get empty.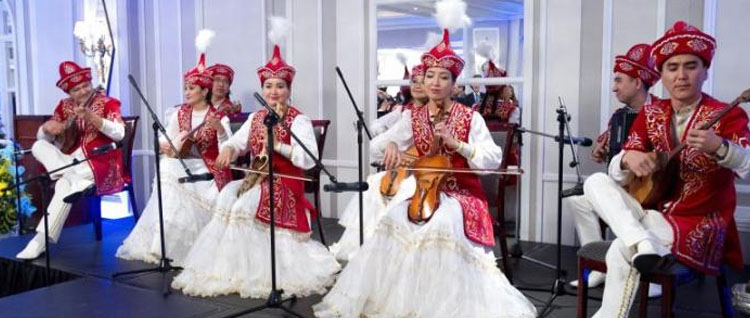 Kazakhstan is full of adventures, can board in the steppes of the Tian Shan a valley in Kazakhstan. Astana is the second largest city in Kazakhstan. The old and new modern sites have become chief attractions for visitants. Key attractions include Bayterek tower and Duman aquarium.
Let's Take A Look At Kazakhstan's Culture:
Kazakhstan cultural tours combine familiarization with Kazakh nomadic customs, cuisine, creations. You can go for a trip or hike in spectacular places, music shows, images of hunting with birds of prey, supervised tours to the rock paintings of archaic people, and more. During your journey, you will be accompanied by qualified tour leaders guides who will take responsibility not only about exciting travel program but also about your comfort.
Cultural tours to Kazakhstan can boost you to have a glimpse at the main appeals of Kazakhstan. In your journey, you can attend the famous AltynEmel National Park, BaikonurCosmodrome, to view the spectacular Charyn canyon, and can visit the world's great alpine skating rink Medeo. The nomadic way of life did not allow themselves to the development of architectural monuments, and thus Central Asia's ancient cultural centers, full of architectural beauty, were located in the south of Kazakh lands.
Southern Kazakhstan Is Home To The Number Of Islamic Buildings:
The KhojaAkhmedYasavi Mausoleum, in the center of Türkistan
The Arystanbab Mosque, established near the ancient city of Otrar, and the hamlets of Talapty and Kogam
The Aisha-Bibi Mausoleum, in the city of Taraz.
The Capitals OfKazakhstan Also Hold Examples Of Russian Architecture, Such As:
The Zenkov Cathedral (built in 1904) in Almaty. The design of the Soviet period mostly took the style of drab, and functional structures.
Traditional Kazakh community arts are presented as an illustration of their cultural identity.
Kazakhs are appreciated for their handcrafted textiles, especially colorful felt sheets, and woolen carpets. The rugs are traditionally used to enhance the floors and walls of yurts, and they were judged as a symbol of wealth.
Kazakhs also make knitted garments and silver jewelry.
Uralsk town.
The area of Independence in Shymkent.
The house of drama theatre in Almaty.
Quay of river Ural in Atyrau.
Central Mosque in Almaty.An airport in Almaty
A train station in Kyzylorda town and the Aktau town.
These are just some of the mystic adventures that will leave your senses tingling on our cultural ventures. And with our expert local guides, you will gain more knowledge and can get closer than you have ever been before. Kazakhstan cultural tours are pure, simple ventures to some of the most iconic realms and civilizations on Earth.
Need Any Advice In Planning Your Own Mystic Adventure? Let's Get In Touch!