The world's ninth-largest nation, the most economically ahead of the Stans, all credit goes to its plentiful of oil reservoir and most other worthy minerals. It means that usually, it gives better standards of accommodation, transport, and restaurants than elsewhere in Central Asia. The biggest city, Almaty, is almost a nostalgic city of Europe with its leafy streets, chic ALZhiR Museum-Memorial Complex, hedonistic nightlife, and glossy shopping malls. The capital Astana, on the windswept northern plain, has been modified into a 21st-century showpiece with plenty of clear futuristic design.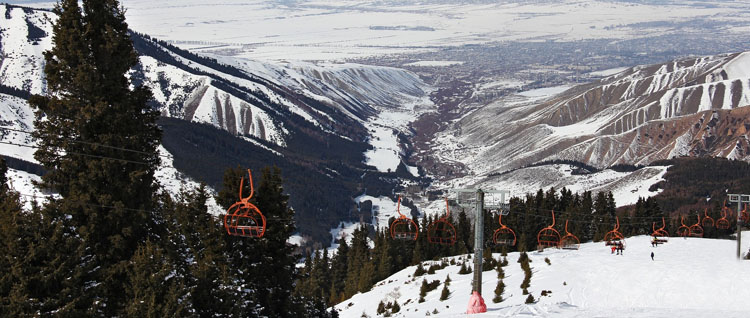 Thinking Of Adventure, What Does This Country Have For You?
Then here is your answer, beyond the cities you will see the greatest travel adventures.
Hiking in the high cliffs and green plains of the Tian Shan
Hunting for wildlife on the lake-dotted plain
Relishing homespun hospitality in village guesthouses or jolting across the western sands to remote underground mosques.
Kyrgyzstan is a landlocked country in Central Asia, located in between Kazakhstan, China, Tajikistan, and Uzbekistan. 80% of the land is covered by the mountain Tian Shan (Kyrgyzstan is hardly referred to as (The Switzerland of Central Asia, as a result) with the remainder made up of channels and basins.
Bishkek is the capital and the largest city of Kyrgyzstan. The second city is the old town of Osh, placed in Fergana Valley near the edge of Uzbekistan. Yssyk – Kullake in the northeastern, Tian Shan is the deepest lake in Kyrgyzstan and the second deepest mountain lake in the world after Titicaca.
These are some Places in between Kazakhstan – Kyrgyzstan group tour, to make your journey more delightful and to fill it with more glitters or experiences.
In between Kazakhstan and Kyrgyzstan you can visit Charyn canyon which has a huge chasm hill of various colors and shades. The canyon is a portion of the Charyn National Park region where you can view the old ash – the Castle Valley, tree grove, and 154 m canyon with cliffs matching towers.
Arrival in Karakol where you will visit Wooden Orthodox Church, Prejevalsky museum, Dungan Mosque in Chinese style.
AltynArashan (Golden Spa) canyon one of the most famous canyons in Karakol there you will notice wonderful fur tree forests and hot springs.
Bokonbaevo where you will find Eagle hunting show. One of the best times to relish the moment.
Kochkor, there will be a Kyrgyz tradition dinner show with Kyrgyz national music and songs where you can enjoy your dinner.
Then you can go for Bishkek city tour which includes such places of interest like, Dubovyi Park ( Oak Park ) PloshadAla-Too ( Ala-Too Square ), PloshadPobedy, ( Victory Square ), History Museum, Philharmonic ( National Concert Hall ) and many others places upon your request.
Kazakhstan – Kyrgyzstan group Tour gives the most famous sights of two neighboring Central Asia countries. You will observe inspiring nature in Charyn canyon, ZhetiOguz, Song Kollake, and many places. You will feel the diversity in Almaty and Bishkek and enjoy breath taking scenic views in Medeo Gorge.
You can get lifetime pictures and wonderful selfies and meet tourists from all over the world in Kyrgyzstan group tour.
To know more about Kazakhstan-Kyrgyzstan Group Tour contact us/visit us/call us