Things To Do In Almaty:
Almaty can surely be called the adventure hub of Kazakhstan. With lots of adventure sports to choose from, one can simply not stay indoors. From mountain climbing to trekking to ice skating and many more.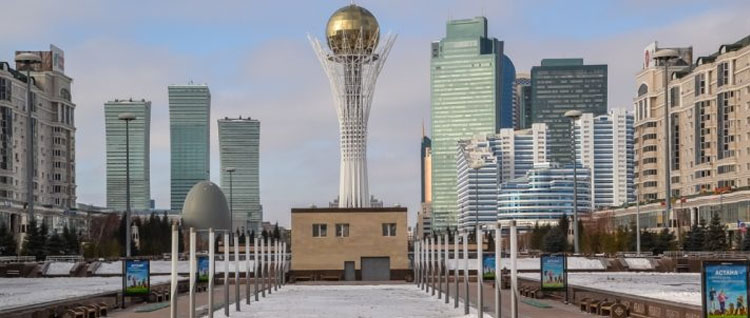 Fan of skating? Then reach Medeo Gorge, the world's highest ice skating rink. Need a bit space for your romanticism? Then Chimbular Ski resort and Kok-Tobe hill is the best place to go to. The Kok-Tobe Park under the tallest tower in the world is one of the most fascinating things to look at. Almaty Lake adds beauty to the already beautiful landscape. With canyons, springs, and lakes all over the place, you just can't get enough of Almaty.
Things To Do In Astana:
Astana combines the culture of the eastern and the western traditions. Symbolic for the historical and architectural constructions, Astana is a must visit place for everyone. With shopping sprees from Khan Shatyr, dive into the local food and eateries. Besbermak is the most famous dish available here. Try it for its delicious smell and cracking taste.
Drink enthusiasts can swear by the craft beer available here You won't believe us unless you try it for yourself. If you are planning to visit Astana, do make your preparations to visit The National Museum and the exhibition hall. Other notable stops: Pivovaroff and The Barley.
Things To Do In Shymkent:
Shymkent is to Kazakhstan what cocktail is to drinks: a mix of everything. Famous eateries include Madlen, Bar Villa and El Dorado where the mojitos are something to swear by. With locals being really open to interactions, go for a shopping tour at Bazar Samal, the largest bazaar in the city, or bring out the inner child in you at the Fantasy World Park. Rides, games and astonishing food stands await for you.
We got enough to satisfy your sweet tooth too. With a thousand varieties of chocolates and desserts to choose from, your diet will surely be going for a toss. Sports enthusiast? Well, you should witness the BiikKazygurk, the Shymkent women's professional team, play in the Champions League.
Things To Do In Taraz:
A small village located in the western side of the country, Taraz is the birthplace of many fables, tales, and ghosts. The place is full of stories and mysteries that you'll find yourself competing to be the next Sherlock or Scooby Doo.
Aysha-Bibi village is home to the graveyard of a local Romeo Juliette heroes. You must visit Akyrtas, Kazakhstan's Stonehenge. With no particular origin story or use, the place is sure to make you curious about a thousand questions. With stories and fables, arises a queue of museums. Taraz Regional Museum, Karakhan Mausoleum, and Dauitbek Mausoleum are a must visit attractions of the place.
For other activities, you have Asti Bar, a karaoke and restaurant joint that surprises everyone with its unusual d'cor, and Shakhristan Market, a cheap and local market for everything worth the price.