Anatoli Boukreev or Khan Tengri as the locals call it, Khan Tengri is the world's most beautiful mountain peak because of its symmetry and the irregular geometric ridges.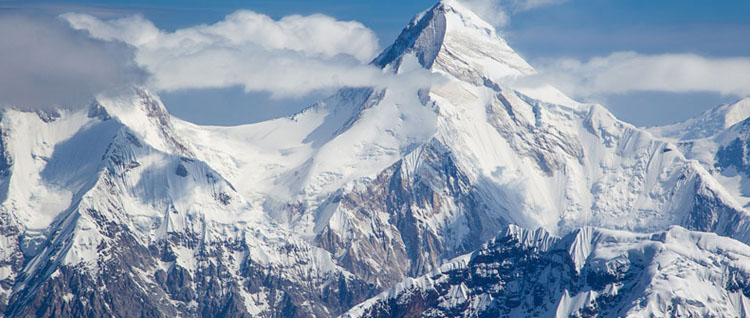 Different Names Assigned To The Mountain-
The mountain consists largely of marble rocks and therefore the main summit glows deep red during sunsets. In relation to this phenomenon, Khan Tengri is known by this name which means "Blood Mountain".
The mountain was revered in the indigenous shamanistic culture as a god and therefore the name Khan Tengri also means the "Lord of the Skies" or the "Lord of the Spirits" in Uighur and "Ruler of the Skies" in the Turkish language.
The peak also has a number of alternative names that are not that frequently used like Kan-Too Chokusu, Khan TangiriShyngy, Hantengri Feng and Pik Khan-Tengry.
Weather And Climate In The Region-
The Khan Tengri peaks can be subject to treacherous weather conditions making it a potentially dangerous place to be under-equipped and ill-experienced. Because of the high northern latitudes, the climbing season becomes very short and lasts from mid-July to the end of August.
The Pobeda Peak
The highest mountain in the Tian Shan mountain system, the Pobeda Peak lies on the Kyrgyzstan–China border in the Issyk-Kul Region of far eastern Kyrgyzstan. Part of the Kakshaal Too, the Pobeda peak lies at a height of 7,439 metres above sea level and is located to the southeast of lake Issyk Kul.
Considered to be the most northerly 7,000-metre mountain by the geologists, it is sidelined by the South Engilchek Glacier which is also the sixth longest glacier outside the world's polar region and occupies the entire north side of the Pobeda Peak.
Weather And Climate In The Region-
The climate in the area is sharply continental, rigorous and usually dry. The peak has short summers with an average temperature of about 7 degrees. Also known as the "Arctic of Kyrgyzstan", the peak is fed by the tributaries of Muztag and Sary-Djaz glaciers.
Geography Of The Khan Tengri And Pobeda Mountain Peaks-
Located on the Kyrgyz-Kazakh border the Khan Tengri and Pobeda Peaks lie to the west of the China border that majorly includes the central part of the Tian Shan mountains.
The Pobeda Peak is the highest mountain in all of Kyrgyzstan. And unquestionably one of the most beautiful mountain peaks in the world, Khan Tengri resembles an almost perfect pyramid completely covered in snow and ice. Call us or visit our website to know more about the Khan Tengri and Pobeaks peaks and to book your trip to the mountain backdrops when in Kyrgyzstan.