We humans, as social creatures, tend to form groups with people who share our interest, liking, and. That's why social networking sites like Facebook, and IM services like WeChat and Whatsapp are so successful. Groups tend to do a lot of things together which add a charm to life. So how can travelling be left out? When you travelling in a group, it becomes an affair to be scribed down in your memory book for the rest of our where you'll undeniably have a lot of fun and adventure.
The Central Asian country of Uzbekistan never fails to impress visitors with its historical, cultural, and natural offerings which together make up for a magnificent small group tour destination.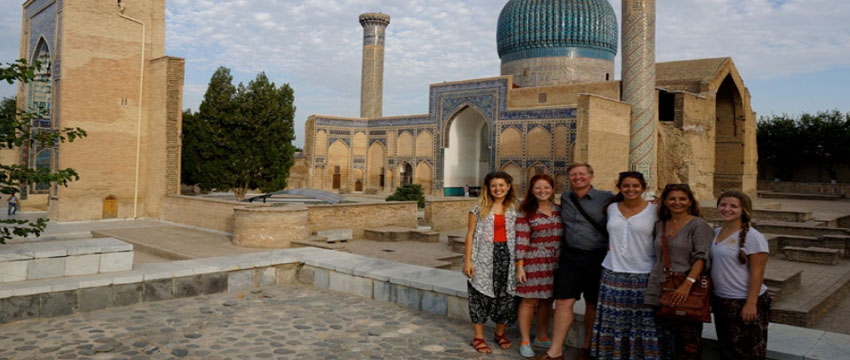 Uzbekistan For Small Groups
Uzbekistan is a secular, unitary constitutional republic with 12 provinces and one autonomous republic. But much of the historical sightseeing places are concentrated in the major cities like Bukhara, Samarkand, and Khiva. Hence these cities are extensively covered in all of our group tours.
Groups can enjoy a wide range of things to do in Uzbekistan. Historical sightseeing, cultural tours and events, local festivals, camping and hiking, you name it. From Registan Square in Samarkand to Lyabi-Hauz in Bukhara, you can easily get lost in time and travel back to the medieval period. Tashkent which is the capital city is an amalgamation of a cosmopolitan and an ancient oriental city with half a dozen of recreational places which will cater to every other member of your group. Last but not the least, our group tours also extent to neighboring countries like Turkmenistan and Tajikistan to provide a complete Central Asian experience.
Below Are Our Best Uzbekistan Small Group Tours:
Navruz Group Tour
Experience the auspicious occasion of Navruz or Persian New Year when the whole of Uzbekistan come alive to a whole new energetic level. Celebration runs through every corner of the country and traditional shows get organized in the streets and theatres.
Silk & Spice Festival Tour
The Silk and Spice festival tour annually held in Bukhara is the place to be if you want to get a gist of Uzbekistan's rich trading history along the Silk Road route. This festival involves a grand parade involving lot of talented artists and local celebs which is followed by national sports and games.
Uzbekistan-Tajikistan Group Tour
Visit two of the most magnificent countries in central Asia, Uzbekistan and Tajikistan, where the former is known for its ancient monuments and the latter for its pristine lakes.
Kyrgyzstan-Uzbekistan Group Tour
Visit two countries of Kyrgyzstan and Uzbekistan in single group tour package and experience the best of both worlds.
Turkmenistan-Uzbekistan Group Tour
Experience the mystic and nomadic land of Turkmenistan and the ancient monuments of Uzbekistan in this single group tour package.
Aral Sea Group Tour
Take a trip to the dying Aral Sea which was once one of the four largest inland lakes in the world. Muynak and Nukus are main places you'll get to visit in this group tour package.
Kyrgyzstan-Uzbekistan-Tajikistan Group Tour
Visit the best of three worlds of Kyrgyzstan, Uzbekistan, and Tajikistan in this multi country group tour package. Even though culturally somewhat similar, the countries are radically different in their own ways.
Turkmenistan-Uzbekistan-Tajikistan Group Tour
Experience the true Central Asian adventure in this multi group tour comprising of Turkmenistan, Uzbekistan, and Tajikistan.
Uzbekistan Winter Group Tour
A winter trip to Uzbekistan is equally rewarding than any other group tour when there are fewer tourists and the climate is pleasant to chilly. Most of the historical sites are painted with snow during winter.