Kazakhstan may appear to be an unusual destination to add to your bucket list. But the lack of crowd not only grants you an exceptionally credible affair, but you'll also be awe-struck by a bewitching landscape, dynamic culture and epic verifiable inheritance that barely is known to the rest of the world. It has an independent, prosperous and developed economy.
We here at Minzifa Travel have listed down some of the reasons to visit Kazakhstan. There are plenty of reasons to visit Kazakhstan as it is such a hospitable country with many different religions and ethnics that all live together in peace and harmony.
Here are 12 enchanting reasons for your Kazakhstan Tour:
1. Hospitable And Welcoming Locals
The sacred value of community, friendship and hospitality that have helped Kazakh nomadic culture flourish for centuries, live on a fervently modern relationship. The country is multicultural with so many different religions without any issue as the people accept each other. The Russian and Kazakh people live together in harmony no matter what happened in the past.
2. Breath-Taking Nature Is Never Too Far Away
The sublime beauty of nature is always on your doorstep in Kazakhstan. Don't think that Kazakhstan Tourist Destination is only a land of deserts and steppes. It has beautiful mountains, lakes, desert, canyons, and endless steppe. All the unspoiled nature in Kazakhstan is incredible.
3. You're Guaranteed To Escape The Tourist
Kazakhstan is not the most common holiday destination, so you don't even have to try to avoid tourist. Kazakhstan is a huge country, so it is perfect for those who love some solitude. Not only does lack of crowd mean you barely need a queue for a lift, you'll be awe-struck by the bewitching landscape of Kazakhstan Attractions barely know to the rest of the world.
4. Kazakhstan Has An Incredibly Vibrant Culture
Kazakhstan is actually one of the most multicultural places as the country is home to 126 ethnic groups. The two biggest groups are Kazakh and Russian. Kazakh embrace the value of ethnic diversity and tolerance.
5. Explore The State National Natural Park Altyn-Emel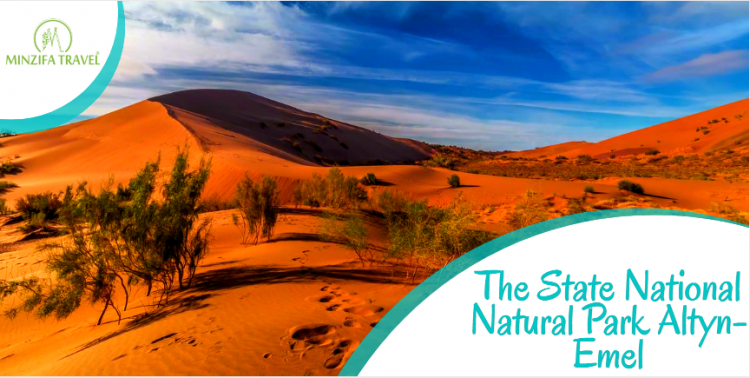 This park covers an area of 4600 square kilometers. It houses various unique landscape, archaeological, historical and cultural sights and rare and endangered species of animals and plants. Some of the highlights of this park are the Aktau and Katutau hills, Terekty petroglyphs and the famous Singing dune. The Singing Dune is like an aircraft which hums the tune when there is wind and dry.
6. Beautiful Kolsai Lakes
The Kolsai Lake is a system of 3 alpine lake, sitting on altitude between 1700 and 2650 meters. The lakes are incredibly clear and they lie in a perfect forest, surrounded by cliffs and the hills. The three lakes of the Kolsai are located on the same line one across another. It is a wonderful visual to watch.
7. The Big Almaty Lake And Other Easy Day Trips From Almaty
There are plenty of day trips from Almaty like you can reach the Big Almaty Lake from the Almaty centre in just 30-40 mins by car. The lake sits 2500 meters above the sea level. This lake is special for that the colour changes depending on the weather and the time of year. The surrounding forest makes it more spectacular. You can also take other Kazakhstan City Tour to discover this wonderful nation.
8. A Perfect Destination For Adventure
Kazakhstan is a perfect tourist destination for adventure. You can go on a road trip and explore the unspoiled nature, climb mountains and swim in lakes. Explore underground mosques and incredible mausoleums. You can go skiing in the mountains during your Kazakhstan Tours.
9. Shop At The Khan Shatyr Entertainment Centre
If you are a shopping lover, then Almaty and Astana are the perfect destinations for you. Khan Shatyr is a big, 150 meter high and transparent tent covers 140.000 meter square. In these tents, you can find a shopping and entertainment centre.
10. It Is The Ninth Biggest Country In The World
Kazakhstan is huge. Do you know that it is actually the ninth largest country in the world? It is not a surprise that the landscape in Kazakhstan is so diverse. It used to be the 2nd largest Soviet Union.
11. The Richest Country In Central Asia
Kazakhstan is actually the most economically developed country in the 5 Central Asian Countries. This is because of the oil that is found in the country. You would be surprised to see developed and modern cities.
12. Kazakhstan Is An Affordable And Budget Friendly Country
Even though Kazakhstan is a huge country but it is really affordable from one destination to another. There is also plenty of accommodations possible. And eating out is really affordable especially if you eat local food.
So come and explore the unexplored gem of Kazakhstan. Hope that the above-mentioned reasons, urge you to visit Kazakhstan on your next trip. We at Minzifa have planned the perfect holiday trip for you offering you the best oriental holiday experience, To book your tour, browse through our website @ minzifatravel.com