Five Russian airlines will now fly from Russia to Uzbekistan – to Samarkand, Bukhara and Tashkent. Although there is no sea there, there are more and more tourists in the "land of the eternal season". After all, there really is something to see here. RIA Novosti news agency tells about where to taste the tastiest pilaf and ride a camel, where to swim, and what the "golden triangle" of Uzbekistan is.
Uzbekistan is recognizable with closed eyes – by the scents. The street smells of fresh bread, pilaf, and sweet melons.
People come here not to lie on the beach, but to walk. And, of course, to eat: everything is very delicious.
The guides advise to start from Tashkent.
"Walk through the old city, look at the biggest bazaar Chorsu, where smells and tastes mingle, where you can bargain, and the sellers won't let you go without tasting," suggests tour organizer Asiya Sharipova.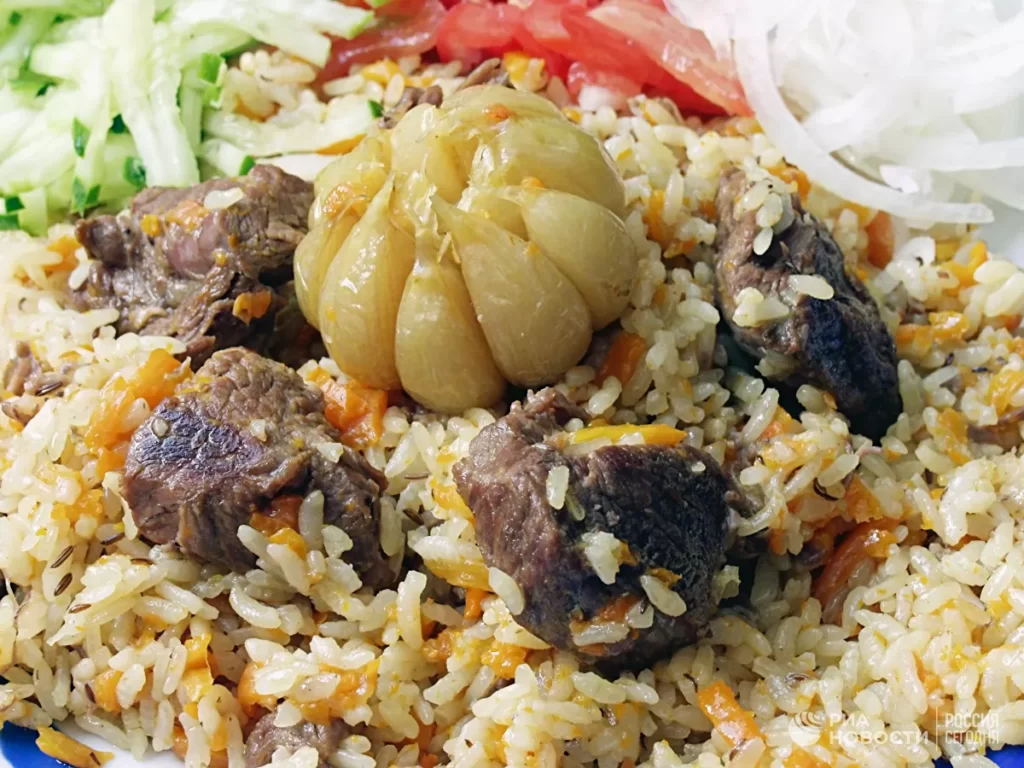 Chorsu has everything from homemade bread, spices and sweets to jewelry, clothes and souvenirs. And the bazaar also makes the tastiest pilaf in the city: in huge vats, like small pools.
"You won't find products made in China in Uzbekistan," Asiya adds. – Don't doubt: any item you like is made in one of our workshops.
As souvenirs, she recommends ceramics, silk carpets and hand-embroidered items such as tablecloths, capes and bags.
Not far from the bazaar is the largest of the 23 madrassas (Muslim schools) of old Tashkent – Kukeldash. Its history goes back to the 16th century. In Soviet times, there was a museum of atheism.
Explore the Hast Imam complex, the religious center of the capital, which combines palaces, mosques, and museums.
And for a beautiful sunset, go to the Tashkent TV Tower. On the 106th floor there is a restaurant where you can have dinner and admire the city from the height.
Then be sure to take a ride on the subway, which is also a sightseeing attraction.
There is no sea in Uzbekistan, but from here also bring a bronze tan, so do not forget your swimsuit.
There are beaches, for example, on the Charvak reservoir in the foothills of the Tien Shan. Just a couple of hours drive from the capital – and you can swim in the clear water and breathe the healing mountain air.
"From Tashkent, tourists usually head to Samarkand, Bukhara and Khiva. These three cities are the "golden triangle" of Uzbekistan," Asiya Sharipova said.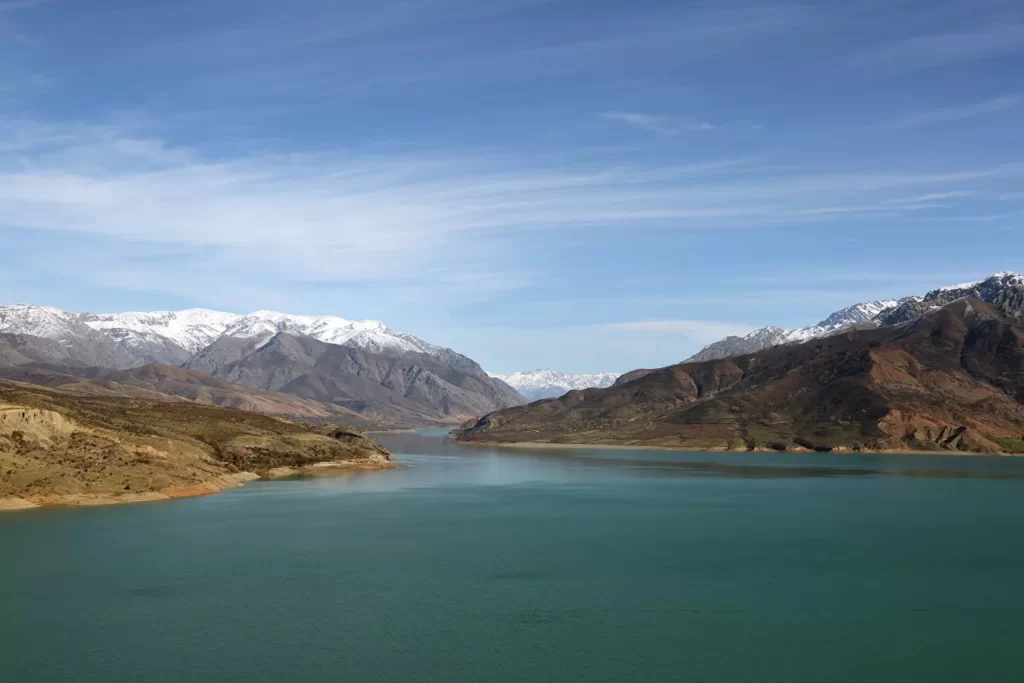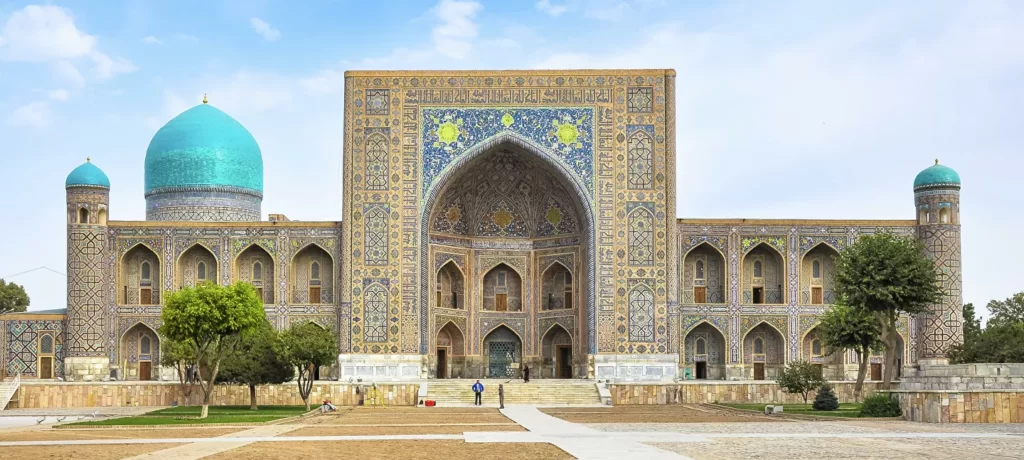 Samarkand is the capital of Tamerlane's empire and a key point on the Silk Road.
Here you should visit the Gur-Emir Mausoleum, Siab bazaar, Bibi Khanum Mosque and the famous Registan Square (translated as "sandy place"). It is surrounded on three sides by beautiful buildings, and this is where all the major streets of the city converge.
In Bukhara, there is a monument to Khoja Nasreddin on Lyabi-Hauz Square. It is believed that he was born here.
The city is not very big, one or two days are enough to see all the sights. The most important are the Ark fortress, Bolo-Hauz Ensemble and Poi-Kalyan, the underground mosques of Kurpa and Attari.
If you have time, take a walk in the ecological center of Jeyran and the ruins of Paikend and Varakhsha.
In Khiva is a real portal to the Middle Ages, the old city of Ichan-Kala. From afar, it seems as if it is made of sand.
The buildings are decorated with a mosaic of colorful ceramic tiles, frames in the windows – turquoise, doors – painted.
By the way, Ichan-Kala was the first city in Central Asia to be included in the UNESCO list. Palaces, madrassahs, caravanserais, bathhouses, mosques and minarets – XIV century.
"There are simply no analogues on the territory of the CIS," says Asiya Sharipova. – Although it is a museum city, many clay houses are still inhabited".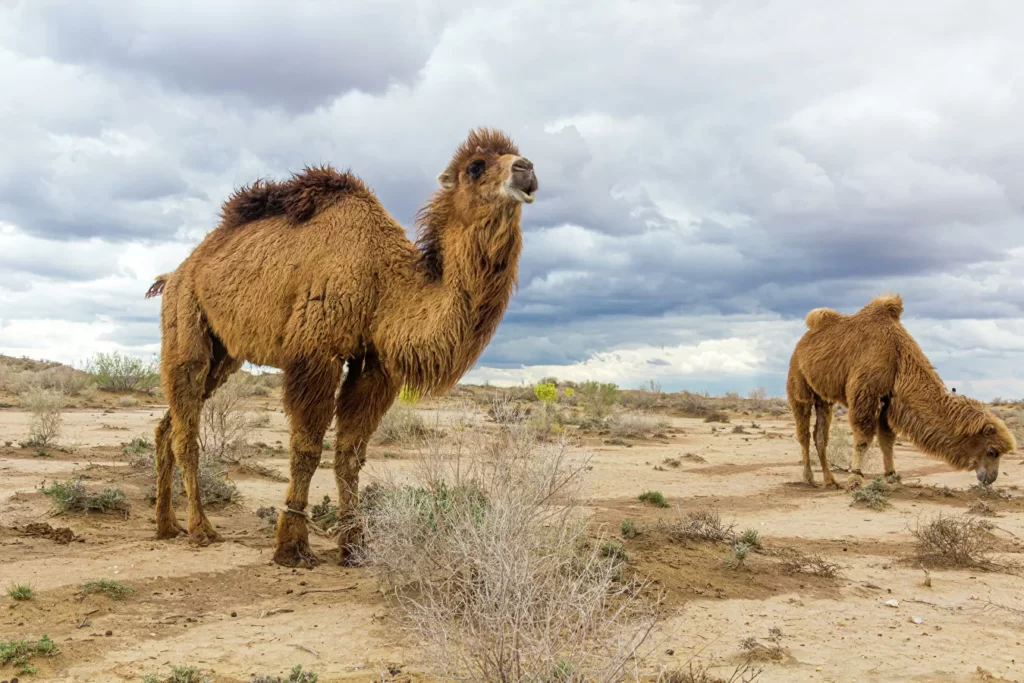 In the Kyzylkum desert you can ride camels, jeeps and ATVs. You can spend the night in a yurt. It is best to go in early May, when tulips and poppies bloom among the sands.
Timur Alimov, director of the Minzifa Travel agency, also recommends a jeep tour along the bed of the Aral Sea: "The impressions will last a lifetime!
Mountain hikes are also popular. In the Beldersay tract you can see canyons, waterfalls and neolithic petroglyphs. And at the Chimgan resort you can go skiing.
Uzbekistan is famous for its lagman and shurpa, said tour guide Aziz Khalmuradov, in addition to pilaf, which each town makes according to its own recipe.
Uzbekistan has some local dishes that have not yet become popular, such as dymlyama (stew of meat), patyr (flat cakes on soft or puff pastry), khalvaitar ("liquid" halvah), khasip (homemade mutton sausage with liver), and naryn (finely chopped boiled meat with noodles).
A dinner at a ethnic restaurant costs an average of 500 rubles per guest. Asiya Sharipova warns: alcohol is not served everywhere. It's better to go straight to the Samarkand factory for wine.
"Uzbekistan can be visited at any time of the year," explains guide Aziz Khalmuradov. – People come here for the oriental color, rich history and Islamic architecture.
But the high season is from March to May and August to November. During this time it is neither hot nor cold.
"In June and July it's not worth it: in some regions the temperature reaches plus 50 degrees," Asiya Sharipova specifies.
It is good to come here for the New Year, she adds. The climate is dry, there is little snow and rain, and you walk around with a short sleeve during the day.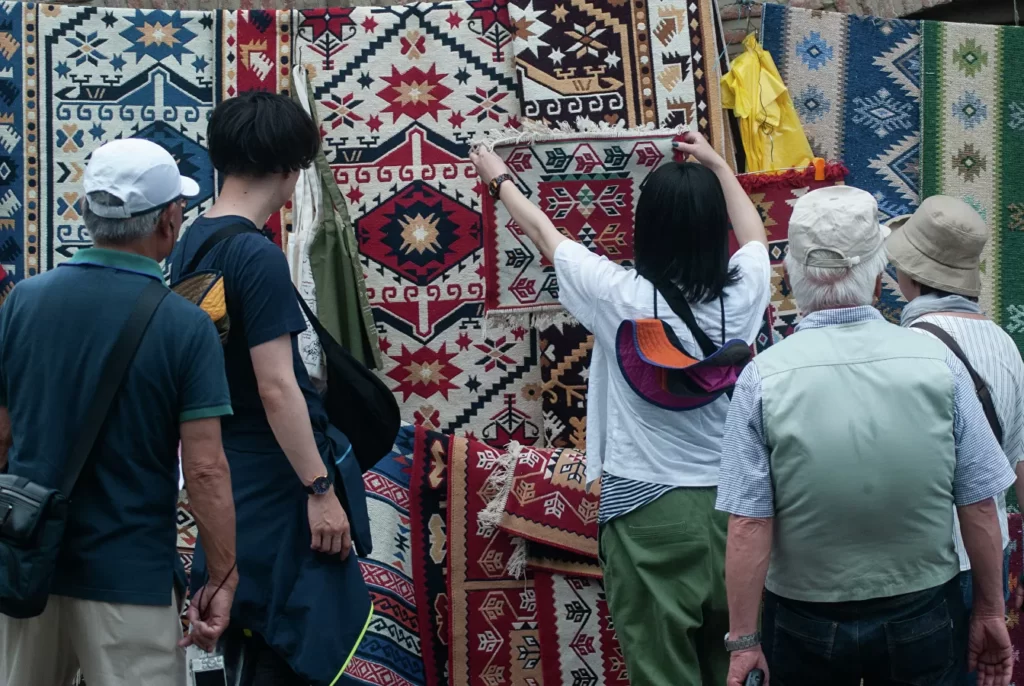 Tourists are mostly from neighboring countries: Russia and Kazakhstan. But they come from Europe as well.
Most often they come for five to seven days. "This is enough to tour the country with overnight stays in different cities", – says Anna Filatovskaya, head of the press service of the "Russian Express" company.
Price – from 50 thousand rubles per person for double occupancy.
"There is a mask regime in Uzbekistan, and it is better not to violate it. We have no other restrictions, everyone travels freely", Asiya Sharipova says.
According to Aziz Khalmuradov, there is a great deal of contradictory information on the internet about the rules for entering Uzbekistan.
"Allegedly at the airport you have to write a confirmation that you will undergo a 14-day quarantine. Don't believe it," he advised.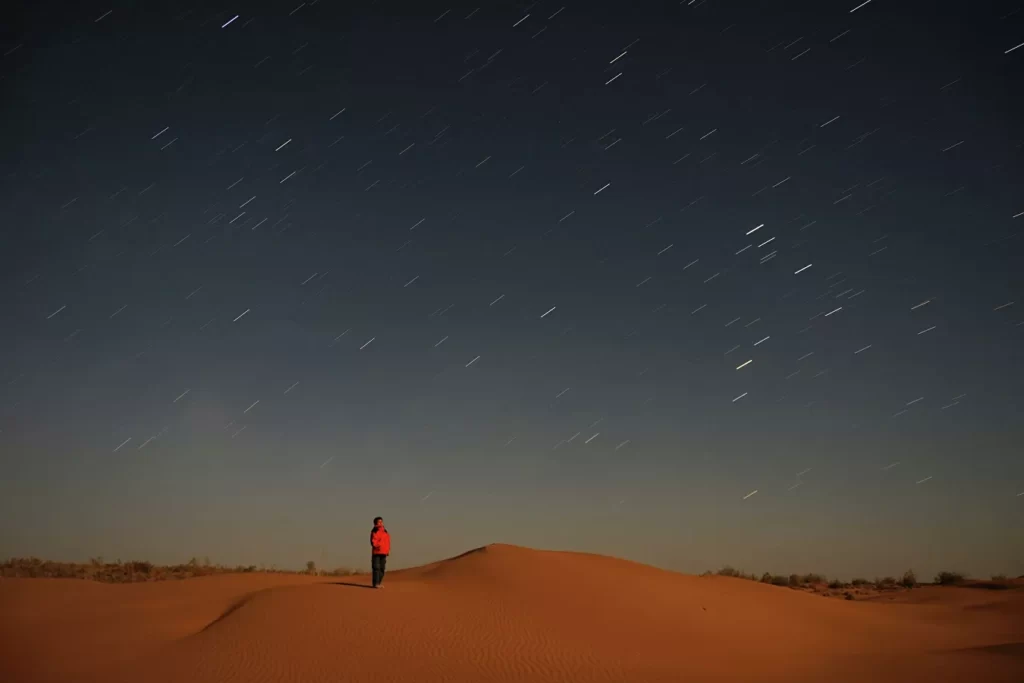 A visa is not necessary: a passport is sufficient.
Only a negative PCR test made 72 hours prior to arrival will be required.
The certificate may be in Russian or English. In flight you will also be asked to fill out a form with the hotel address.
"Vaccination certificates are not yet accepted, but this issue will be resolved," adds Nikolai Serbin, executive director of Central Asia Travel.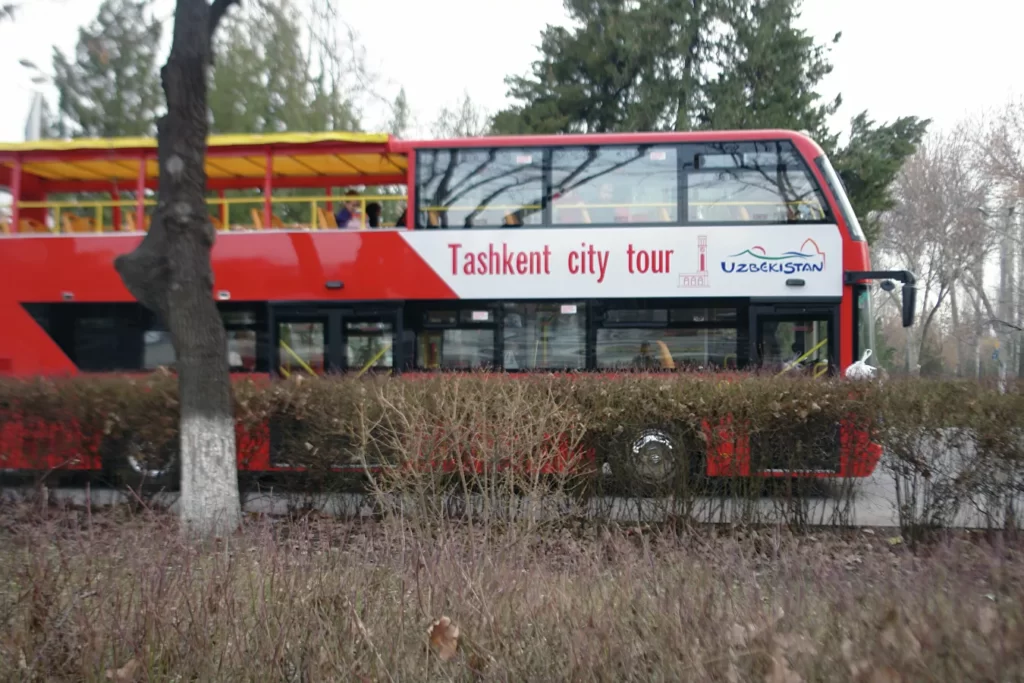 According to Mr. Serbin, the most popular are "weekends in Uzbekistan" – four-day tours to Samarkand and Bukhara (from 22 thousand rubles without a flight) and combined with neighboring countries, such as Kyrgyzstan (99 thousand for 12 days).
Timur Alimov recommends booking tours in advance, two to three months in advance: it will be cheaper.
It is not difficult to organize an independent trip. Prices for a direct flight in December start at seven thousand rubles one way. A hotel room is two thousand. Next year, however, prices may go up.
"If there are more tourists, the prices will go up. Especially for hotels," warns guide Nigman Umarov.
The national currency is the Uzbek sum. It is exchanged at every market. Make sure you have some cash. It is not possible to pay by card everywhere, and there are few ATMs even in large cities.
Russia resumed air links with Uzbekistan on April 1. In addition to regular flights by Uzbekistan Airways and Aeroflot four times a week, charter flights were operated.
Four more Russian airlines will fly to Uzbekistan in winter: S7 Airlines and Ural Airlines (seven flights a week), Red Wings (four) and Smartavia (two) – from Moscow, Kazan, Novosibirsk, St. Petersburg, Irkutsk and Yekaterinburg.
Uzbeks are very friendly people, they love to invite tourists to visit.
"If you are invited to lunch or dinner at an Uzbek family, you should definitely agree, refusing would mean offending the hosts," explains Timur Alimov. – You should arrive punctually at the appointed time and bring small gifts for adults and sweets for children. Every meal starts and ends with a tea party. They put sweets, baked goods, dried fruits and nuts on the table, then snacks, and only at the end – pilaf or other festive meal.
"We don't have a language barrier, they speak Russian here and are open to every guest," Sharipova said. – So welcome, or khush kelibsiz, to Uzbekistan!"
Source : https://ria.ru/20211126/uzbekistan-1760487845.html