Uzbekistan located centrally in the Central Asia territory is filled with architectural monuments which date millennia back. The country was raided by the likes of Alexander the Great, Genghis Khan, and Tamerlane. It's literally an oriental gem, that still seems to be stuck in time with its ancient beauty.
With a growing number of solo female travelling independently, we've created a guide for those who're looking to travel through the cities of Uzbekistan as a solo female traveller. For a better reading experience, we've divided this article into sections.
1. Getting Into Uzbekistan
Research
Research is fundamental for every category, irrespective of whether you're solo female, solo male, group, or family. And a basic research starts with a simple Google search of the Uzbekistan Destinations you're travelling to — which in this case is Uzbekistan — and gathering all the information required.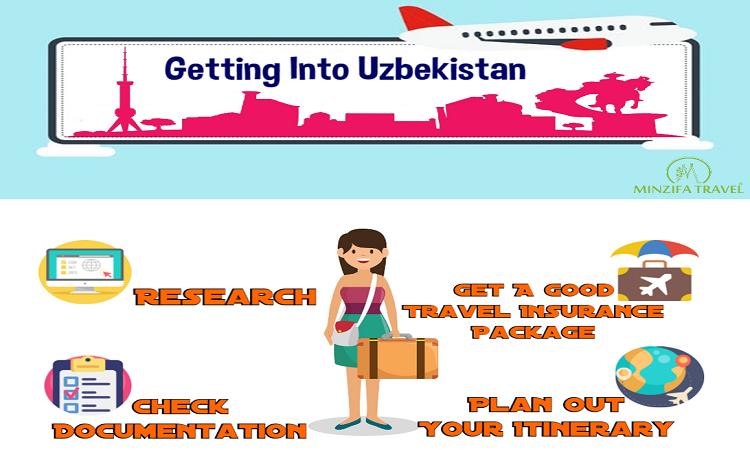 Check Documentation
After you've conducted a primary research, you should get a list of documents you'd require to enter and leave Uzbekistan which you can also obtain from Uzbek embassy at your country. This often includes passport, visa, LOI letter from your Tour Company, flight tickets, proof of balance (optional), health insurance besides other documents. So have the originals and the photocopies in your bag ready before you leave for Uzbekistan.
Get A Good Travel Insurance Package
Getting a travel insurance which preferably covers major destinations and undertakings is vital. In fact, most tour companies will ask for it and we, at Minzifa Travel, highly recommend getting it. The package will cover your medical expenses if case of any injuries while you're Travelling Uzbekistan. They don't cost a load of money and are well worth the cost given the benefits they offer.
Plan Out Your Itinerary
As a solo traveller, you should have a clear idea on the places you want to visit. Without travel mates, you'll find it difficult to make decisions on the go. Major cities like Tashkent, Bukhara, Samarkand, and Khiva are always in the list for most travellers. If you want a more varied experience, Fergana, Urgench, Nukus, Kokand are lesser-known cities but are excellent places to visit with unique offerings.
2. Travelling Through Uzbekistan
Hire A Local Tour Guide
While your independent travelling is indeed good, you should be open to hiring a Tour Guide For Uzbekistan, preferably local with deep knowledge of the area. This will help you navigate the place better and know about it in bit more details that you normally would have. He or she many also let you avail offers at hotels or restaurants with his local experience. So hiring a local tour guide is not such a bad idea. At Minzifa, we regularly guide both solo travellers and groups on one day basis.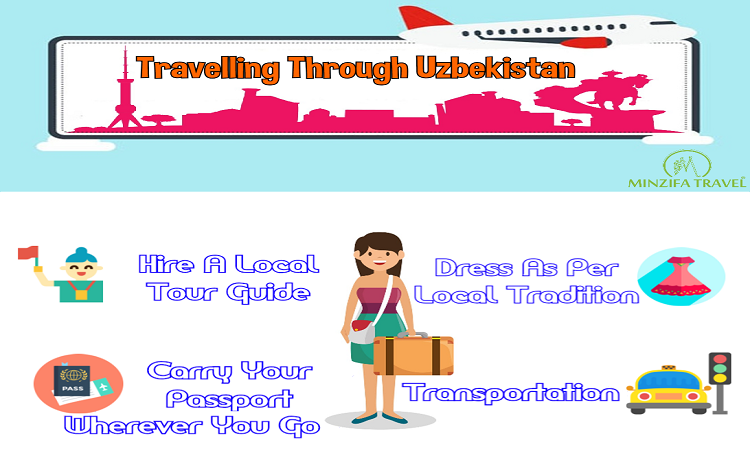 Carry Your Passport (Or A Copy) Wherever You Go
Uzbekistan (and other Central Asia Destinations in general) has a strict police and military system in place. You may get the question in tourist places and asked to show your passport wherever required, but these are all normal instances and they're just doing their duty. If everything's fine, they'll apologize and leave politely. So carry your travel documents wherever you Travel To Uzbekistan.
Transportation
Navigating through Uzbekistan wouldn't be much of a problem as the tourism infrastructure has considerably improved. Major cities and towns are connected by roadways and railways and there are international airports in every major Uzbek city. Private and shared cabs are just a call away, and public transport runs all the time of the day.
Dress As Per Local Tradition
Uzbekistan is a Muslim-dominated country where people, especially women, are intended to dress traditionally and conservatively. As a solo woman traveller, you should respect the tradition and dress appropriately which will save you both from causing public embarrassment and seeking unwanted attention. Pick full sleeve shirts and full trousers. Tops and jeans are fine as long as the aforementioned criteria are met.
3. Leaving Uzbekistan
Have Some Room For Souvenirs
Souvenirs are a must to purchase in Uzbekistan for your dear ones back home. From its iconic oriental bazaars, you can purchase a number of them. In the bazaars, there are a number of shops lined up selling souvenirs along with shops selling daily necessary items.
Just keep in mind that the maximum weight allowed is 32 kg per person if the adult, and 10 kg if children, but this may vary from carrier to carrier. So keep the weight in check.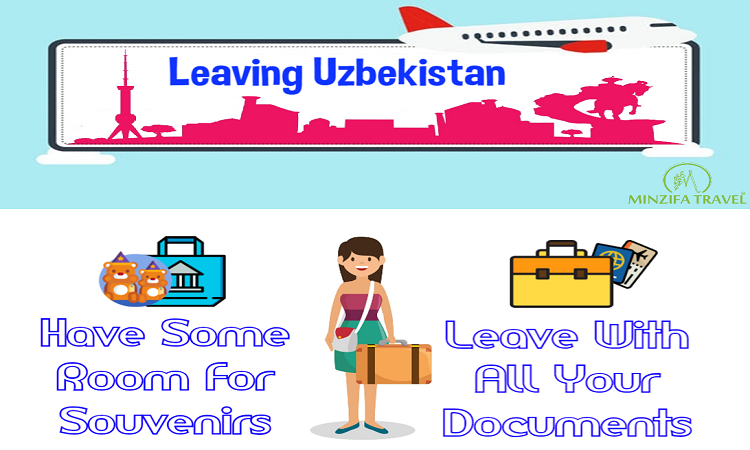 Leave With All Your Documents
When you leave for the airport to board your flight back home, don't forget to carry all of the documents you've received up until that point which include the forms at immigration, receipts and slips at hotel, major purchases (like jewellery or antiques) etc. The authorities at the airport may demand for any documents related to your tour activity. Failure to do so may result in further interrogation. So keep your documents safe till you land at your destination.
4. Miscellaneous
If You Feel Uncomfortable, Travel With A Group
While you should keep your spirits as an independent traveller up, but in case you feel uncomfortable for any reason, it's better to join a group of travellers and explore the majestic country with them. Internet forms, travel hostel, and lodges have made it easier than ever to find.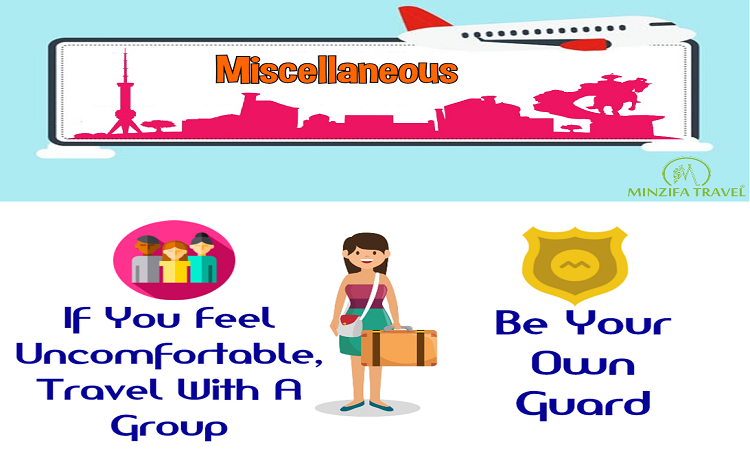 Be Your Own Guard
As a solo traveller, you're at your own responsibility. Being a woman, it's even more important to take care of yourself. Even though Uzbekistan is incredibly safe, just as any other country, you should always be cautious. Some tips may include:
Avoid Travelling Late At Night
Avoid Taking Food Items From Strangers
Avoid Breaking The Law
Stay Away From The Black Market
Stay In Touch With Your Hotel Staff, Tour Company, And Family Members Back Home
After reading this article, you're in a much better position to travel through Uzbekistan on your own as a solo female traveller. If you're a seasoned traveller, we do hope you've more in mind. Do let us in the comment section below. For booking travel Tour Packages To Uzbekistan and still travel as a solo traveller, contact Minzifa Travel today!