Tour to Uzbekistan (Classic Trip)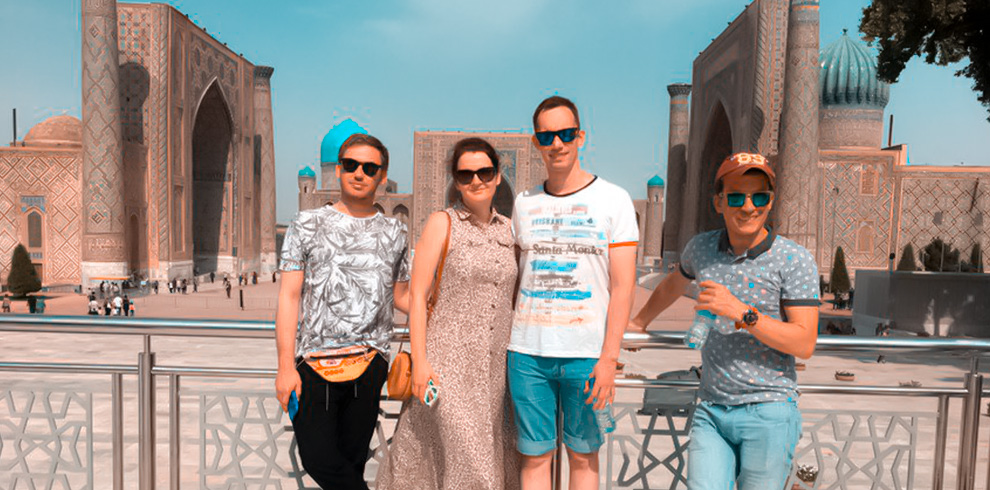 Trip Facts
Vehicle

Train, car

Group Size

8-12

Accomodation

3*; 4*

Fitness level

5

Arrival on

Tashkent

Departure from

Tashkent

Best season

Spring, summer, autumn

Tour type

Cultural, traditional, historical, excursion tour

Meals

Half board

Language

English, German, Spanish, Russian, Turkish
Trip code: WTE-524
Tour to Uzbekistan
(Classic Trip). This Uzbekistan Classic Tour(14 Days Uzbekistan Tour) covers the most prominent cities and places of Uzbekistan. The tour begins in Tashkent – the biggest city of Central Asia and the modern capital of Uzbekistan. To its visitors and guests, Tashkent offers a unique mixture of the up-to-date infrastructure and city architecture with prominent historical and archeological monuments. Next destination is Nukus city located in the central part of Karakalpakistan Republic. This historical city is world-famous for its unique museums. The tour will then move forward to Khiva – the ancient capital of Kharezm emirate and an important World Heritage site. A walking tour will reveal the mysteries of this legendary town leaving the unforgettable impressions.
Uzbekistan travel highlights

Trips to legendary cities: Samarkand, Tashkent, Bukhara, Khiva
Famous Madrassas and Mosques
The Culture and Hospitality of the East
Unique architecture
History and sights from the times of Genghis Khan and Alexander the Great to the present day
National cuisine, pilaf, samsa, lagman
Seasonal Uzbek fruits, vegetables, berries
Itinerary
Arrival to Tashkent. Check in to the hotel. Time at leisure.
Sightseeing Program Around The Center Of Tashkent.
Independence Square
Romanov's Residence
Amir Timur Square
Opera and Ballet Theatre named after Alisher Navoi
The Museum of Applied Arts.
Welcome dinner in one of the best Tashkent Restaurant.
Evening At Leisure.
Overnight At The Hotel In Tashkent.
After breakfast depart Tashkent. Morning flight to Nukus at 7 a.m. Check in to the hotel.
Full Day Guided Sightseeing Program In Nukus And Its Surroundings.
One of the most interesting sights which attracts visitors from all over the world, is the Art Museum of I. V. Savitskiy, world-known for its unique collection of paintings and sculptures of Russian Soviet avant-guard of 1920s to 1960s. Visit Karakalpak State Museum of Art which contains more than 50 000 paintings and other works of art.
Lunch
Visit Mizdahkan site (30 kms) which consists of Gyaur-kala fortress(4B.C.) and the necropolis with mausoleums of Shamun nabi, Mazlumhan Sulu, Erejep Calif Mausoleum. Near to the ancient burial grounds until today one is capable to see the ruins of the Golden Horde City of Antakiya of 13-14 centuries.
Dinner.
Evening At Leisure.
Overnight At The Hotel In Nukus
In the morning depart Nukus, drive to Khiva.(170 kms, 2.5 hrs)
Visit The Ancient Fortress Of Khorezm :
Toprak Kala ("Clay castle"),the residence of Khwarazm Shahs dating back to the 1st- 5th centuries A.D.
20 km north east from Toprak Kala another one fortress Ayaz Kala ("Ice Castle") is situated. The fortress is associated with romantic legend about a young man Ayaz who built a fortress to win the heart of the princess.
Arrival To Khiva, Check In To The Hotel.
Dinner.
Evening At Leisure.
Overnight At The Hotel In Khiva.
After Breakfast Full Day Guided Sightseeing Program Around Khiva.
Visit Ichan-Kala (12-19 centuries) - the inner town of Khiva city which retains more than 50 historic monuments and old houses:
Kunya Arc Fortress
Pahlavan Mahmud Complex
Stone country-estate -Tash-Khowli Palace
Kalta-Minor Minaret- the real symbol of the city
Islam Khoja Complex.
Lunch.
Visit
Juma Mosque and Minaret
Minaret and Mosque of Khodja-Islam
Tim of Ala-Kulikhan
Abdulla-Khan Madrassah
Seyyid Allauddin Mausoleum
Madrassah of Muhamad Amin-Khan
Madrassah of Muhamad Rakhim-Khan
Nurullbay Palace
Walls and gates of Ichan-Kala
Dinner.
Evening At Leisure.
Overnight At The Hotel In Khiva.
Depart Khiva in the morning, drive to Bukhara (470 kms,10 hrs)
Trip through the Kyzyl Kum desert also called Qyzylqum, the 11th largest desert in the world.During the trip you can admire the Amu Darya River, as one third of the road is parallel to the course of this great Central Asian river, and communicate with a family of local shepherds that have installed their yurt (nomads' tent) close to the highway.
Lunch.
Arrival to Bukhara,check in to the hotel.
Dinner.
Evening At Leisure.
Night At The Hotel In Bukhara.
NOTE : In case the flight Urgench-Bukhara is opened the transfer Khiva-Bukhara will be arranged by plane.
After Breakfast Full Day Guided Sightseeing Program In Bukhara.
Visit Ismail Samani - the burial place of Samanid dynasty dated 9 century, one of the most esteemed sights of central Asian architectures, Chashma Ayub (Job's well).Arc Fortress - the center of political events and residence of Bukharian rulers until 1920. Nowadays there is a museum inside. Poi Kalon Ensemble which includes Kalon mosque, best-known minaret and Madrassah Miri-Arab, Madrassah Ulugbek and Abdulazizkhan, the 12th century Zoroastrian Magoki-Attori Mosque.
Lunch.
Trading domes, Lyabi Hauz Complex, Nadir Divan Begi Madrassah and Khanaqa, Madrassah Chor-Minor.
Dinner.
Evening At Leisure.
Night At The Hotel In Bukhara.
In the morning visit sights outside the city: summer palace of Bukhara Emir's Sitorai-Mokhi-Khosa, Bakhoutdin Naqshbandi mausoleum - the place of pilgrimage for Muslims which was erected in 1544 in honor of Bakhouddin Naqshbandi the prominent saint and the founder of the Naqshbandiya Spiritual Order.It is considered that Naqshbandi was Sayid, the direct descendant of Prophet Muhammad.
People from far countries come here to find the healing and wisdom.
Chor-Bakr Necropolis which was built over the burial place of Abu-Bakr-Said, who was one of the four of Abu-Bakrs (Chor-Bakr) - descendants of the Prophet Muhammad.
Extras To Do In Bukhara :
Bozori Kord Taqi-Telpakfurushon - The men's bathhouse, daily except Tuesday
Kunjak Hammom - The women's bathhouse near Kalon Minaret.
Folklore and Fashion Show - Nadir Divanbegi Madrasah
Puppet show
Museum-house of Fayzulla Khodjaev
Bukhara astrakhan plant in Karakul
Ceramic Workshop in Gizhduvan
Dinner.
Evening At Leisure.
Night At The Hotel In Bukhara.
Depart Bukhara, Drive To Sarmishsay (150 Kms, 2 Hrs)
The historical place Sarmishsay is still called the Gallery of Portrayal of Stone Age. There you can find more than 3000 pictures on the rocks, petrographic constituents, the images of wild animals, people, scenes of hunting, and the way of life in Stone Age.
Drive To Nurata.( 70 Kms,1 Hr )
Visit Chashma Complex with holy spring and ruins of the fortress Nur, which was founded by Alexander the Great in 4th century BC.
Lunch.
Continue driving to Yurt camp in Kyzyl Kum desert
Arrive at Yurt camp, accommodation in yurts.
Camel riding and free time.
In the evening dinner near the camp fire with Kazakh akyn singing folk songs.
Overnight At Yurt Camp.
NOTE : Tips for cameleer and akyns are not included.
Early in the morning depart Nurata, drive to Samarkand ( 130 kms ,2 hrs)
On the way to Samarkand stop at the 11th century Rabat Malik.
The word "rabat" in Arabic means "castle" or "fortress". It was used to refer to the fortified settlements and resting places found along caravan routes. Unfortunately only ruins of entrance arch remained to our days. This arch was called by local people "Bukhara gates'? , "Gates to the desert'? or "Gates to nowhere'?.
The inhabitants of the settlement and Rabat Malik took water from the Malik sardoba, a gigantic brick tank buried in the ground, and covered with dome. The reservoir was filled with water from the Zerafshan river. It came along a subterranean canal - "kiaryz". One still can reach potable water by walking down a ramp.
Arrival to Samarkand, check in to the hotel.
Lunch.
Sightseeing Program In Samarkand.
Visit famous the 14th century masterpieces of architecture: legendary Registan Square and Guri-Emir mausoleum which contains the tombs of Tamerlane, his sons Shah-Rukh and Miran-Shah and grandsons Ulugh Beg and Muhammad Sultan.
Dinner.
Evening At Leisure.
Overnight At The Hotel In Samarkand.
The day starts from visiting the ruins of legendary Bibi - Khanum Mosques. Not far from Bibi Khanum mosque there is one of the most mysterious Shakhi-Zinda Necropolis, where you will find a complex consisting of more than twenty buildings, unique in Central Asia.
Visit Ulugbek Observatory - incredible construction of 15 century for studying astronomy and Afrosiab Museum.The museum is located on the site of ancient settlement called Afrosiab. In 1220 the city was almost completely destroyed by the Mongol ruler Genghis Khan.
The revelations of Afrosiab narrate about the history and culture of Sogdiana, an ancient Persian province, 6-8 centuries. The wall-paintings from the palace of local governors come first among those revelations.
Dinner.
Evening At Leisure.
Overnight At The Hotel In Samarkand.
Early in the morning depart Samarkand, drive to Shakhrisabz ( 90 kms,1.30 hrs )
Sightseeing Tour Around Shakhrisabz .
Pilgrimage sight - Bahovadin Nakshbandi theologist of sufizm 14 century.
Sitorai Mohi Khosa - Summer palace of Emir of Bukhara.
Madrassa Chor-Minor.
13:00 Lunch in local teahouse, the famous Lagman in Bukhara.
After Lunch You Have A Free Time And Walk In Old Bukhara Bazaar.
Visit ruins of Ak-Sarai. In Amir Timur's time in the northwest part of Shahrisabz there was built the huge Ak-Sarai palace surpassing in sizes even the governmental residence in Samarkad. But the palace was destroyed in the second half of the 16th century by the Sheibanids who tried to erase any signs of the Temurids.
Visit Dorut-Tilyavat memorial complex with Kok Gumbaz Mosque ( "the Blue dome'? mosque) and ruins of Doru - Saodat Complex( "Place of Power'?) which consists of mausoleum of Jahongir, elder son of Amir Timur, Omar's tomb Timur's second son, Hazrat Imam Mosque and Timur's vault.
Lunch at local family is a good chance to learn more about customs of Uzbek family.
Back to Samarkand. On the way you will have a wonderful scenery of Kashkadarya landscape.
Dinner.
Evening At Leisure.
Overnight At The Hotel In Samarkand.
Visit "The Relic of Three Religions'? - the tomb of Hajji Daniyar.
He is equally held sacred by the followers of Moslem religion, by the Jews and Christians (under the name of prophet Daniel). According to the Bible, Daniel was a descendant of King Solomon and was born in the 6th centuries B.C. in Jerusalem.
Visit memorial complex of the outstanding Sunni theologian Imam Al-Bukhari (810 - 870) (Hartang settlement,30 kms from Samarkand)
Already from the 9th century Muslims worship the scholar's tomb.The most notable is a grave-stone of Iranian onyx. Besides the mausoleum, the complex contains a mosque, built in 16 century, and domestic rooms for believers. The Muslems equate a visit to Al-Bukhari tomb to a small hajj.
Lunch.
Visit Koni Gil paper mill (10 kms from Samarkand, 2 hrs). A good chance to watch the old technology of silk paper production.
Extras To Do In Samarkand :
Folk Show in Sherdor Madrassah
Silk carpet factory "Hojom"
Hazrat-Hyzr Mosque
Rukhabad Shrine Mausoleum
Maturidiy Shrine Mausoleum
Dinner.
Evening At Leisure.
Overnight At The Hotel In Samarkand.
In The Morning Depart Samarkand, Drive To Tashkent (300 Kms, 4hrs)
Arrival to Tashkent, check in to the hotel.
Visit Museum of Applied Arts. There are more than 7000 rare works of applied art kept in depository. You will receive a real pleasure from originality of works of art while viewing the halls of the museum.
Lunch
Visit the Old City of Tashkent: Kukeldash Madrassah and the third largest Friday mosque in Uzbekistan - Juma Mosque.
There is another one holy place to visit - Hast-Imam Complex which contains the most famous Koran in the world - the Othman Koran. It is considered to be the oldest in the world (7 century) and the primary source of the holy book of Islam.
The pride of Tashkent is its subway. It is one of only two subway systems currently operating in Central Asia (the other one is the Almaty Metro).Its stations are among the most ornate in the world.
Farewell dinner at Tashkent restaurant.
Evening At Leisure.
Overnight At The Hotel In Tashkent
Transfer To Airport. International Flight From Tashkent.
Inclusions
Includes
Accommodation throughout the tour;
Transportation throughout the tour, including airport pick-up and drop-offs on the 1st and 8 th days of tour.
NOTE: If you arrive earlier or leave later, there will be an additional transfer fee of $15 per car each way).
English speaking guide - tour leader from Minzifa Travel;
Entrance tickets to the museums, mausoleums and other sights;
Air-ticket Tashkent-Urgench;
Visa support for Uzbekistan;
Welcome and farewell dinner at restaurant in Tashkent.
Ready for Your Dream Trip?
Let Us Customize Your Perfect Tour - Fill Out Our Form Now!
Create my trip
Timur Alimov
Dear friends!
My name is Timur Alimov, and I represent our group of travel experts in Uzbekistan and Central Asia. Our travel experts will guide you through Uzbekistan and Central Asia. For the past ten years we have been gathering and guiding groups of more then 10000 happy travelers. We can show the country through the eyes of the locals, as if you come not as a tourist, but as a guest visiting friends. We give to our travelers only the routes that we checked personally or it was checked by our guides. Some members of My team has traveled this route more than 10 times, and during these trips we have made a lot of friends in each cities who become our friends and help us.
Our travel company office is based in Bukhara, but our travel experts are set in each country we represent. Company is officially registered and has certificates and tourist licenses # T-0087 Unique Travel issued by state gov of Uzbektourism.
I look forward to seeing you as our clients!
How to reserve a seat
You can book your seat through the booking form , click on "Book now" and follow the process. You can also contact me or our team to get the consultation.