Uzbekistan is among the most tourist-friendly country in Central Asia which is less bureaucratic than the rest of the "Stans." Because of that Uzbekistan tourism is on the rise. It is a worth experiencing destination for sightseeing city lovers, because this is what the country is mainly about.
This is a complete Uzbekistan travel guide complied with all the information you'll ever require for Uzbekistan destination and things to do in Uzbekistan. We've broken it down into section for an easy read
Visa Rules
# 1 – Who Doesn't Need A Visa?
Tourists coming in from the country of Japan, South Korea, Indonesia, Singapore, Israel, Malaysia don't need to obtain a visa and can avail a 30-day visa on arrival.
# 2. E-Visa System
Uzbekistan introduced a new E-visa for most western nationalities which includes European countries, USA, Australia, Canada etc. Citizens can get their visa online without have to go the embassy. The issuance requires 2-3 days and costs around $20. You can visit the official website
# 3. But As The System Is Very New, Some Travellers Were Not Able To Apply And Obtain Visa Online
Site visitors reported issues with email domain, required photo formats, and few other bugs associated with the website. So it is recommended to check well before in advance.
# 4. Go To The Embassy If The E-Visa Doesn't Work For You
If you're not a citizen of any aforementioned western country and e-visa doesn't work out for you, going physically to Uzbekistan embassy at your country and applying for a visa will be the only option left.
# 5. Most Western Nationalities Don't Require An LOI (Except For Latin American Nationalities) To Visit Uzbekistan
LOI which stands for Letter of Invitation is a letter issued by a local tour operator in Uzbekistan. Citizens of the western countries mentioned above don't need to obtain a LOI to visit Uzbekistan.
# 6. How To Get The LOI
LOI can be obtained through any tour operator physically based in Uzbekistan at a nominal fee. Contact Minzifa Travels for getting LOI and assistance on visa.
# 7. Visa Fee (Via Embassy) Costs Between$55 To $150
The cost for obtaining a visa varies from country to country. It is also influenced by the length of your visa.
# 8. The Visas Are Issued For Up To 1 Month
Other variants include 15 or 30 day visa which is inclusive of a double entry.
# 9. Uzbekistan Visas Entry & Exit Dates
You have to audibly indicate the entry and exit dates while applying your visa whether at embassy or online within which period you can enter and exit Uzbekistan.
# 10. What To Do If Visa Is Lost?
You have to immediately contact either your tour operator or foreign affairs office in the country you're in (in this case, Uzbekistan) before the police contacts you and ask for your Visa.
Safety Tips
# 11. Is It Safe To Travel To Uzbekistan?
Even though very little is known about the country especially in the west (hence, the hesitation), Uzbekistan is as safe as any other country you can think of. The lower crime rates and political stability makes Uzbekistan one of the safest destinations.
# 12. Crime and Scams
As mentioned above, Uzbekistan enjoys one of the lowest crime rates. But the government of Uzbekistan does not release official crime statistics, hence there are no particular figures. Scams do happen in Uzbekistan, but not at proliferating rate.
# 13. Local laws
Uzbekistan has adopted its own laws which both locals and tourists are bound to follow. Visit the official site to get a complete list of Uzbek laws that are in effect.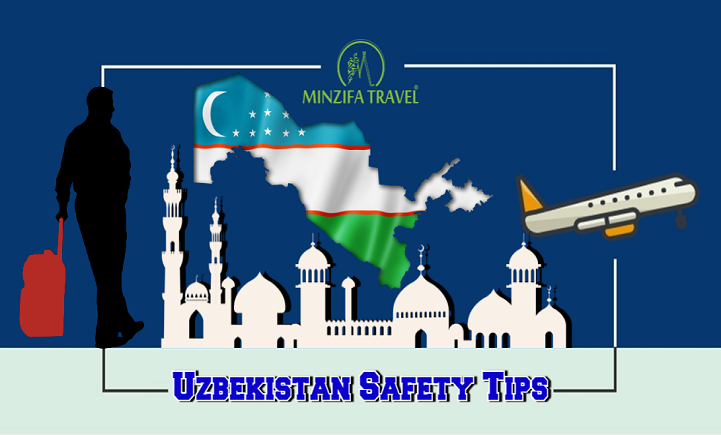 # 14. Sex, Photos And Religion
Uzbekistan is a Muslim dominated country, and hence conservative than almost all westernized nations. Thus sex, intimacy, PDA, short dresses are still considered inappropriate in public. Always ask for permission before clicking photographs.
# 15. Travel With Proper Insurance
Even though not mandatory, a travel insurance package covering most of the activities and places in Uzbekistan is highly recommended. This will cover your medical expenses in case of emergency and if you're short on cash.
# 16. Driving At Night Is Dangerous
Even though Uzbekistan is generally safe even at nighttimes, driving or strolling around after midnight especially in remote areas is not recommended. If possible, travel in groups or with your tour operator.
# 17. Driving Under The Influence Of Alcohol Is Strictly Prohibited In Uzbekistan
Uzbekistan has a "zero tolerance" policy for drivers found driving under the influence of alcohol or beverages of such sort. Fines and taking vehicle under police custody are in place for such scenarios.
# 18. Don't Take Pictures Of Government Or Public Buildings And Transportation Hub
All the major buildings, public monuments, and tourist places are patrolled by armed police for security reasons. Taking pictures for long time may attract the attention of this personnel. So it is advised to refrain from taking pictures of such important buildings (tourist places exception).
Money In Uzbekistan
# 19. The Uzbek SOM Is The Official Currency
SOM or So'm is the official currency in Uzbekistan that's been in circulation since 1993. Everyday transactions are conducted in Uzbek So'm only and US Dollars is used in only big places.
# 20. Cash Is King In Uzbekistan
Most of the transactions conducted in Uzbekistan is through So'm, so have ample amount of cash in your pocket.
# 21. Bring A Spare Backpack For The Cash
While not necessary, it's wise to bring a spare backpack to put your cash in. This is considered safer than carrying it in your main backpack.
# 22. Now You Can Change Money In Banks
As part of developing the tourism infrastructure, now tourists can exchange USD or selected currencies to Uzbek So'm in banks at better rates.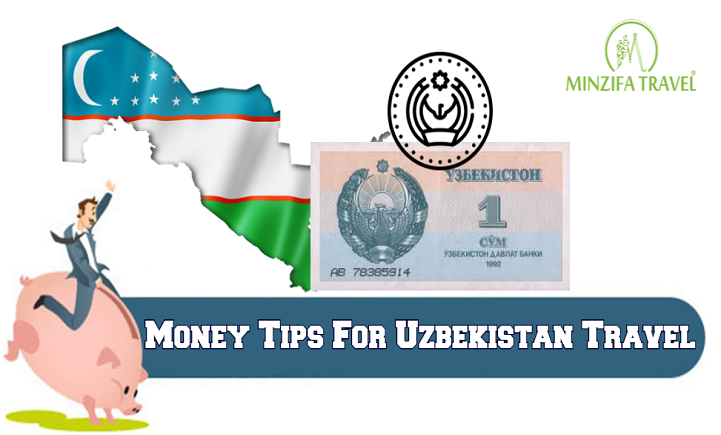 # 23. If Banks Are Closed, You Can Still Get Money In The Black Market
The black market where currency exchange takes place are still in operation. When banks are closed for any reason, you can go to the black market and get local notes. However, this is not recommended as it is part illegal and rates are comparatively higher.
# 24. Bring All Your Money In Cash, If Possible
To both save time at currency exchange offices and remittance charges, it is advised to bring money in cash in USD preferably.
# 25. ATMs Are Not Very Reliable
One thing to note is that the ATMs present in Uzbekistan are not uptime at all hours. Sometimes they have technical errors, at other times, they're just out of money.
# 26. How Much Does It Cost To Travel In Uzbekistan
There is no single answer for it. People have travelled the country with $1,000 while others spend $10,000 at a single location. It depends on accommodation types, season, tour package, number of travellers etc. Check our "tour packages" section to learn more about packages.
Border Crossings And Bureaucracy Rules
# 27. Uzbekistan shares a border with 5 countries
Note that Uzbekistan borders with five different neighbouring "Stans," namely, Tajikistan, Kazakhstan, Turkmenistan, Afghanistan, and Kyrgyzstan.
# 28. Most borders are open to overland travellers
People on a multi-country tour can easily move from one country to another via land. Border crossing is open for both locals and tourists in possession of valid documentation.
# 29. They will go through all your stuff
While crossing border sounds like a fun activity, you should be prepared to unpack and then pack your bags. The authorities will thoroughly go through your entire luggage before passing you on.
# 30. Don't bring any sensitive material
Sensitive materials include specific drugs, alcohol, prohibited imageries relating to the political or religious matter, excessive jewellery etc. These types of materials will be seized at the airport and may lead to further interrogation.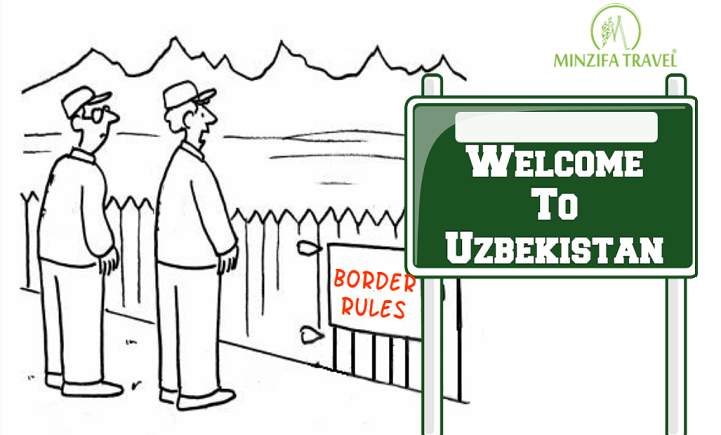 # 31. Drugs are prohibited in Uzbekistan
Specific drugs like Temazepam, Valium, Xanax, Morphine are prohibited to bring into Uzbekistan without the proper prescription.
# 32. You will have to declare all your money, both entering and exiting
At the airport, you'll have to submit a form detailing all of your belongings. Expect to do the same while leaving.
# 33. However, at some border crossings, it's not as bad as people say
While the above few points may have created a negative perception of border crossing, but these are rare circumstances. The guy/girl at the immigration center will greet you with smile and apologize for any inconvenience caused to you during the process. It is always a smooth process.
Getting InTo Uzbekistan
# 34. Getting In By Plane
Aeroplanes are the preferred method for entering Uzbekistan. Major cities like Tashkent, Samarkand, and Bukhara, all have international airports.
# 35. Road Travel Is A Cheaper Alternative To Travel To Uzbekistan
If you happen to be countries around Uzbekistan, then getting by crossing the border is a cheaper alternative.
The Country, People, And Their Culture
# 36. Uzbekistan is an ex-Soviet Republic
Uzbekistan for almost 65years was under Soviet Rule and was called Uzbek SSR up until 1991 when it got independence.
# 37. Most people are Uzbeks
Uzbeks are an ethnic group who descendants of Turkic and Persian group of people who inhabited the territory of Uzbekistan for long time.
# 38. The official language is Uzbek
Uzbek is the language spoken in the country which is also derived from Turkic language. Although Russian and English is widely understood.
# 39. Etiquette
Uzbekistan has its own particular etiquette which tourists should know and follow. Get in touch with us for a whole list.
# 40. Learn some Russian
As mentioned above, Russian is widely understood in Uzbekistan and surrounding "Stans." Thus learning some basic Russian will help you beyond Uzbekistan as well.
# 41. They are Sunni Muslims but not really
Uzbeks are regarded as the most devout and traditional Muslims in Central Asia and majority of them fall under Sunni Muslim while only 1% are regarded as Shia Muslim. But they also have Russian and European influence which is evident in their lifestyle.
# 42. No real dress code for women
Like other Muslim dominated countries, there is no particular dress code for women, neither men. However, they're expected to cover their body entirely.
# 43. Marriage, family and kinship
Uzbeks are generally very family oriented and are connected to each other emotionally and strongly.
# 44. Is Islam partially forbidden?
Nope, none of such. There is no religious oppression of any form in Uzbekistan.
# 45. It was a dictatorship nation (but no longer)
Uzbekistan for long was shackled with dictatorship under the rule of Islam Karimov as president. But that's no longer the case. It's quite stable and democratized.
# 46. But people don't give a damn about politics
But in contrast, citizens are least involved in politics and generally shy away from the topic altogether.
# 47. Military activity
Military presence is extreme in the country, even in the tourist places. This is because of some unsettlement and difference with the neighbouring state, but this is normal and nothing to be worried about.
Uzbekistan Tourism
# 48. Uzbekistan Is The Core Of The Silk Road
The territory of Uzbekistan is centrally located in Central Asia, and is thus considered as the core of Silk Road. Main routes of the Silk Road passed through Uzbekistan touching cities like Samarkand, Bukhara, Khiva etc.
# 49.Samarkand: Rome Of East
Samarkand at its pinnacle enjoyed the status that of Rome and Babylon. It was the capital of Tamerlane and is currently the second largest city of Uzbekistan.
# 50.Bukhara: Town Museum
Bukhara is home to more than 140 architectural monuments and hence is nicknamed as a city museum. It has been inhabited for over five millennia.
# 51.Khiva: Caravans City
Khiva is an ancient city which was previously a giant fort which gives the impression of a city within a city. It was also home to many caravanserais.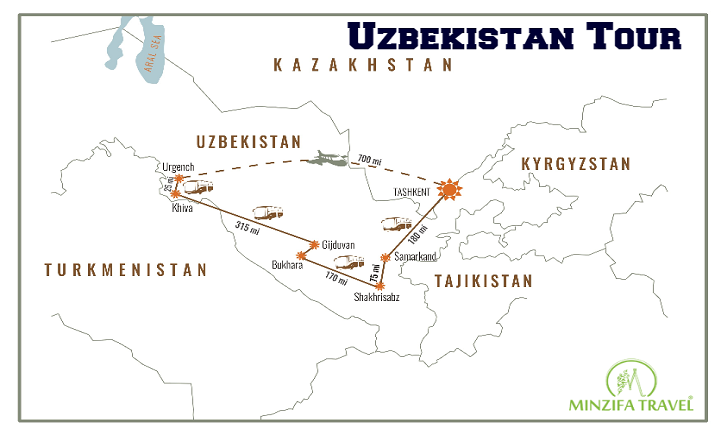 # 52. Charvak And Chimgan: Places Of Harmony
If the prominent cities are about historical heritages, Charvak and Chimgan are about mountains and ski resorts. These are part of the Fergana mountain range and are popular mountaineering spots.
# 53. The Most Majestic Shrines And Buildings You Have Ever Seen
Uzbekistan was home to multiple cultures, faith, and religious leaders. Thus you can find shrines, cultural buildings, and cultic structuresscattered all around the country.
# 54.Surprisingly Touristic
Even though Uzbekistan and Central Asia as a whole is relatively lesser known, but the crowd at major tourist sites may surprise and impress you.
# 55. However, Outside Of The Three Main Cities, There Is Nobody
Besides the major cities like Tashkent, Bukhara, and Khiva, other tourist places like Muynak, Urgench, and Kokand are eerily empty with little to no tourists.
# 56.Tourist Profile
All form of tourists ranging from backpackers to honeymoon couples to family travellers can come to Uzbekistan for an enjoyable holiday experience.
# 57.Dual Country Tour
In dual country tour packages, you'll get to visit two countries in one package. You can choose any of the bordering five countries along with Uzbekistan.
Food And Alcohol
# 58.Plov, plov, plov
Plov is the main dish of Uzbekistan which is a mixture of rice, meat, vegetable, broth, and sometimes nuts, dry fruits etc. It is available throughout the country and is touted as the national dish.
# 59. Typical Central Asian food is also available
But you should try other Central Asian foods too like Kebab, Manti, Lagman which are available at most restaurants in Uzbekistan.
# 60.More good restaurant options than in neighbouring countries
Cities like Tashkent, Bukhara, Samarkand are filled with restaurants and bars, and are generally present in higher number than the neighbouring "Stans."
# 61. Alcohol is widely available
Alcohol consumption is not prohibited in Uzbekistan and is available in selected pubs and restaurants. These range from beer, wine, champagne, whiskey, vodka etc.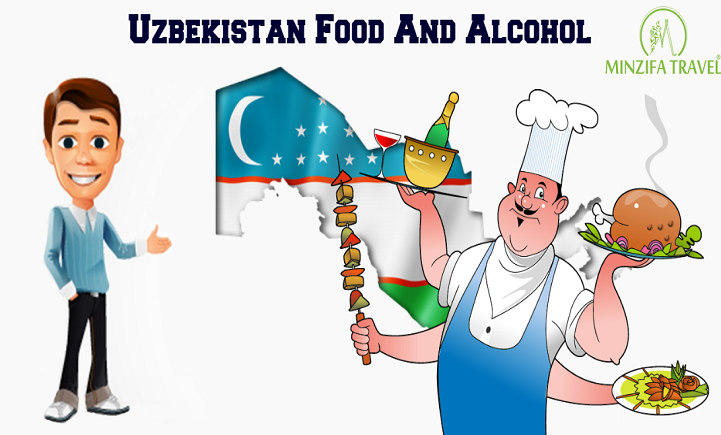 # 62.Drinking Age
The legal drinking age in Uzbekistan is 18 for both boys and girls.
# 63.Tipping in restaurants, bars and nightclubs
There's not general tipping model in Uzbekistan. Some restaurants and service places expect it while others don't. But you should tip as per your experience and satisfaction.
# 64. Regional drinks
Uzbek tea and Kumis which is prepared from horse milk is something you should try. Green tea is the national hot beverage taken throughout the day. Teahouses (locally known as chaikhanas) are of cultural importance.
# 65. And local wine, as well!
Uzbekistan has its own winemaking process and there are specialized wine tasting tours offered in the country. Contact us if you need to go on one.
# 66. Good for non-vegetarian
If you're a meat lover, you're going to love Uzbek cuisine and the dishes. Because of the nomadic history and culture, Uzbek dishes developed over the same nomadic foundation.
# 67. Loads of fruit
Fresh fruit is also something found in abundance in Uzbekistan. Grapes, watermelons, apples, pears are found throughout the year.
Health Issues In Uzbekistan
# 68. Health Problems And Diseases In Uzbekistan
Uzbekistan is generally marked as a safe destination free from any particular widespread disease. However, outsiders coming into the country are always at a risk of falling because of the changing conditions. So undertake proper measures and consult with your family doctor or tour operator before visiting Uzbekistan.
# 69. Pollution In Uzbekistan
Uzbekistan isn't heavily industrialized. Places around Fergana are located at higher altitudes and are considered to be healing and free from air pollution. So you wouldn't experience any pollution-related problems in Uzbekistan.
# 70. HIV And Aids In Uzbekistan
According to UNAIDS, Uzbekistan has 0.3% of its population within the age bracket of 15 to 49 living with HIV AIDS. To be on the safe side, avoid unprotected copulation, contaminated injections, and syringes.
# 71. While Vaccinations Are Not Mandatory For Travel, You Should Consider The Following:
Hepatitis A
Hepatitis B
Japanese Encephalitis
Rabies
Typhoid
Malaria
Ensure your tetanus-diphtheria, measles, mumps and rubella are up to date

.
Accommodation
# 72. Hostels and guest houses
Youth hostels, guest houses, and Bread-and-breakfasts are present throughout the country apart from star-rated hotels and motels.
# 73. Since September 2017, you can now pay hotels in local currency
From September 2017 onwards, every or most hotels in Uzbekistan accept local Uzbek So'm.
# 74. Keep your registration payslips
Every accommodation type in Uzbekistan will provide you with payslips. Be absolutely sure to keep them in custody as authorities at airport will ask for them.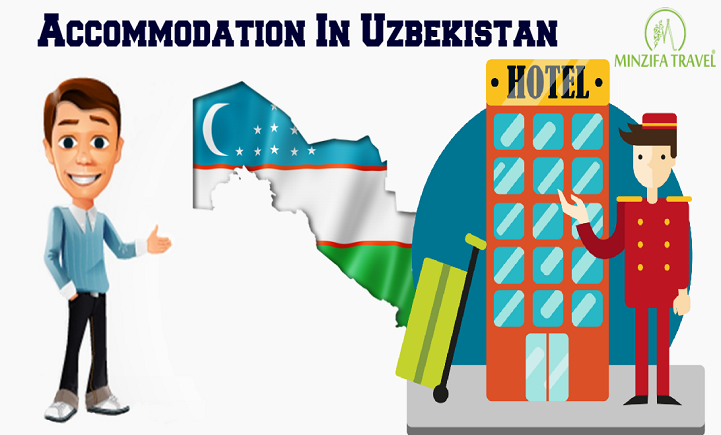 # 75. Couch surfing is supposedly illegal
If you're a fan of couch surfing and use it for every holiday you make, you'll be disappointed in Uzbekistan as it is banned by the law.
# 76. Camping
Campsites are present in selected places. Contact us for more information on camping in Uzbekistan.
# 77. Yurts and ecotourism
Yurt which is a traditional camp setting is the perfect place to get a nomadic staying experience. People living in mountainous areas of Uzbekistan still live in yurts. It is a perfect example of ecotourism.
Transportation
# 78. Trains are the way to travel in Uzbekistan
If you need a reliable, faster, and cost-effective mode of transportation in Uzbekistan, you should prefer the rails over anything else.
# 79. Rules for booking a train ticket
Tickets can be booked either at the station or with a reputed tour agency. Online booking is not available in Uzbekistan but may start soon.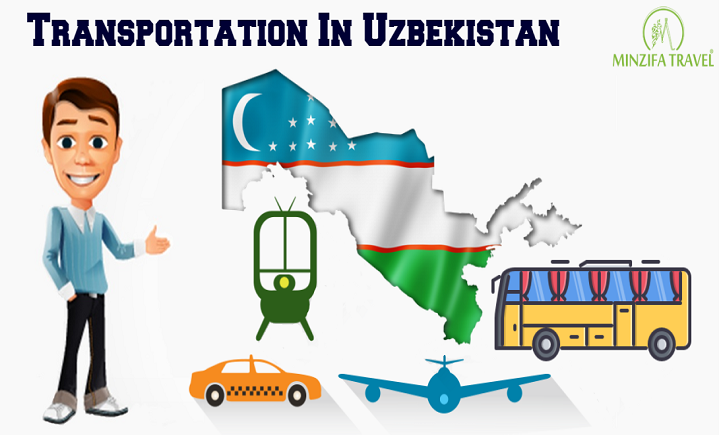 # 80. There are different kinds of train
In Uzbekistan, you have the luxury of choosing from different types of train based on your preference. There are ___ train types, namely, The Afrosiyob, Sharq, Ozbekiston, Registon, and Sleeper Coach.
# 81. You must try the Soviet train at least once
Soviet trains have an exquisite build and feel to them. When travelling in Uzbekistan or to other soviet countries, you should try going via Soviet trains.
# 82. Shared taxis are also common and really cheap
For short distance travelling, you can opt for the shared taxis which run through the cities. These are both cheap and comfortable.
# 83. Only in Tashkent, there is metro
Tashkent is now one of the only, and for a long time the only, metro cities in Central Asia. You should definitely travel in one while you're in Tashkent.
Books For Travelling In Uzbekistan
There are a number of books which are in there in the market, however based on our experience running Minzifa, the following books are recommended by us. These help as Uzbekistan travel guides.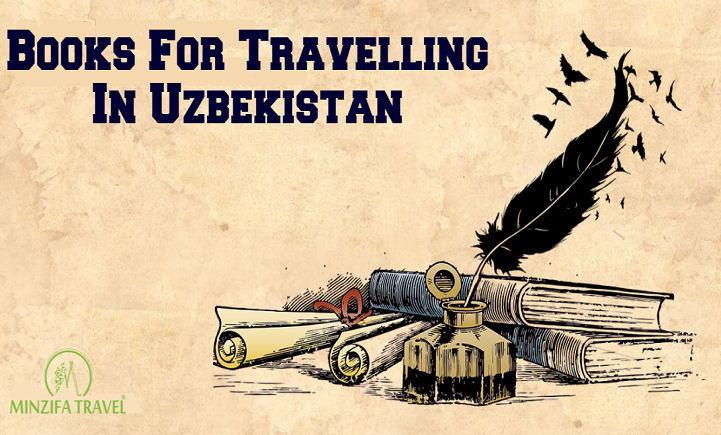 # 84.Uzbekistan travel guide by Brad
# 85. Central Asia travel guide by Lonely Planet
# 86. Murder in Samarkand by Craig Murray
# 87. Shadow of the Silk Road by Colin Thubron
# 88. English – Russian dictionary phrasebook (not a travel book, but a useful travel asset in Uzbekistan)
Uzbekistan Movies
The history of Uzbek cinema can be divided into two periods: the cinema of Soviet Uzbekistan (1924–1991) and the cinema of independent Uzbekistan (1991–present). Films of the Soviet period were shot either in Russian or Uzbek. There are many film studios in Uzbekistan. Uzbek film established in 1925, is the largest and oldest film studio in Uzbekistan. Very few Uzbek movies that were made after Uzbekistan became independent have achieved international notability.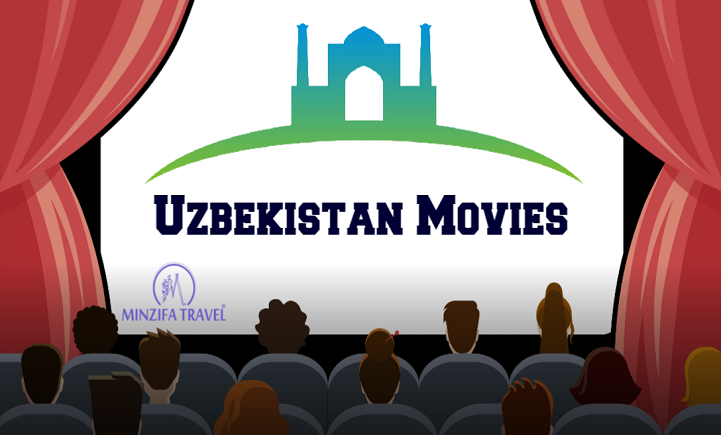 # 89. Luna Papa (1999)
# 90. Three Poplars at Plyuschikha Street (1968)
# 91. Kelinlarqo'zg'aloni (1984)
# 92. MahalladaDuv-duv Gap (1960)
Internet And SIM Cards
# 93. The Internet is just OK
Don't expect lightning fast internet broadband or Wi-Fi, but it's just over "okay" to stay in touch with the world.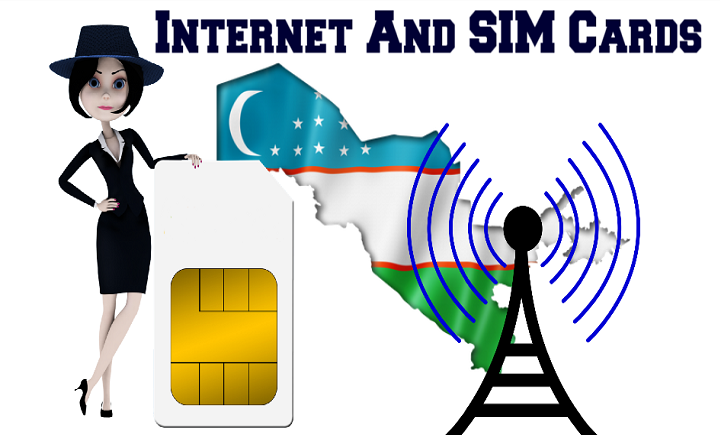 # 94. SIM Card
You can purchase local SIM cards through your tour agency. Major telecom operators in Uzbekistan are Beeline Uzbekistan, Perfectum Mobile, Ucell, UzMobile, and UMS.
Random, Fun And Unusual Facts About Uzbekistan:
If you're curious to learn more about Uzbekistan, here are some fun facts we've curetted for you:
# 95. A double landlocked country
# 96. The metro of Tashkent is the biggest system in central Asia
# 97. Now there is a shortage of water in Uzbekistan
# 98. The country mines 160 million ounces of gold annually and has the fourth largest deposits of gold in the world.
# 99. Uzbekistan has 5 UNESCO world heritage sites
# 100. Uzbekistan is Central Asia's most populous country with the majority of its population living inthe rural areas.
Uzbekistan Holidays promise and deliver on a lot of fun, thrill, and awe-inspiring sights. You're guaranteed of a warm hospitality and an overall excellent holiday travel experience. We, Minzifa Travel, are a local Uzbekistan tour operator helping tourists travel through our country in a better way. Contact us today for receiving competitive and customized tour packages!