As it is often heard referred to as "One Of The 'Stans", Uzbekistan might fly under the radar as far as western tourism is concerned, but that's not to say it's not well worth a visit. With huge and beautiful landscapes dominated by snow-capped mountains as well as town housing splendid Islamic architecture and history spanning Silk Road empires, Soviet rule and modern-day independence, Uzbekistan is truly a charming and captivating destination in its own right that is going to mesmerize you during Uzbekistan Travel and tours. Believe us your visit to Uzbekistan will be no less majestic when compared to western cities and locations.
Here are some of the best locations that will make to visit this Silk Road country again and again:-
1. Registan Square At Twilight With Three Madrassahs In Samarkand
The Registan Square in Samarkand is Uzbekistan's most recognised monument. You can also term it as the Taj Mahal of Uzbekistan Tourist Attractions.
2. Clothing Market Stall On The Streets Of Bukhara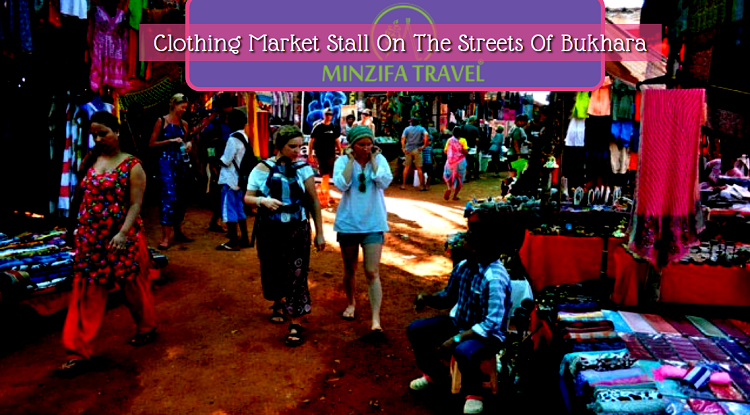 In order to fulfil your wish to have the best Uzbekistan Tours, you have to visit the clothing market stalls on the streets of Bukhara that features a wide array of exotic carpets, delicately patterned textiles, stylish & smart skull caps and items with complicated & beautiful ceramic designs.
3. Itchan Kala, The Inner Walled Town Of Khiva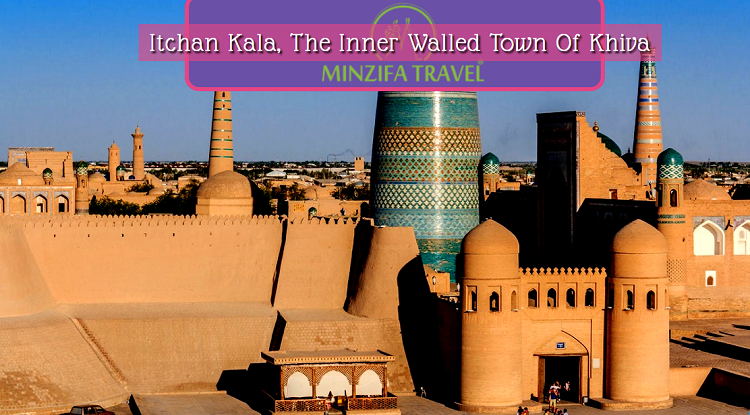 It is nothing but a walled inner town of the city of Khiva, Uzbekistan. It is known for retaining more than fifty historic monuments and two hundred fifty old houses dating back to 18th and 19th centuries. You will come to know about it while on your Uzbekistan Travel and trips.
4. Bright Hand-Painted Decorative Plates For Sale At Bukhara Bazaar
You will get bright hand painted decorative plates for sale at Bukhara Bazaar that is a highly developed kind of handmade pottery in central Asia that is not only for display but also for trade & merchandize at Bukhara Bazaar.
5. Courtyard Of A Medieval Caravanserai In Bukhara, Uzbekistan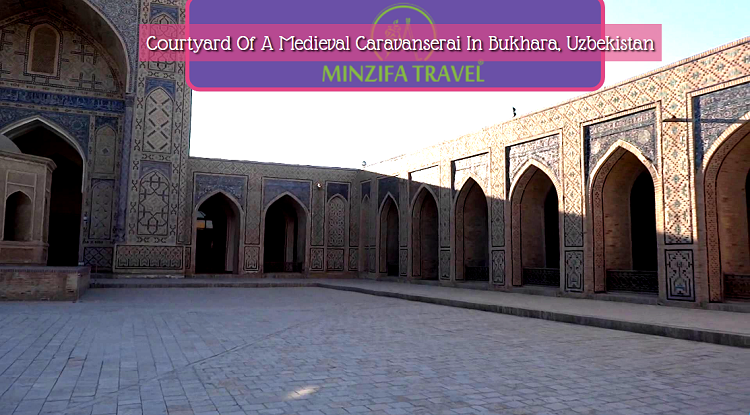 During your Uzbekistan Holidays, you can also have a look at the courtyard of a medieval caravanserai in Bukhara, Uzbekistan that was normally used for serving and sheltering travellers in cities as well as in populated areas during the medieval period.
6. Poi Kalyan Complex At Sunset, Bukhara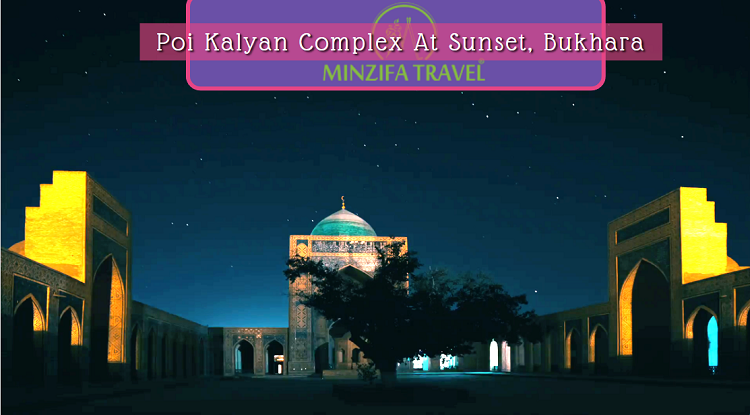 It is also known as 'Foot of the Great' by many and in Bukhara, it is a well known Islamic religious complex located at Kalan Minaret in Bukhara, Uzbekistan and one of the best places to visit Uzbekistan City Tour.
7. Carpets And Silk Scarves For Sale In Khiva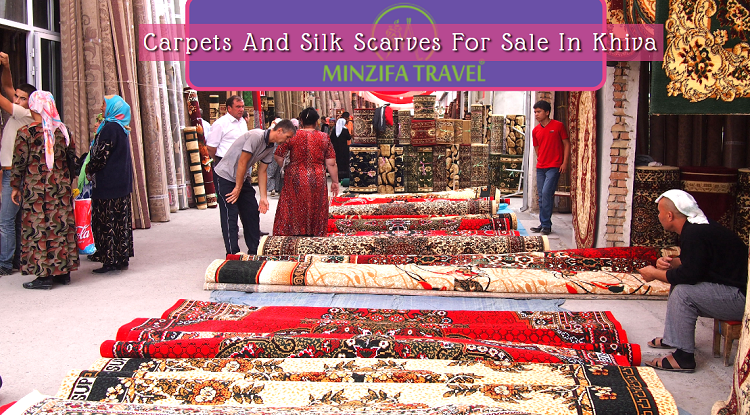 During your Uzbekistan Trip, You can also visit various stalls and street shopping centres, where you can get your hands on hand weaved high-quality silk rugs in unique designs inspired by Khiva based tile work, carved doors and miniature paintings.
8. Medieval Kukeldash Madrassah, Tashkent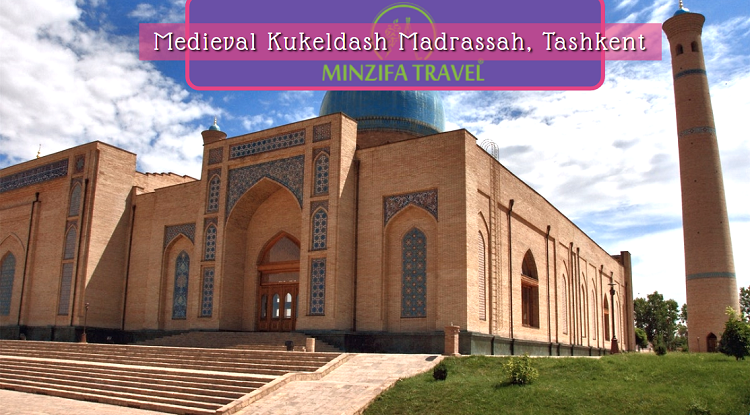 There is no end for you for various Things To Do In Uzbekistan trip. You can also visit Medieval Kukeldash Madrassah, Tashkent. The speciality of this Madrassah is that it has been built by yellow brick and has a traditional square shape with a big portal and an inner yard.
9. Minor Mosque, Tashkent
There is no dearth of things that Uzbekistan Tourism has to offer to all its tourists such as Minor mosque, Tashkent. It is also known as the white mosque of the capital and it is also one of the favourite places for evening strolls among the city's residents.
10. Khazrati Imam, Tashkent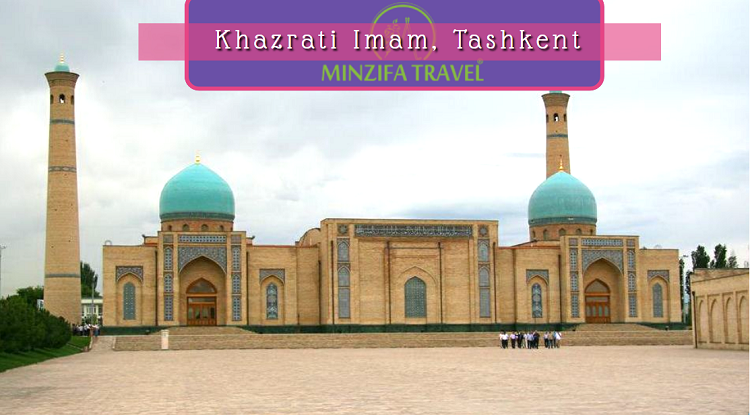 It is one of the top historic site and Islamic centre of Tashkent containing Barak-Khan Madrassah as well as various other prominent mosques and Mausoleums that will be primary sights to visit during Uzbekistan City Tour.
Please feel free to write to us @minzifatravel.com to know more about Uzbekistan Travel. We will be available 24/7 to help you in any way possible. We will be happy for you and looking forward to your visit to Uzbekistan with for Minzifa Travel.