Central Asia is a crib of culture and it has been since more than two millennia. Of all the countries in the region, it's Uzbekistan that has the very best offerings in terms of structural design and ancient cities. The Ancient Silk Road found its way through Uzbekistan and has left a captivating trail of historic sites to visit. The neighbouring 'stans' are quite bereft of sites in comparisons to this country, but they do all have their own unique qualities so please don't get discouraged from exploring the others parts of the country during your Tour Uzbekistan. You will just not be able to come to terms while exploring the beauty of Uzbekistan.
The Beginning…
When you are on Uzbekistan Tour than the first thing that comes to mind is on how to start or where to begin the tour from.
Thus, before to think about the start, you must have some basic knowledge about the Silk Road that passes via Khiva, Bukhara and Samarkand as well as all the other places that you are going to visit during this trip.
Believe me, while on the trip, you will get the chance of exploring some great and exotic legends as well as brutal histories.
First Stop, Tashkent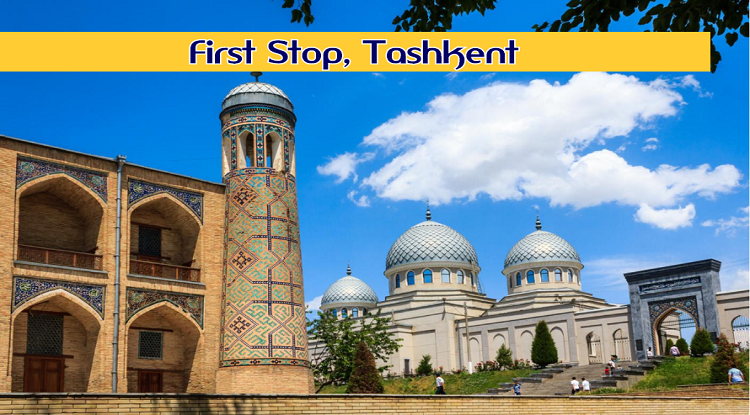 When it comes to Uzbekistan, Tashkent will be your first stop. Believe it or not, this city started out as an oasis on the Chirchik River some 2000 years ago. Presently, it is not only the capital of Uzbekistan but also one of the largest cities along the Silk Road countries.
If we go by history, it was already a thriving city that has been destroyed by Genghis Khan in 1219 AD. Now, you will get some rag-tag of restored 12th-century mosques, classical Russian architecture, blocky buildings, and statues of workers with swollen biceps that will make you feel like visiting one of the satellite cities and countries of Cold-War era Soviet Russia.
Visit The Osman Koran
The madrassah where the Osman Koran is kept is made of brick, with three blue domes, tinted with tiles, mosaics, ivory, metals a beautiful, squat symmetrical building with a huge portico.

In this same complex is the small Muyi

Mubarak

Library, rich in ancient materials.

You can have a private view of the famous & immense Osman Koran that was first brought by Tamerlane to Samarkand in

the 14

th century and after that Russians laid its hands upon it as a war prize.
Uzbek Ceramic Experience
There are three well-known schools of ceramics in Uzbekistan. You can visit one belonging to Akbar Rakhimov of the Rakhimov family, third generation master ceramic artist.
He still works here in Tashkent with his son and daughter in a house that they have changed into a ceramics guesthouse, pottery school, potting studio and gallery.
Now, it is a type of museum school and ceramic shop. They agree to only a handful of students who can learn the art of Ceramics and some of them are as young as six years old.
A Visit To The Chorsu Bazaar
Chorsu or crossroads is the historical market in the square located on the southern edge of Tashkent's old town. People somewhere around 2.5 million live in this city and sometimes it you will feel like as if they are all in the market at the same time.
Bazaars have been the centres for trade, eating, and entertainment since ages in Asia and Chorus still follows this tradition; it holds a large collection of vendors under a complex of interrelated domes, all focused around a big blue dome that is somewhere about 1,000 feet in diameter of 3 stories that is being serviced by an elevator. It is built to protect both people and goods from the heat and dust.
Mountains of spices, acres of fruits and vegetables, fresh meat, grain sacks practically the size of small cars, jewellery, clothing, carpets as well as food is available in this particular market. It will be really hard to find words to explain different sights you will come across these markets.
Tashkent is famous for pecans, dates, apricots, pistachios — you will find them here in staggering abundance.
Onward To Nukus
A Visit To The Savitsky Museum In Nukus
The Savitsky Art Museum is a superb museum with an astounding collection of precious avant-garde Soviet art. It also houses one of the largest exhibitions of archaeological finds and folk art in Central Asia.
Onward To Khiva, Museum City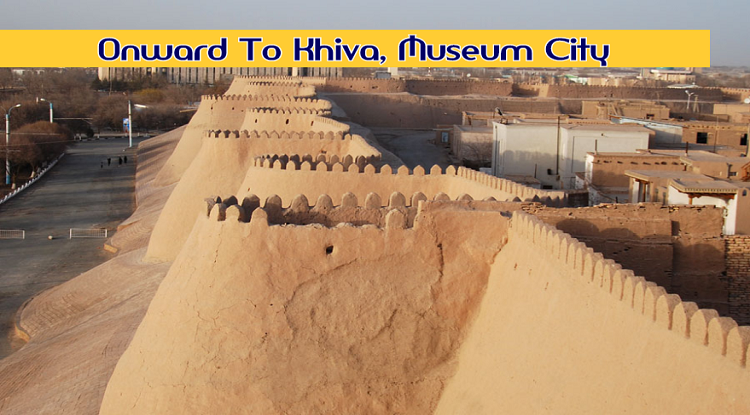 Khiva has a long, colourful, barbaric history that is full of warring factions, tribal massacres, and gory revenge. This city has been destroyed and rebuilt numerous times during the medieval period. We bet that you don't know that. By the 19th century the range of tribal groups & sections in the area had united, bringing a thriving trade business and great wealth.
Walking The City Walls In Khiva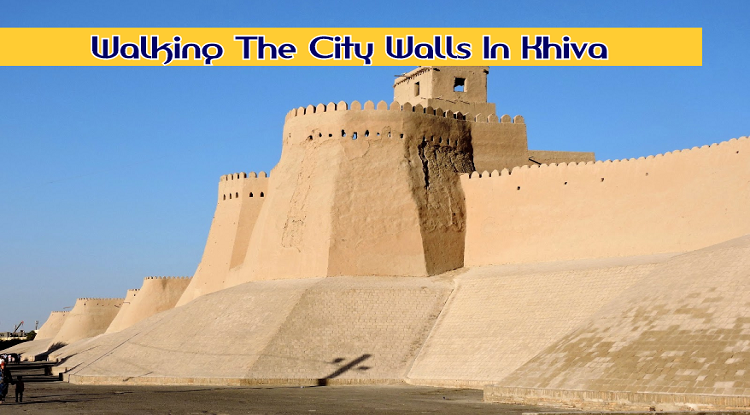 While arriving in Khiva in time, you can take a sunset walk along the alleys inside these ancient city walls also known as the Ichan Kala.
Visiting a Silk Carpet Work-Shop in Khiva
If you have time during your Uzbekistan Trip, you can also visit a silk carpet workshop in Khiva.

A British citizen known as Christopher Alexander founded the silk carpet workshop in 2001 in a rehabilitated madrassah in Khiva's old city, under the sponsorship of Operation Mercy and UNESCO.

He and his fellow designers found inspiration from the wooden door carvings and the tile patterns of the ancient city's Khan Fortress in Kunya Ark.

They integrated these long-established designs and tried to rebuild traditional natural dyes for the colours they found there, into their carpet weaving.
A Visit To The Djuma Mosque In Khiva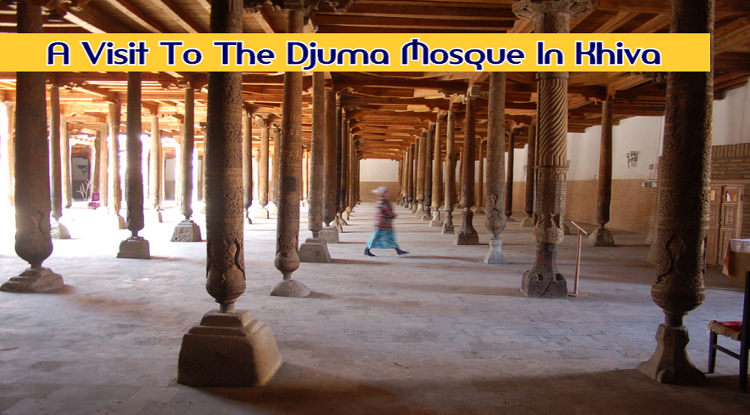 The Djuma Mosque also known as Friday Mosque is the oldest, built around the 10th century and had been rebuilt again in the 18th century. It is open during the weekdays.
Onward To Bukhara
The journey from Khiva to Bukhara during your Uzbekistan Holidays is a 10-hour road trip across the Kyzyl-Kim Desert. Luckily, you can drive instead of a half-hour to the airport in Urgench, and take a 60-minute flight if you want to reach their faster using modern transportation.
Exploring Jewish Bukhara
You can also explore places such as Jewish Bukhara that used to have a large Jewish community during 16th -century ad.
Relaxing At Lyabi Khauz
During the entire Uzbekistan City Tour, you can also visit Lyabi Khauz that used to be one of the largest city reservoirs. Now it is the modern centre of traditional Uzbekistan. The chaikhana or tea house is the only place where you can sip the tea relaxingly.
Visiting The Ark In Bukhara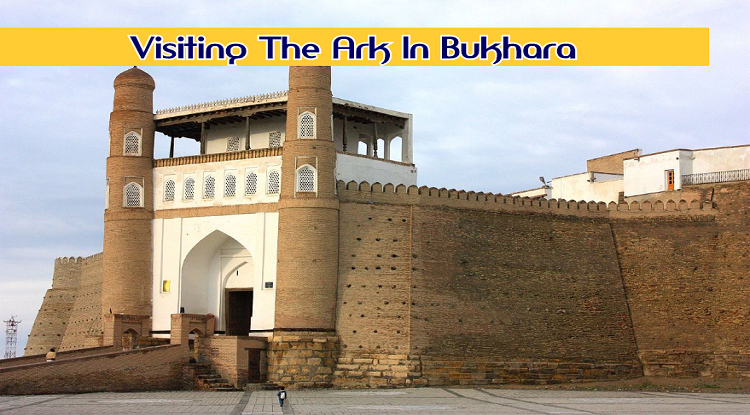 During your daylong Uzbekistan City Tour, you can also visit the ark in Bukhara. This ark serves as the town's main history museum and archive, full of wonderful artefacts and exhibits.
A Special Meal Of Plov In A Suzani Master's Home
During the tour, your most special evening in Bukhara will take place at the home of a Suzani master. He and his wife prepare a traditional Uzbek plov (rice pilaf) for people or foreigners visiting them, unparalleled in taste and far surpassing any other. Such a meal is full of fresh whole quince, onions, whole garlic bulbs, raisins, meat, and vegetables, and it will be simply joyfully delicious. Anyone coming to their home can enjoy the meal seated at a long table in a room full of new and old Suzani pieces.
Onward To Samarkand
We drive from Bukhara to Samarkand along the same Silk Road Route taken by the great armies of Alexander and Tamerlane. Our only stop is in Shakhrizabs "Green City" previously known as Kesh and it's a 4 1/2 hour drive from the city of Bukhara. Its population is around 110,000 and has over 50%, young people. It also has one of the grand old cities in Central Asia and celebrates its 2715th anniversary this year. As you will get near the town, mountains with snow-covered peaks appear in the distance, it will appear like an optical illusion.
Visit The Birthplace Of Tamerlane – Shakhrizabs
There are other Things To Do In Uzbekistan such as visiting the birthplace of Tamerlane, who was born in Shakhrizabs in 1336 where he started out as a sheep-rustler, before becoming one of the greatest conquerors of all time.
Visiting Registan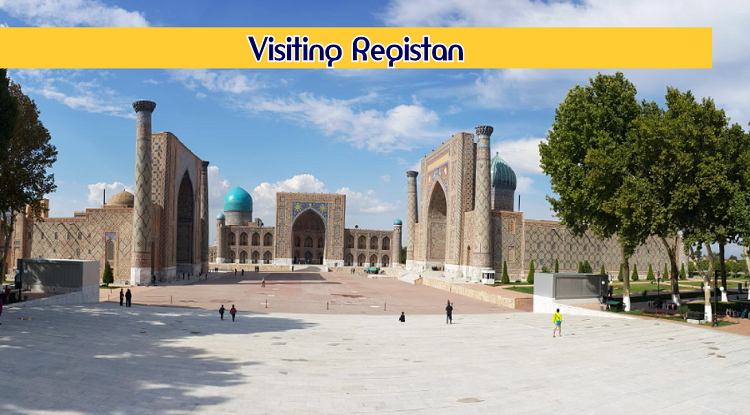 During your Uzbekistan Holidays, you can also visit Registan Square that is Samarkand's most famous landmark. It is surrounded by the greatest of all the high-flying works of the Islamic world. At the very first sight, it will appear to you that every surface is covered with enticing patterns.
Visit The Ulugbek Observatory
After visiting Registan, you can also pay a visit to a hill on the outskirts of the city, to see the Observatory of Ulugbek, the Gurkha Zij. Ulugbek also was known as Ulugh Beg who was an astronomer king of the 15th century, Tamerlane's grandson; he gathered mathematicians and astronomers here, drawing them from his madrassah in town.
Visit A Silk Paper Making Workshop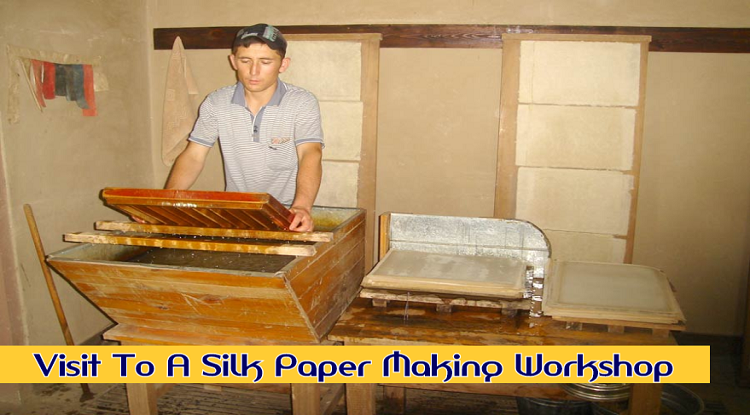 If you still have any further time during your Uzbekistan City Tour then you can visit the silk papermaking workshop in Samarkand that still produces rich silks and metal. For centuries it has been a famous mulberry paper as well as the finest paper in the world. Chinese prisoners taught their art of papermaking here in the 7th century. So we travel to Konig, a small village in close proximity. Here, UNESCO has funded a new paper making workshop, and you can spend time learning about the process.
Thus, going on a tour to Uzbekistan will be a roller coaster ride for you and your family members and it will be one of the Best Uzbekistan Tours that you have ever visited in your life. Deciding to visit Uzbekistan is a wise decision and you are not going to regret that. In order to know about more options, please contact us +998936591107