Tour – Journey to the Three Republics of Central Asia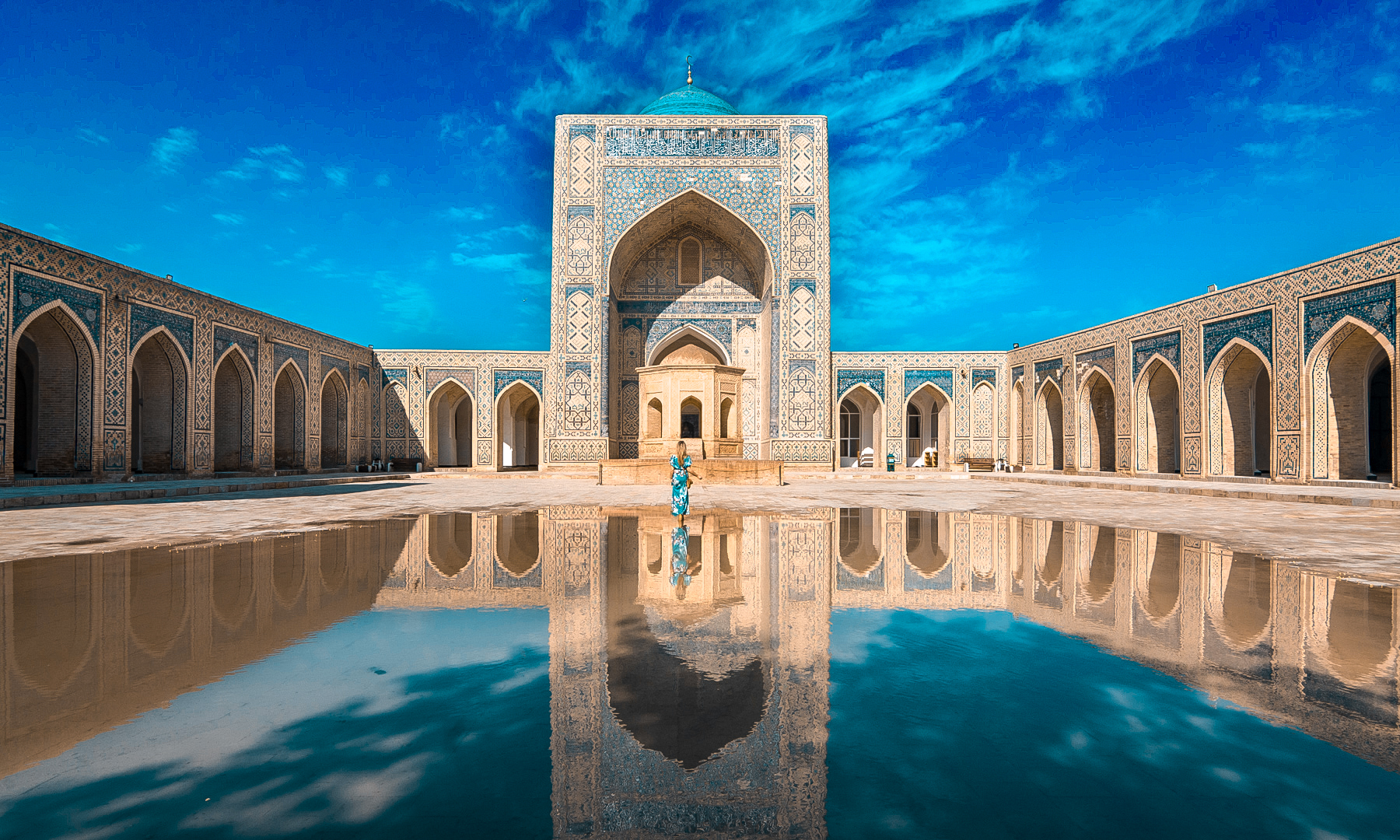 Trip Facts
Group Size

Minimum 2 persons, Maximum 20 person

Fitness level

Medium, normal physical shape and good appetite

Tour type

Cultural, traditional, historical, excursion tour

Language

English, Russian, Chinese, German, Korean, French, Japanese

Accomodation

Hotels 3*, 4*

Vehicle

trains, cars

Best season

Spring, summer, autumn
Trip code: #3266
Overview
A fascinating 17-day combined tour through three Central Asian Republics – Kyrgyzstan, Uzbekistan and Tajikistan is waiting for you. Ancient cities, each with its own fascinating history, legends and ancient monuments, noise and aroma of spices of the Eastern bazaar, culture, life, life and unique hospitality – this and much more will be seen and understood by you during this fascinating, full of adventures tour!
Highlights of visits to the three Central Asian republics of Kyrgyzstan, Uzbekistan, and Tajikistan

Unique architecture
Delicious oriental food
Warm sunshine of Kyrgyzstan, Uzbekistan, and Tajikistan
Itinerary: Dushanbe - Iskaderkul - Penjakent - (jartepa )Samarkand - Bukhara - Khiva - Tashkent - Fergana - Osh – Bishkek – Burana – Chon Kemin -Issyk Kul Lake northern shore – Karakol - Jeti Oguz – Issyk Kul southern shore – Bishkek
Our driver will meet you in the airport and accompany to Dushanbe. The entire day is dedicated to a guided city tour. First of we will visit Rudake Park, National library, White House, National state seal, and House of parliament. After it we will walk in National park to make photos of Ministry of Inner Affairs and the biggest National Flag in the world – 165 m high pole, 30 m wide, 60 m long. After excursion in Central Museum you will have lunch. Then you will visit to Gurminj Museum of traditional musical instruments. To feel real life you should visit Asian bazar. It has colorful goods, fruits and vegetables. We will see today the main highlights of Dushanbe and you will find out many interesting facts about Tajik people. Night is in a hotel.
Dushanbe – Iskanderkul Lake
Our trip today is to high Mountain lake – Iskanderkul (2 255 m. a. s. l.). It is situated in the famous Fann Mountains. This fabulous area is one of the best places in Central Asia. The road to the lakes goes over Anzob pass (3 372 m) with amazing panorama views. After arrival to the lake you will go for a walk along its beaches. This is an amazing place to have a rest. Also we will hike 40 minutes to see a waterfall. Tajikistan takes the second place among the CIS countries for volume of water resources: it has the highest water reserves of all Central Asian countries with more than 1 000 rivers, 2 000 lakes and 8000 glaciers. Night is in a homestay.
In the morning we will drive to Penjakent. The city of Penjakent ("five villages") is located in the Sughd area of Tajikistan in a picturesque Zeravshan river valley. Quite possibly the five villages started the history of this remarkable city which originated in the 5th-8th centuries AD. Penjikent of that time was one of the most important cultural and crafts centers of Sogd. It was even named "Central Asian Pompeii". Overnight is in a hotel.
Today we will visit the archaeological site of the ruins of Old Panjakent and the Old City of Sarazm which was a popular stop on the the Silk road many centuries ago. The ruins of this ancient city were found only in the last century. Today the tourists can see the remains of dwelling houses and office buildings, the citadel with the palace, the house of craftsmen, and fire worshiper's church. You will visit the Rudaki museum. Transfer to the border by 13:00.
Our driver will meet you at the border/ Transfer to Samarkand to your hotel/
Check in at the hotel, Free time for rest.
Overnight in Samarkand
After breakfast:
10:00 A full day guided sightseeing tour around Samarkand.
Gur-Emir Mausoleum ("the grave of Emir").
Registan square, which was the center of Samarkand during centuries. Registan Square is a complex of three monuments: Ulugbek Madrassah (15 th century), Sher-Dor Madrassah (17 century) and Tilla-Kari
Break for lunch
Madrassah (17 century).
Bibi Khanym mosque (the 15th century) it was the biggest mosque in CA
Syob bazaar
Additional Activities in Samarkand (not included in price - on request):
Wine Faktory "Filatov" You will taste about 12 Uzbek wines and learn the history of wine in Uzbekistan.
Theater of of historical national clothes (performance)
Evening Samarkand
Night in Samarkand hotel
Breakfast at hotel
11:00 Check out from hotel.
The day starts from visiting the one of the most mysterious Shakhi-Zinda Necropolis, where you will find a complex consisting of more than twenty buildings, unique in Central Asia.
Visit Ulugbek Observatory - incredible construction of 15 century for studying astronomy and Afrosiab Museum.The museum is located on the site of ancient settlement called Afrosiab. In 1220 the city was almost completely destroyed by the Mongol ruler Genghis Khan.
Break for lunch
Saint Daniel Mausoleum
Visit Koni Gil paper mill (10 kms from Samarkand, 2 hrs). A good chance to watch the old technology of silk paper production.
Evening at leisure.
20:00 Transfer to Samarkand train station
21:03 Departure from Samarkand to Bukhara by train
22:34 Arrival to Bukhara
Transfer to hotel
Overnight in Bukhara
Breakfast in hotel
Transfer to the starting point of the excursion
10:00 Sightseeing program;
Visit the Mausoleum of Ismail Samani - the burial place of Samanid dynasty dated 9 century, one of the most esteemed sights of central Asian architectures,
Chashma Ayub (Job's well).
Arc Fortress - the center of political events and residence of Bukharian rulers until 1920. Nowadays there is a museum inside.
Break for lunch
Poi Kalon Ensemble which includes Kalon mosque, best-known minaret and Madrassah Miri-Arab,
Bazar and trading domes,
Lyabi Hauz Complex.
Additionally in Bukhara: evening leisure (upon request)
Bozori Kord Telpak furushon-Eastern men's bath.
Hamam Kunzhak - Eastern women's bath near the Kalyan Minaret.
Folklore show in Madrasah Nodir Divan Begi (by availability)
Puppet theater and a workshop for making dolls.
Workshop for the production of scrawl
Bukhara carpet shop
Workshop on embroidery Suzane
Overnight in Bukhara
Breakfast at hotel
10:00 Guided sightseeing program in suburb of Bukhara city.
Pilgrimage sight - Bahovadin Nakshbandi theologist of sufizm 14 century.
Sitorai Mohi Khosa - Summer palace of Emir of Bukhara.
Madrassa Chor-Minor.
Lunch in local teahouse,
Free time for leisure
Overnight in Bukhara hotel
The second option: Transfer by Train Bukhara - Khiva
(please, discuss with your trip manager before booking)
Breakfast at hotel
14:00 Departure from Bukhara to Khiva, on the way stop near Amudarya River to take pictures.
17:00 Arrival to Khiva
Transfer to hotel, accommodation, rest
Overnight in Khiva hotel
Khiva Urgench ✈ Tashkent
Breakfast at hotel
11:00 Khiva city tour.
Kunya-Ark Fortress,
Pahlavan Mahmud complex ,
Tash-Khowli Palace (Harem),
Kalta-Minor Minaret,
Islam Khoja Complex.
Lunch in chaikhana.
Visit woodcarving and carpet workshop.
Continuation of sightseeing program:
Juma Mosque and Minaret,
Karavan-Saray,
Minaret and Mosque of Khodja-Islam,
Tim of Ala-Kulikhan,
Madrassah of Abdulla-Khan,
Seyyid Allauddin Mausoleum,
Madrassah of Muhamad Amin-Khan ,
Madrassah of Muhamad Rakhim-Khan,
Walls and gates.
Duration of tour: 4 hours
Free time after excursion!
18:00 Meet your driver at hotel and Transfer to Urgench airport
20:05 Departure from Urgench to Tashkent by plane
21:25 Arrival in Tashkent
Transfer to hotel
Overnight in TAshkent hotel
Breakfast at hotel
10:00 Sightseeing program around the center of Tashkent.
Hasti Imam complex – historical sight where we will see the oldest Othman Koran in the world.
Chor-Su market (the one of the biggest bazaars in Tashkent).
Independence Square,
Amir Timur Square,
After lunch in Choy-khona (local teahouse) we will visit:
Old city
the Museum of Applied Arts
Opera and Ballet Theatre naFamous metro stops
Night in Tashkent hotel
Tashkent - Fergana valley (Rishtan - Kokand - Fergana) (335 km, 6 - 7 h)
08:00 Breakfast. Check out of the hotel
09:00 Transfer to Fergana , through the Kamchik mountain.
On our way we visit Kokand city, excursion in palaces of Kokand Khan, further Rishtan city which is famous for its ceramic , we go to the one workshop to see the whole process of producing ceramics.
18:00 Arriving in Fergana , accommodation and leisure at hotel.
Overnight at Fergana hotel
Fergana - Margilan - Osh (250 km, 8- 9 h)
09:00 In morning drive to Margilan to see the famous workshops of adras fabric (Ikat)
And hand made carpets. Visit the "Yodgorlik" factory of silk hand made fabric.
Dostuk B P Osh
Transfer Ferghana Osh (118 km)
Passing from Uzbek Border to Kyrgyz border
Your driver will pick you up at Uzbek-Kyrgyz border and accompany you to Osh city. In Osh city you will go for a walk there and visit the most famous place – Suleiman Mountain. Suleiman Too (Solomon's Mountain) is situated in the center of the city and it is considered to be a pilgrimage place for local Muslims. According to the legend, biblical prophet Solomon (Suleiman in the Koran) was buried at the foot of it. After it we will visit an Asian bazar. Night you will spend in hotel.
Osh – Bishkek – Burana – Chon Kemin
In the morning you will have a flight to Bishkek. Then you will be transferred to Chon Kemin gorge. On route to the gorge you will visit Burana Tower (an 11th century minaret) and an open air museum of Balbals (stone warriors). After an interesting excursion and climbing on the top of the tower is transfer to Chon Kemin gorge. Here you will meet a nice family that will prepare a traditional lunch for you. In the afternoon we will have 3 hours of horse riding. Your route will go high in the mountains and you will even ride horses through a mountain forest. On the top you will see the panorama view of the gorge. The night and dinner will be in a guesthouse.
Chon Kemin – Issyk Kul Lake northern shore – Karakol
Today you will be transferred to the celestial Issyk Kul Lake, the second largest alpine lake in the world (1608m.above sea level). The lake is called "the pearl of Central Asia". For more than 1 500 years local people considered the lake to be a sacred one.
You can come up to the lake and to see mountains all around it. Today you will drive along the whole northern shore and arrive to Karakol town. Also we will visit today a place with ancient stone patterns – petroglyphs. In Karakol we will visit the Dungan mosque. It was built in Chinese style without using a single metal nail. This will be followed by the visit of an old wooden Orthodox Church.
Your dinner will be in a local restaurant.
Night in a hotel.
Karakol – Jeti Oguz – Issyk Kul southern shore – Bishkek
Today we will drive to Jeti Oguz gorge. It's famous for its red rocks formations that have a name Seven Bulls – Jeti Oguz. Also you will see there the Broken Heart Mountain. If you want it is possible to go on a top of a mountain (20 minutes) to see a panorama view of the gorge. Then we continue our trip, breaking in Bokonbaeva village, where we will meet a local eagle-hunter. He hunts hares and foxes with the help of eagles. It is an ancient kind of hunting animals preserved from generation to generation. You will find out a lot of interesting facts about it. After this visit we will continue our way to Bishkek. Night in a hotel.
Airport
In the morning transfer to the airport.
End of Tour!
Inclusions
Includes:
Uzbekistan
All transfer and transportation during the whole tour (according itinerary)
Accommodation in shared double or twin bed room at boutique hotels and hotels 3* (according itinerary).
Breakfast at hotels
Accompanied by Local English speaking tour guide.
Entrance fees to sightseeings and museums
Train tickets Samarkand - Bukhara (Economy class),
Visa support for Uzbekistan, Tourist Visa (free from Minzifa Travel)
Air Planе ticket Tashkent - Urgench (economy class)
Tourist fee
All Taxes and VAT
Tajikistan
Road transport as per program per AC regular road vehicle(s) or 4WD vehicles, as terrain requires, as per table above
Accommodation in shared double or twin bed room
Breakfast in hotels
Entrance fees to sightseeings and museums
Accompanied by a Local English speaking tour guide.
Entrance fees
Bottled drinking water en route (long transfers) 1,5l pppd
Kyrgyzstan
Road transport as per program
Accommodation based on standard single hotel room,
Breakfast at hotel
Entrance fees to sightseeings and museums
Accommodation in shared double or twin bed room
Entrance fees
Bottled drinking water en route (long transfers) 1,5l pppd
Horse riding in Chon Kemin
Flight tickets Osh – Bishkek (15 kg limit, extra 2 $ per kg)
Note
"Please note that we use a local supplier for your arrival airport transfer. As tourism is a growing industry in Central Asia, your driver may not speak English."
Timur Alimov
Dear friends!
My name is Timur Alimov, and I represent our group of travel experts in Uzbekistan and Central Asia. Our travel experts will guide you through Uzbekistan and Central Asia. For the past ten years we have been gathering and guiding groups of more then 10000 happy travelers. We can show the country through the eyes of the locals, as if you come not as a tourist, but as a guest visiting friends. We give to our travelers only the routes that we checked personally or it was checked by our guides. Some members of My team has traveled this route more than 10 times, and during these trips we have made a lot of friends in each cities who become our friends and help us.
Our travel company office is based in Bukhara, but our travel experts are set in each country we represent. Company is officially registered and has certificates and tourist licenses # T-0087 Unique Travel issued by state gov of Uzbektourism.
I look forward to seeing you as our clients!
How to reserve a seat
You can book your seat through the booking form , click on "Book now" and follow the process. You can also contact me or our team to get the consultation.
Reviews
Ready for Your Dream Trip?
Let Us Customize Your Perfect Tour - Fill Out Our Form Now!
Create my trip